User-friendly Operations and Compatibility with NDI® and NDI® | HX Standards
Cotrol Panel, Rear View
Control Panel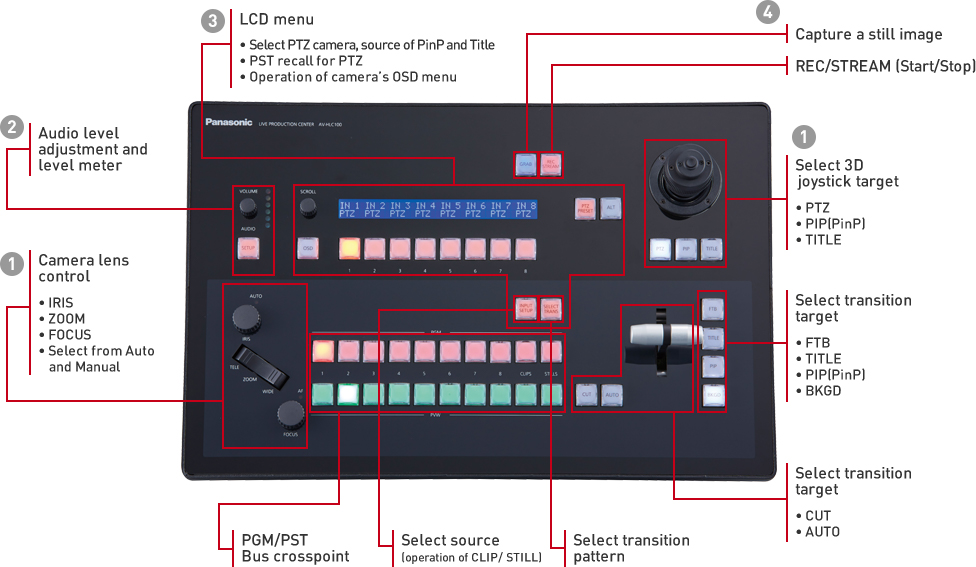 The extremely user-friendly panel includes buttons for various functions including camera control and switching, along with audio mixing. Up to eight video systems can be freely assigned to the crosspoint buttons, enabling them to be selected easily. With the capability to handle IP input and output, the AV-HLC100 also allows for live streaming and recording all over IP.
1: PTZ Camera Control
TELE/WIDE zooming can be done with the seesaw switch on the left of the control panel. Detailed IRIS and FOCUS adjustment can be performed by individual dials, and position control such as PTZ Camera, PinP or Title can be assigned to the 3D joystick at the top right for operation with one handle.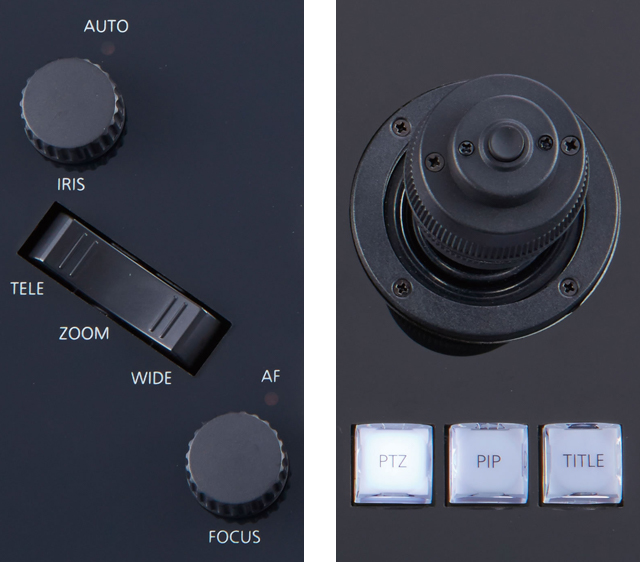 2: Audio Level Controls
The volume knob can be used to control all audio levels, which can be checked in the LED display. Detailed adjustments can be made using a GUI (see "Audio Mixer Functions" for details).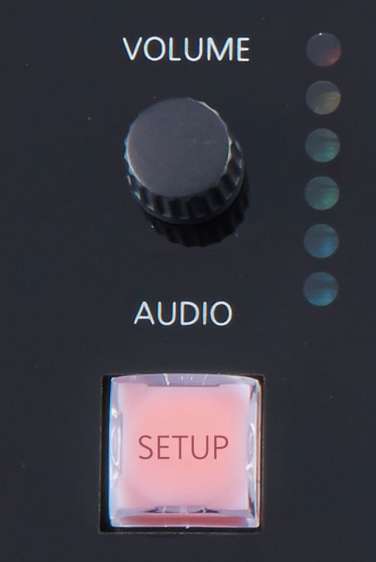 3: LCD Menu
The LCD menu displays a wide range of statuses and settings including PTZ camera selection, PTZ/PST operation, PinP material selection, title material selection, transition pattern selection, CLIP/STILL operation and input source selection.

4: GRAB and REC/STREAM Control
The GRAB and REC/STREAM buttons are located at the top of the control panel, enabling capturing still image of PGM output, streaming and recording to be started and stopped with one touch.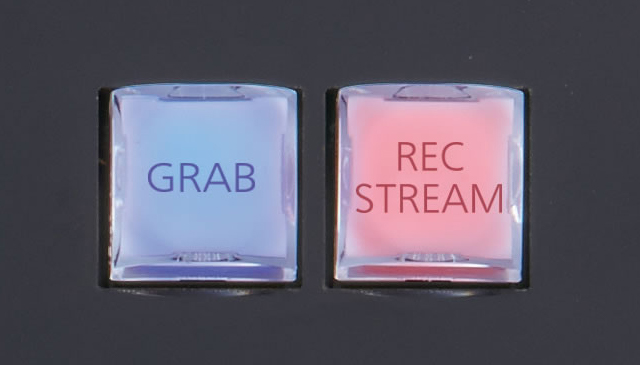 Rear View
SDI and HDMI Input
Supported video inputs: SDI x 4 or SDI x 3 / HDMI x 1 video. Supported video outputs: HDMI x 1, 3G-SDI x 2, RTMP streaming x 1, NDI® x 1.
Supported Formats
1080/59.94p, 1080/59.94i, 1080/29.97PsF, 1080/23.98p, 1080/50p, 1080/50i, 1080/25PsF, 720/59.94p, 720/50p, 720/29.97p, 720/25p
* The 1080/59.94p and 1 080/50p formats are not supported for HDMI input.
Support Audio Input / Output
Audio input source are available from Embedded digital Audio, Analog Audio inputs and Microphone input. Those Audio source can be mixed and output to Analog Audio outputs, headphone output and Embedded with Video outputs.
Smooth Live Production
The AV-HLC100 can be automatically linked to our HD Integrated Cameras*1. Footage from eight camera settings can also be directly input without using external IP decoder, enabling video and audio transfer, camera control through a single LAN cable.
BEFORE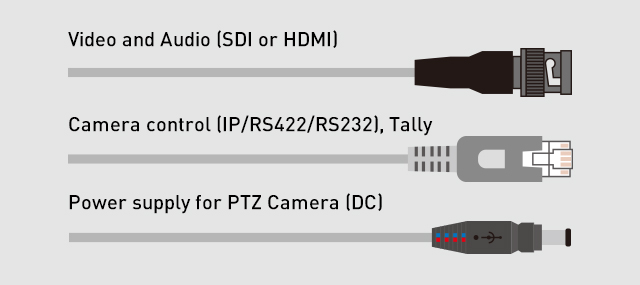 AFTER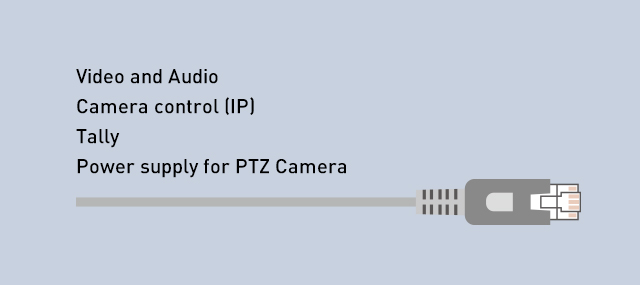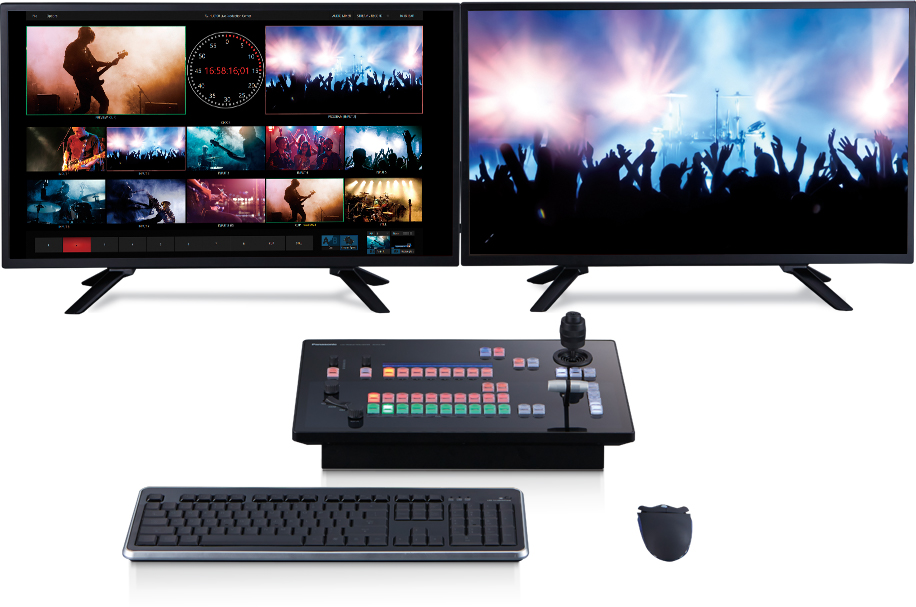 Wide Range of Video Effects Available for Quick Live Productions
Graphical User Interface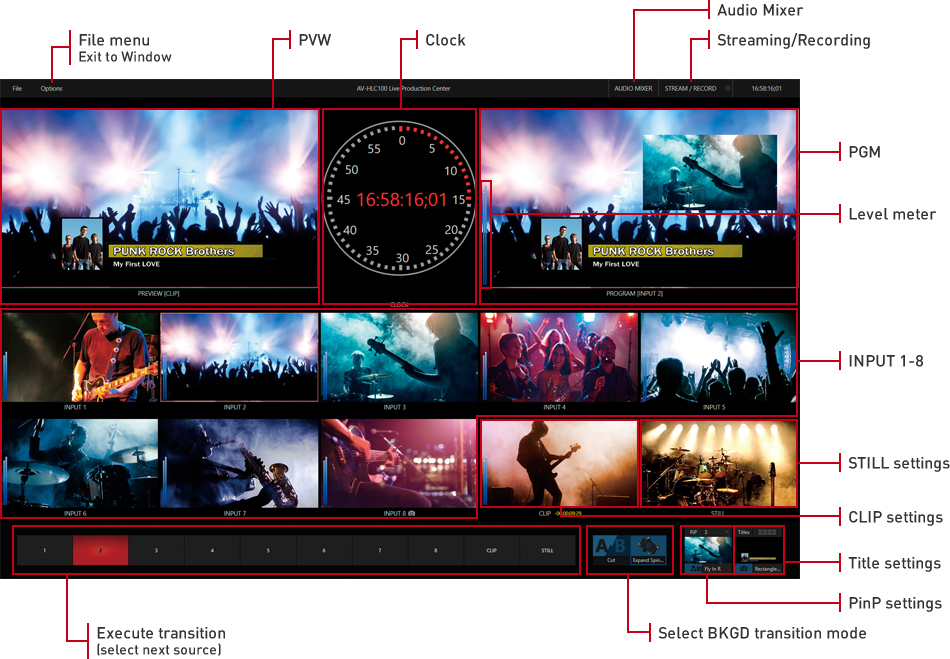 Wide Range of Transitions Through PinP and Pattern Formats
Supports PinP in one screen. You can also choose from a vast range of over 190 transition patterns, including 3D-DVE, to add effects easily.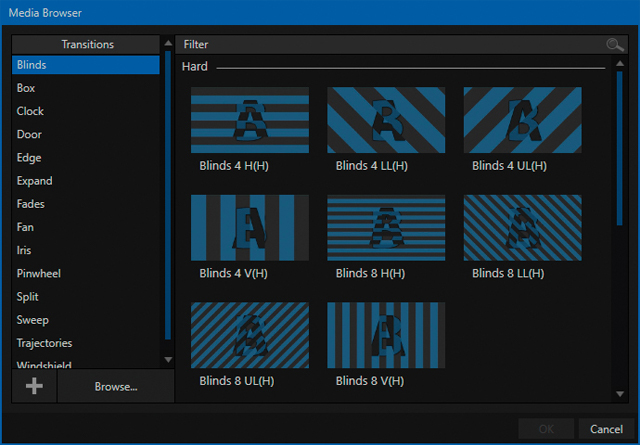 Extensive Title Functions
You can select from a wide range of design templates where text attributes such as font and color can be edited, and insert a title. Up to eight created titles can be preset for a smooth workflow during live streaming.

Clip Player and Still Image Store
Still image and video data can be inserted as source, along with a variety of file formats Windows® supports (please note that some formats are not supported). Autoplay can also be set to automatically play multiple sources that have been prepared in advance.
CLIP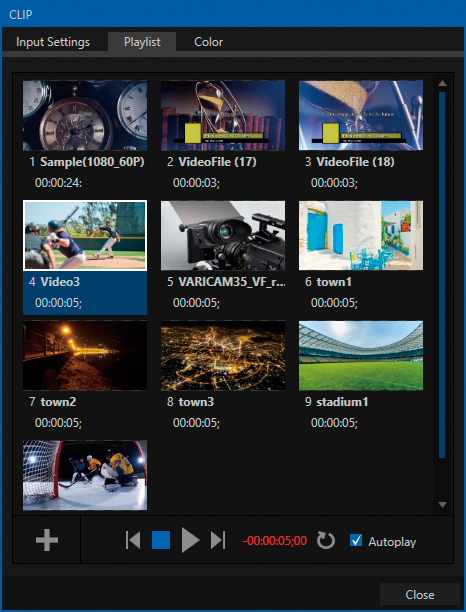 STILL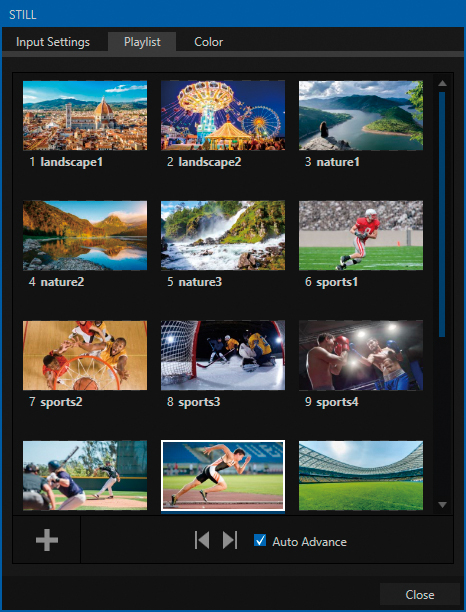 Supported Format
Video Clip Memory

1) When plug-in provided by NewTek is not installed
Video format: avi, mpg, gif
Audio format: wav, wma, au, midi

2) When plug-in provided by NewTek is installed
Video format:
3g2, 3gp, asf, avi, dif, dv, f4v, flv, h261, h263, h264, m2p, m2t, m2ts, m4a, m4v, mjpeg, mjpg, mkv, mov, mp4, mpeg, mpg, mts, mxf, ts, webm, wmv
Audio format: aif, aiff, mp3, wav, wma

Still Store Memory

1) When plug-in provided by NewTek is not installed:
jpeg, bmp

2) When plug-in provided by NewTek is installed:
3fr, arw, bay, bmp, bmq, cap, cine, cr2, crw, cs1, cut, dc2, dcr, dds, dng, drf, dsc, erf, exr, fff, g3, gif, hdr, ia, ico, iff, iiq, j2c, j2k, jif, jp2, jpe, jpeg, jpg, k25, kc2, kdc, koa, lbm, mdc, mef, mng, mos, mrw, nef, nrw, orf, pbm, pcd, pct, pcx, pef, pfm, pgm, pic, pict, png, ppm, psd, psdz, ptx, pxn, qtk, raf, ras, raw, rdc, rw2, rwz, sgi, sr2, srf, sti, targa, tga, tif, tiff, wap, wbm, wbmp, xbm
Audio Mixer Function
The AV-HLC100 supports up to eight audio input source. You can select up to eight source from eight IP input source, four embedded audio source, two line input source and one microphone input source and assign them to the mixer.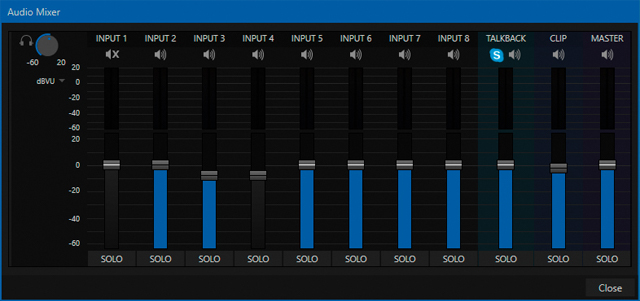 RTMP Connections Suitable for Direct Live Streaming
RTMP (Real-Time Messaging Protocol) Connections Supported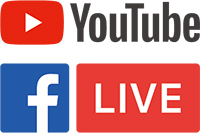 The AV-HLC100 supports RTMP connections, enabling PGM output to be directly uploaded to live streaming services such as YouTube Live and Facebook Live. Streamed footage can also be recorded while it is being streamed.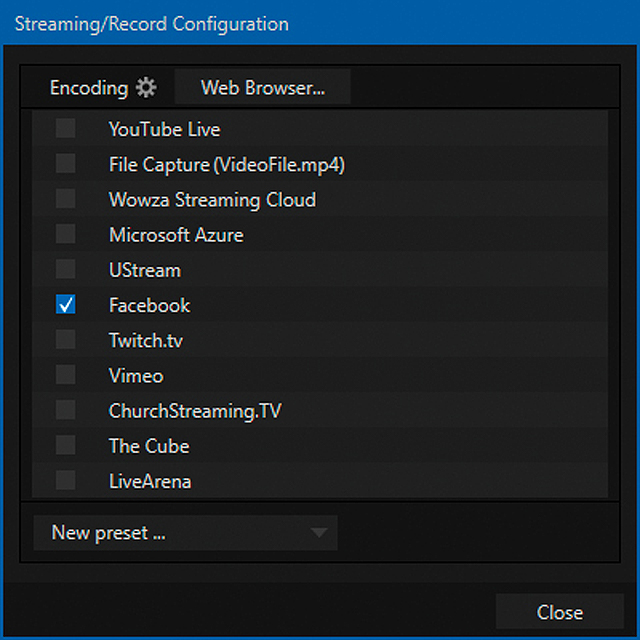 Connection Compatible with Skype TX
The AV-HLC100 can use Skype TX as one of the source, which enables broadcast-quality video communication. Footage sent by Skype-based video channels from remote locations can be added as an input material during live shows.