BT-LH2170
High Performance and Rugged Durability with a Full-HD IPS Panel and 3D-LUT Picture Quality A 55 cm (21.5 inches) LCD Monitor with Excellent Cost-Performance for Broadcast Use.

546.1mm (21.5inches)
LCDVideo Monitor

BT-LH2170


High Resolution, Wide Viewing Angle Full-HD IPS Panel
The 55 cm (21.5 inches) IPS (In-Plane Switching) LCD panel has Full-HD (1920 x 1080) resolution. It combines high intensity, high contrast and a wide 178° viewing angle in both horizontal and vertical directions. Easy viewing is ensured by reducing color changes due to the viewing angle.
High-Quality Imaging Engine with 3D-LUT Color Correction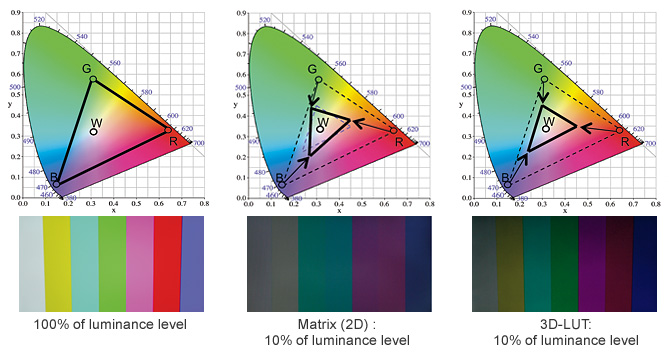 Advanced Assist Display Functions (2D)

Dual Window Display with Picture Assist Functions
Cine-gamma and Black Mode
The BT-LH2170 is equipped with a cine-gamma (F-Rec) compensation function and serves as a monitor for a Varicam camera recorder. The
black mode also makes dark image areas in low-gradation scenes easier to see. It helps to produce movies as well as film-like HD programs and commercials.
Various Markers and Grid
Time Code/Closed Caption Display
A time code can be displayed for SDI input. VITC/UB or LTC/UB values are shown simultaneously on two lines. When an NTSC video signal is input, the closed caption (32 characters x 15 lines) can be displayed. It is compliant with EIA/CEA-608 and 708 standard and can display up to 8 windows of the closed captions.
Professional Specs Include Durability, DC Drive and SDI IN
Broadcast and Image Production Functions
Diverse 3D Camera Assist Functions