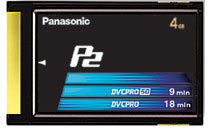 In a keynote speech at IBC, he outlined Panasonic's broadcast strategy focusing on the company's powerful capability and global market share in solid state and optical disc recording technologies. He envisaged a mixed media environment for its broadcast customers in the years ahead, with no single solution dominant.


"Panasonic believes the key to future broadcast systems will be speed of operation combined with cost effectiveness," he said. "At the same time design headroom should be permitted to allow future higher quality image capture, including high definition. Most importantly, full compatibility with existing operations must be maintained to allow a seamless transition to any new system. This means that investment protection is the key management decision for any broadcast operation. "


"We believe", he said, "that DV/DVCPRO is going to remain the dominant compression scheme across the production sector and across different media. The ability to record DV, DVCPRO, DVCPRO50 and DVCPRO HD on the same P2 card is an important message of the strength and consistency of the DVCPRO compression scheme and the clear migration path from SD to HD."


"Tape is going to be around for many years as it is a proven, flexible media", he added. "However, the introduction of solid state and the growth of optical disc are going to mean that over time, the role of tape in broadcast operations will reduce. Just as with DV/DVCPRO we have provided our customers with a clear migration path to HD, so we are providing our customers with choices and a clear migration path, if required, from tape to solid state and optical disc."


In his speech, Mr. Yamada also emphasized that the use of consumer technology in professional markets was becoming increasingly important to achieve the benefits of scale and reduced costs to consumers. "Panasonic's leading position in DV, DVD and SD memory cards provides important benefits to our broadcast and professional video customers and we can see that at this year's IBC, with so many product introductions based on these technologies."


"In spite of the tough economic conditions" he concluded, "that have faced the media market along with many other sectors, Panasonic is genuinely excited about the market potential of its broadcast products. We are seeing a growing move to IT-based broadcast systems across all key news and production markets. While the introduction of ING (IT-News Gathering) highlights Panasonic's revolution and technology leadership. We are determined to exploit this right across the production sector, from ENG to ING."

ends