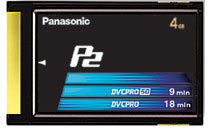 During a press conference today, the two major broadcast manufacturers outlined plans to accelerate delivery of products and end-to-end workflows that leverage solid-state memory through a joint development effort. Solid state memory technology has become the world's leading standard for compact, portable, high-capacity storage, and is now being successfully adapted for broadcast use in applications that require recorded media and demand rugged portability, durability and the need for a more efficient workflow. Already, several major network and station groups in the United States and Europe are underscoring their support for this innovative, flexible memory technology.


"Thomson's announcement of their plans to design SD memory technology into their current and future digital news products is a positive step toward an 'open system' approach for this technology. We have been involved in assisting Panasonic in the development of this technology because we strongly believed in it and are very pleased to see Thomson and others support this effort," said Dave Folsom, vice president of Technology for Raycom Media. (Raycom Media owns or operates 40 television stations in the United States.)


"There is no question in our minds that solid-state memory delivers a level of reliability and robustness heretofore unseen in field and studio digital video recording. Just as noteworthy is the fundamental change in workflow implied for news and other production environments owing to its extremely high transfer rates and its fundamental characteristics of random and multiple simultaneous access. We look forward to this future with great anticipation." said Andrew Setos, president of engineering for News Corp.'s Fox Entertainment Group. "The announcement of Thomson's support and development efforts towards solid-state SD memory, further emphasises the intrinsic benefits and suitability of this technology, and ratifies our previous decision to actively support it's development."


Joint Technology Agreement

As part of the multi-faceted joint agreement announced today, Thomson will integrate the Panasonic's P2 card, solid-state SD memory technology into its current generation Grass Valley™ digital news production products and award-winning M-Series iVDR devices, as well as into future acquisition products.


"Thomson's significant market share in news and servers, its long-standing relationship with the DVCPRO product family and its commitment to the professional production community makes them a perfect partner to help develop and grow the SD memory solution," said Yoshihiko Yamada, vice president, Systems Business Group, Panasonic AVC Networks Company, Matsushita Electric Industrial Co. Ltd. "Having such a major broadcast equipment manufacturer support our P2 card is another significant step towards its ultimate success. We are delighted to be working with Thomson and look forward to the continuation of a long and mutually rewarding relationship."


Solid State Memory Technology Delivering More Efficient Digital News Acquisition, Production Workflows


Unlike video tape, or other newer digital disk-based media, the solid-state SD memory card technology from Panasonic offers immediate access to data, compatibility with the DV standard on which many of today's digital news equipment is based, virtually eliminates maintenance costs - and offers scalable future migration to HD.


Through their strategic agreement, Thomson and Panasonic are taking the initiative to provide the worldwide broadcast industry compatible P2 series, solid-state memory based products and workflows through their collaboration on a complete end-to-end workflow that leverages all of the advantages of the SD memory technology.


Ultimately, this next-generation workflow will make digital news acquisition and production as easy as removing a P2 card from a camera/recorder , inserting it into an iVDR for storage and playout - or immediately into the Grass Valley NewsEdit non-linear editing system for digital news production.


"In announcing its support for this technology, Thomson recognises the overwhelming advantages that P2 card provides other digital media solutions, both in terms of workflow and performance. With all of its many workflow and user cost benefits, P2 card was the clear choice for Thomson as we move into the future," said Marc Valentin, president of Thomson Broadcast and Media Solutions. "Our customers are very excited about this significant industry development, and the prospect of Thomson working with Panasonic in such a collaborative way."
---