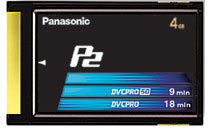 The introduction of solid state recording based on SD memory cards is regarded by many industry commentators as potentially the most significant change to news and broadcast acquisition since the arrival of videotape recording over 35 years ago. The new technology heralds significant productivity improvements to the traditional acquisition process particularly for news, as well as delivering significant cost savings and greater equipment ruggedness.


The development programme will enable the broadcasters to gain a complete insight into the implications of solid state acquisition technology on their current and future broadcast operations. This will include a full understanding of Panasonic's development and product plans for the technology. The broadcastersÅf input will be valuable to Panasonic in refining new product development plans and new workflow procedures.


Robert Pascher, Manager European Marketing, Panasonic Broadcast Europe said, "The support of some of Europe's leading broadcasters and news organisations to the global P2 development programme highlights the groundbreaking potential of the technology. Their input and insight is going to be valuable in ensuring that the DVCPRO P2 Series fully reflect the needs of European broadcasters."


The European development programme joins US broadcasters including CBS, Fox Entertainment Group and Raycom who announced their support at NAB, earlier this year.


Panasonic is showing its first DVCPRO P2 Series products at IBC. First shipments start in the second quarter 2004.

---
BACKGROUND INFORMATION
Panasonic's new DVCPRO P2 Series is based on the widely-adopted DVCPRO and DVCPRO50 digital compression schemes applied to professional application versions of Panasonic's solid-state SD Memory Card technology.

Critical benefits of the solid-state memory design approach include: significant speed improvement in news workflow; elimination of mechanical transports from ENG cameras (with corresponding operating cost savings in lowered maintenance); outstanding resistance to environmental stresses including shock, cold, dust and humidity; significantly lighter weight and lower power consumption than conventional ENG cameras; and widespread compatibility with IT-based non-linear editing and network based distribution technologies.