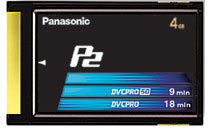 Panasonic announced at IBC that it is collaborating with Avid Technology, Inc. to enhance interoperability between the new Panasonic P2 card and Avid's nonlinear editing products. The collaboration will allow customers to play back and edit material stored on P2 cards directly within Avid® solutions without having to digitize. Interoperability between the P2 card and Avid products is expected to be available in early 2004 in Avid's broadcast news editing tools - the NewsCutter® Adrenaline™ FX system and NewsCutter XP Mobile software -followed by the rest of Avid's nonlinear editing product line by the end of 2004.


ING, or IT News Gathering, represents Panasonic's vision for the next generation of true IT-oriented news acquisition solutions, said Yoshihiko Yamada, VP at Systems Business Group, Panasonic AVC Networks Company. The P2 card is compatible with standard PCMCIA slots, so customers can immediately begin editing on laptop PC's without ancillary devices. Panasonic is pleased to collaborate with Avid to bring a superior P2-based workflow to our DVCPRO customers.


Avid is focused on working with industry leaders to break through complex workflow barriers so that our customers can operate more efficiently, said Tim Claman, director of interoperability and standards at Avid. This collaboration will enable customers to shoot footage with Panasonic cameras and bypass the time-consuming digitizing process by simply plugging P2 cards directly into Avid systems for immediate editing.


The P2 card is the short name for Panasonic's solid state SD memory based card, which allows 18 minutes of DVCPRO recording on a PCMCIA card (type II size). Panasonic will release a range of P2 card-based products, including camera/recorders, VTR style recorders, and a 5-inch drive bay unit. The combination of P2 series products and Avid's news production systems will deliver powerful next-generation news solutions.

ends

---
Background information
Avid Technology, Inc.
Avid Technology, Inc. is the world leader in digital nonlinear media creation, management and distribution solutions, enabling film, video, audio, animation, games, and broadcast news professionals to work more efficiently, productively and creatively. For more information about the company's award-winning products and services, please visit: www.avid.com.

Avid, Adrenaline, and NewsCutter are either registered trademarks or trademarks of Avid Technology, Inc. in the U.S. and/or other countries.