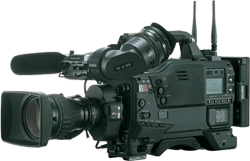 The AJ-SDX900 features three newly-developed 2/3" 600,000-pixel IT CCDs with progressive-scan capability providing a high sensitivity of F13 at 2000 lux, 63dB signal-to-noise ratio and low-light shooting down to 0.09 lux (+48dB). Advanced 12-bit A/D DSP signal processing circuits provide improved picture quality, colour expression and luminance gradation, while a 12-axis matrix colour correction allows very specific colours to be adjusted without affecting overall colour tone. Moreover the AJ-SDX900 is featuring Cine-like Gamma that closely replicates the "look and feel" of film.


The camera is equipped with a super gain function with a maximum gain of 48dB, and a new time-accumulate digital super gain allowing an additional gain of +20dB (at 5 fps) that permits ultra-high sensitive shooting (as low as 0.01 lux at +68dB, +48dB super gain, +20dB digital super gain) for night-time acquisition. Digital super gain can also be used as one of video effects.


The AJ-SDX900 offers a maximum record time of 33 minutes in DVCPRO50 and 66 minutes in DVCPRO, and four 48kHz/16-bit digital audio channels in DVCPRO50. At just over 7.5kg fully equipped, the unit is lightweight, well-balanced and offers perfectly positioned switches. It also provides one-touch camera status report, interval REC for time-lapse recording, UMID recording, and an electronic shutter (speeds from 1/60 to 1/2000 sec), plus synchro-scan capability (1/50.4 to 1/248.0 sec.)


Other key functions include: two four-position optical filters; four built-in user scene files, SD memory card for storage of operational settings and two user-customisable function buttons; a marker selector function (for displaying a 4:3 marker); multi-functional zebra pattern/display adjustment; low power consumption of 24 watts; quick response standby mode; built-in time code generator/reader and genlock; and phantom power supply (48V phantom mic).


The camera offers an optional pre-recording board that permits the camera to capture spontaneous scenes a shooter might otherwise miss. In standby mode, the pre-recording function continually stores 15 seconds (pre-settable in memory) of the current video and audio entering the camera's lens. Additionally, with the pre-record board installed, single-frame recording for 15 seconds is possible at the interval recording mode.


Other optional accessories include: a wireless microphone receiver; GPS unit for generated UMID data; SDI output.

ends