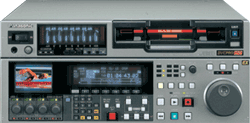 The VTR supports both progressive and interlaced standards and has been developed as a bridge between 720 and 1080 line based production and between high definition (HD) and standard definition (SD) production. This feature is particularly relevant to the European market where a growing amount of material is acquired on HD and post produced and delivered on SD.


Robert Pascher, Manager, European Broadcast Marketing, Panasonic Broadcast said, "The AJ-HD1700 is a key platform for Panasonic's growing HD product range. In Europe there is an increasing amount of programming which is acquired on HD but delivered on SD and the AJ-HD1700 supports this marketplace strongly. The AJ-HD1700 is designed to work closely with Panasonic's Varicam variable frame rate camera which has become very popular with programme makers in Europe and is expanding the popularity of shooting at 720p."


A key feature of the AJ-HD1700 is a direct playback of 'ON' speed (24fps or 25fps) Varicam recordings in 1080/25p or 24p. The AJ-HD1700 VTR can record up to 126 minutes on a new generation single XL size DVCPROHD cassette of either 720-line progressive-scan high definition video or 1080-lines.


At 4U-size, the VTR is designed for all production environments including outside broadcast, studio and edit suite applications. The AJ-HD1700 VTR offers selectable operation between 50, 60 and 59.94Hz. This feature allows the AJ-HD1700 to act as a low-cost source deck in a 1080/25p based linear or non-linear editing bay, making it an ideal choice for post- production facilities involved with television episodic production.


The 4U-size VTR also offers eight channels of uncompressed digital audio, with 16-bit quantisation and 48-kHz sampling, to accommodate 5.1 surround sound plus a stereo sound mix, or multi-language programming. By utilising newly-developed 9-micron track width recording technology, tape costs on the AJ-HD1700 are comparable to the existing family of DVCPRO50 format VTRs. Existing DVCPRO50 or DVCPROHD tape stocks may also be used in the AJ-HD1700, allowing easy integration into broadcast facilities.


The new VTR offers full playback compatibility with all existing 1/4" DV based compression formats including DVCPRO50, DVCPRO, DVCAM?, DV and miniDV. The AJ-HD1700 is equipped with a built-in format up/down converter for converting 1080i/p or 720p DVCPROHD video to standard definition and for converting DVCPRO50, DVCPRO, DVCAM™ or DV video to either 1080i or 720p. In addition, the converter can change the aspect ratio of the recorded video between 16:9 and 4:3.


An optional AJ-UC1700G SD-HD Input Board allows the VTR to accept standard definition interlace video over SDI, upconvert the signal to high definition, and record to tape. The corresponding downconversion to standard definition interlace output over SDI, means the AJ-HD1700 provides the broadcaster with a plug in replacement for existing standard definition VTRs, and a practical multi-format DTV/HDTV recording platform.


The AJ-HD1700 offers continuous variable HD slow motion playback of -1.0 to +2.0 normal speed (-1.0 to + 1.1 for DVCPRO50 and DVCPRO play). It offers high-precision editing, including to-the-frame (+ or - 0) accuracy either manually or by remote control, and editing operations including assemble, insert (V/A/CUE/TC) and audio split (with audio in/out points). It also delivers precision machine-to-machine and external remote control editing using a separate edit controller, and its multi-cue functions allow a user to register up to 60 cue (index) points.


The AJ-HD1700 is equipped with a 1.5Gbps/SMPTE292M HD Serial Digital Interface (HDSDI) for easy, reliable connection to other digital HD equipment. The VTR is mountable in a 19" rack and weighs over 22kg.

ends