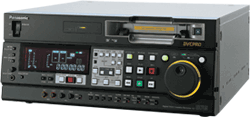 This compact 4U-size VTR records for 184 minutes in the classic DVCPRO and for 276 minutes DV. The AJ-SD755 features auto-format playback detection for seamless playback of DVCPRO, DVCAM™ and DV format cassettes (an adaptor is required for Mini-DV format cassette playback). With the optional IEEE1394 digital interface, the AJ-SD755 offers lossless dubbing of native video and audio signals to Macintosh and Microsoft Windows-based editing applications.


The front panel of the all-new unit offers extensive editing controls and a large metering window. The VTR performs frame-accurate, tape-to-tape editing, and its extensive editing capabilities including auto, assemble, insert and manual editing, as well as preview, review and trim capabilities. The AJ-SD755 accepts large and medium DVCPRO cassettes; DVCAM™ (small/large) and DV (standard/mini) cassettes.


The VTR offers an extremely fast tape-handling mechanism, with tape cassette load-in time of six seconds and servo-lock time of less than 1/2 second. Audio functionality includes independent two-channel audio control, audio volume control, audio monitoring during jog operation (including DV and DVCAM™ cassettes). It offers variable slow motion playback in reverse and normal speed for clean, noiseless images in DVCPRO.


In addition to IEEE 1394, an SDI interface is available with optional boards for connection with other digital broadcast equipment. Analogue video and audio inputs and AES/EBU are standard, as are RS-422A and RS-232C remote terminals. Remote maintenance is possible via an external PC. The VTR fits in a standard 19" rack, weighs 15kgs, and power consumption is just 120 watts.

ends