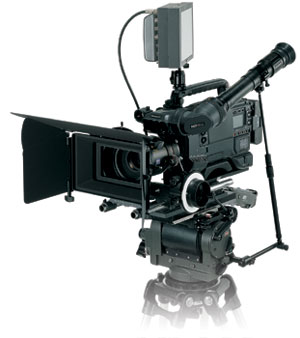 Directors and Producers alike have found the Varicam a reliable, creative, flexible, robust unit that performs remarkably in any given situation from the pressure of a commercial studio to the inhospitable wastes of the desert. Feature, Commercial, TV Drama and Promo Productions have all benefited from the amazing images this truly versatile HD camera produces. More and more content is being produced in HD to assist in program sales in countries who have adopted HD and future proof programs for the global move toward HD. Panasonic's Varicam has been at the forefront of this movement constantly challenging Directors to push the medium further.

Being the only truly variable frame rate HD Camcorder, Varicam has opened many Film DOPs eyes to adopting digital production where they can create incredible off speed images in-camera rather than relying to attention in post.
Not only that but shooting in true progressive mode with Cine Gamma curve has allowed them to produce images so close to film that combined with the low cost of digital production the Producer can ask new questions of the DOP and rely on them capturing smooth, beautiful images with sufficient latitude to take full advantage of the full dynamic range of theatre projection.

With the transition from SD to HD production in full swing all over the world, Varicam is set in place as the most versatile camcorder available. With these modifications it is ready to take HD production into the future with a reputation for stunning programming behind it.

Price will be 69990 and available now.