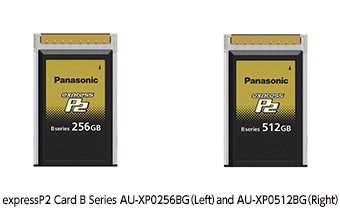 Panasonic Corporation announced today the release of new expressP2 Card B Series, the new lineup of expressP2 Card recording media for its 4K digital cinema cameras, the Varicam series, at NAB (the National Association of Broadcasters Show), the world's largest exhibition of broadcast equipment. The B Series consists of two models, the AU-XP0512BG (512GB capacity) for extended recording needs, and the AU-XP0256BG (256GB). Sales are scheduled to begin at the end of May 2016.
The VariCam Series comprises camera recorders for high-end image production for use in movies, dramas, TV commercials, and other applications. In addition to the VariCam 35 for 4K/120fps recording, and the VariCam HS for HD/240fps recording, the compact, lightweight VariCam LT for high-quality 4K/60fps recording began shipping at the end of March 2016.
The expressP2 Card serves as recording media for the VariCam Series, ensuring the recording of 4K image data (max. 120fps) and HD high-frame-rate image data (max. 240fps) under AVC Intra codec. The new card inherits its strong reliability from the time-tested P2 Card, and features an error correction capability equivalent to the RAID system, which restores sector/page error data that cannot be corrected with ordinary flash memory. The P2 Card connector is also clearly superior to that of PC cards, with a durability that enables approximately 30,000 insertion/removal cycles.
The expressP2 Card B Series also has the potential to transfer data at a maximum of 10 Gps,*1 which is about 4 times the speed of the present expressP2 Card A Series. The expressP2 Card with 512GB capacity that is newly joining the lineup enables 4K recording for 180 minutes,*2 making it ideal for the extended recording needs that will naturally increase for shooting documentaries with the VariCam LT.