•Packed with Professional Functions
Focus, Iris, and Zoom are finely controlled by 3 Manual Rings, and 2-Channel XLR Audio Input Terminals enable connection to everything from microphones requiring a phantom power supply, to audio equipment with +4 dB output. These and other functions, like an Illuminating LED Ring that clearly shows when the camcorder is recording, fully meet the needs of professional, on-site acquisition.

•Low-Light Shooting with a Handheld Type Camcorder
The 1/3.1-inch Back Side Illumination (BSI) Sensor and a Built-in LED Video Light with a bright 300 lx at 1 meter are ideal for shooting events like night time wedding parties.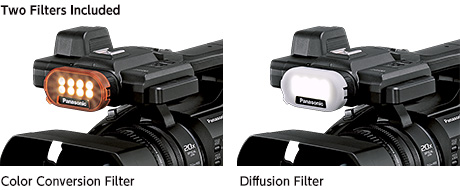 •Powerful Zoom with Less Blurring
The Optical 20x Zoom/F1.8 lens supports a wide variety of shooting situations. And the 5-Axis HYBRID O.I.S. + (Optical Image Stabilizer) corrects blurring in virtually all types of shooting.
•Dual SD Card Slot for Endless Relay Recording

When the card in Slot 1 becomes full, the camcorder automatically continues to record onto the card in Slot 2. In addition, lets the user exchange cards while shooting. By sequentially exchanging recorded cards with blank ones, the AC30 achieves endless recording to capture extended events.* Safe, secure, Simultaneous Recording is also featured to record the same data onto the cards in both slots.
Sales are scheduled to begin in September 2016. The suggested list price of the AG-AC30 is expected to be under $1,800.00