No housing. Less installation cost


Panasonic developing Full-HD Outdoor Integrated Camera resistant to water, dust, and salt damage


Pan-tilt remote camera with high sensitivity, S/N ratio, and resolution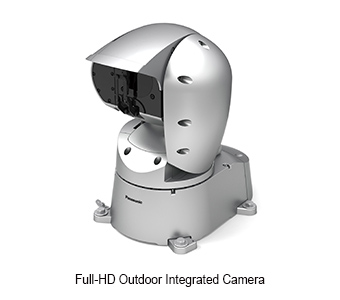 | | |
| --- | --- |
| Item name | Full-HD Outdoor Integrated Camera |
| Product number | To be decided |
| MSRP | To be decided |
| Product launch | Summer 2017 |
Panasonic is developing a full HD outdoor integrated camera resistant to water, dust, and salt damage. The camera is scheduled to go on sale in the summer of 2017.
Panasonic pan-tilt HD integrated cameras are used in various applications such as wedding, public facility, conference hall, university, broadcasting station and more. In response to customers' strong request, we are currently developing a full-HD outdoor integrated camera. The camera will retain the same level of high image quality for broadcasting and business purposes while offering resistance to water, dust, and salt damage. This allows for outdoor installation without the need for a housing. The product is set to launch in the summer of 2017.
The camera component features 1/2.86-type full HD 3MOS sensors and a DSP (Digital Signal Processor) with high sensitivity, high S/N ratio, and high resolution. The body adopts a tough elliptical aeroform with sloping lines that greatly reduces air resistance and keeps snow and dirt from building up, which has always been an issue with outdoor usage. The camera is furthermore water and dust-resistant (IP65) and has a wiper as a standard feature. A salt-protective coating helps prevent corrosion, enabling the camera to withstand installation near seashore or breakwaters. The camera is equipped with the newly developed vibration compensation which ensures low-vibration recording even when there are vibrations in the natural world or installation environment, because this new function controls simultaneously for slow, long-wavelength vibrations and fast, short-wavelength ones. Up to 100 units of the camera can be IP-controlled by the AW-RP120G/RP50 remote camera controller via a hub (switching hub). One camera can also be IP-controlled by up to five of the remote camera controllers. This outdoor-ready SDI-output remote camera offers flexibility for use not only as an information capturing camera, but also for various applications, such as video capture in stadiums or high-image-quality monitoring in airports.
The camera will be on exhibit at IBC 2016, the broadcasting equipment show at Amsterdam, the Netherlands, from September 9 (Fri.) to September 13 (Tues.).
For more information on Panasonic's range of Broadcast and ProAV products, please visit:
https://pro-av.panasonic.net/en/sales_o/broch_pdf/aw-hr140.pdf