Ideal for Use in Medical Recording
Portable Recorder System "POVCAM" Under Development
High-Definition 4K Image Acquisition with 20x Optical Zoom and Surgical Lamp Mode.
LAN Connection for IP Remote and IP Streaming Compatibility.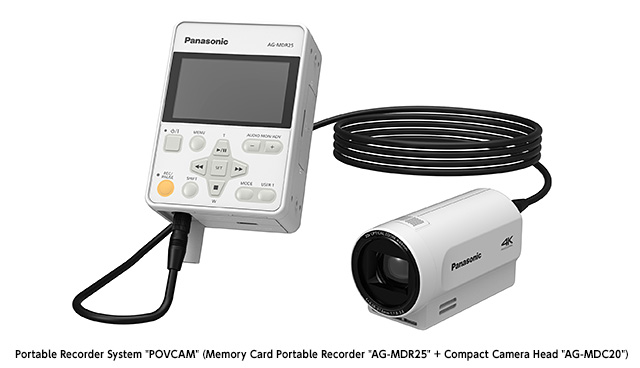 Panasonic Corporation is developing the AG-MDR25 Memory Card Portable Recorder and AG-MDC20 4K Compact Camera Head for medical use. Both are scheduled to go on sale as new POVCAM models in the Spring of 2017.
Panasonic has offered the AG-MDR15/MDC10G Full-HD Medical Camera System since 2010. In addition to providing the high-quality HD images demanded in the medical field today, the AG-MDR25/AG-MDC20 successor models now being developed also provide high-definition 4K images and IP connectivity with PCs and networks.
The AG-MDR25 Memory Card Portable Recorder features double SD memory card slots for SDXC memory cards, to allow extended, non-stop relay recording. Connecting the AG-MDR25 Memory Card Portable Recorder with the AG-MDC20 4K Compact Camera Head with an optional, 20-meter cable enables vivid 4K (3840 × 2160) 29.97p image acquisition*1 while operating the camera at the recorder. The control section uses switches that are covered by a membrane sheet for easy wiping with ethanol for disinfection. In addition to 3G-SDI input/output, mic/line input, and HDMI output, the recorder is also equipped with a LAN terminal. Camera remote operation (zoom, focus and iris adjustment) while recording is also possible from a PC or a tablet for monitoring or transferring recorded files to an FTP server.
The AG-MDC20 4K Compact Camera Head is both easy to install and superbly mobile. It is equipped with a 20x optical zoom lens, a 16-axis independent color correction function that enables fine color reproduction, and a surgical lamp mode. Degraded resolution due to excessive iris adjustment under the brightness of the surgical lamp mode is prevented by manual switching of an optical ND filter for optimal brightness adjustment. The POVCAM is also equipped with other specifications and functions for medical recording, such as 5-axis hybrid image stabilizer, which is effective for shooting with arm operation.
These new models were exhibited at the Inter BEE 2016 international broadcast equipment exhibition held at Makuhari Messe in Chiba from November 16 to 18, 2016.
< Main Features >
Compact, lightweight, free-style shooting inherited from the 1st generation POVCAM.
Excellent network operation through IP remote and IP streaming.
High-quality, high-resolution image production for medical recording.
For more information on Panasonic's range of Broadcast & ProAV products, please visit:
http://business.panasonic.eu/broadcast-and-proav