Panasonic Showcases Next-Gen Technology and Solutions to Support
4K/8K Smart Entertainment and Connected Stadiums at 2017 NAB Show
"One of the big themes of NAB 2017 is the confluence of Media and Entertainment Technologies," said Masaki Arizono, Executive Officer of Panasonic Corporation, and Vice President of Connected Solutions Company in charge of Media Entertainment Business. "This is exactly the business direction Panasonic is now aiming to pursue. It is our mission to become a truly indispensable technology partner for customers in this industry with diverse solutions, making full use of Internet connectivity and other technologies from across our portfolio."
The Panasonic booth (C3607) at the Las Vegas Convention Center has two zones – Connected Stadium Zone and Production Zone. It's designed as a sports stadium to demonstrate how a total solution contributes to guests' experience. Booth technologies and solutions range from next-gen sports shooting systems to the latest display devices used to engage spectators, including large LED display systems, digital signage, and other equipment for shooting, editing, transmission and distribution.
Other highlights include:
For broadcast / production, Panasonic is introducing technologies that respond to the needs of the 8K / 4K era, such as:
AK-UC3000 4K Studio Camera System – compatible with UHD (4K) output and HD/SD simultaneous output
AK-HC5000 HD Studio Camera System – capable of 1080p 4× high-speed shooting.
For video production, Panasonic is demonstrating new product lineups that respond to evolving to high-quality content.
Varicam 35 4K Camera Recorder which has already built a reputation for its color reproducibility and wide dynamic range
VARICAM LT 4K Camera Recorder
VARICAM Pure 4K Camera Module for V-RAW 2.0 Recorder: the camera module of the Varicam 35 directly linked to the V-RAW2.0 recorder capable of uncompressed 4K RAW acquisition.
Other 4K cameras on display:
The AG-UX180 4K Premium Handheld Camcorder which is equipped with the industry's widest angle 24 mm + optical 20 × zoom, 1.0 type MOS sensor
The AG-UX90 4K Standard Handheld Camcorder which is equipped with wide angle 24.5 mm optical 15x zoom and 1.0 type MOS sensor
In the Connected Stadium Zone, Panasonic displays technologies and solutions that take the stadium experience to a new level of engagement:
balooncam

Panasonic's balooncam combines a drone with the hovering capability of a large balloon for a unique video platform. With unique shooting angles, the balooncam can be used to enhance the fan experience at sporting and other stadium events.
4-Sided LED Videoboards

Gigantic four-sided LED screens, hung in the center of the field, offers premium viewing from all stadium seats.

Window Augmented Reality Projection

See how transparent film applied to ordinary window glass can serve as signage to display pristine images. At stadiums, Window Augmented Reality Projection can be used to enhance the experience by showing player stats and high-impact video.
LinkRay-equipped LCD Displays

These displays support Panasonic's LinkRay light ID communication technology. Users can download info instantaneously by pointing their mobile devices at the screens.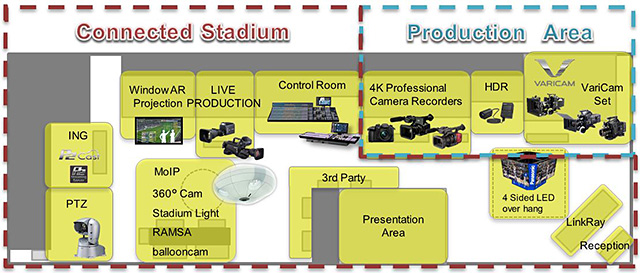 Major Systems on Display
· VARICAM lineup
· 4K / HD Studio Handy Camera
· P2 Cast / P2SS
· 4K Multi-purpose Camera
· 4K Camera Recorder
· Outdoor HD Integrated Camera
· balooncam
· Portable Recorder system POVCAM
· 4 Sided LED
· 360-degree Live Camera
· Window AR
· Large live switcher (4K compatible)
· LinkRay
· MoIP (High quality image transmission
technology using IP network)