Panasonic develops Versatile 16.5 inches Full-HD LCD Video
Monitor with 10-Bit LCD Panel and AC/DC Power Supply Capability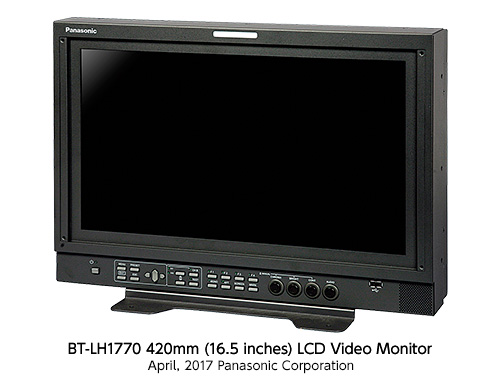 The new monitor uses an IPS LCD panel with a wide viewing angle, high brightness, high contrast ratio, superb motion-image response, and excellent color reproduction. Featuring Full-HD (1920×1080) resolution, input images are displayed without resizing. Gradation expression that is true-to-life is also achieved by 10-bit processing.
Input terminals include 3G-SDI (x2), HDMI, and analog composite input to support a wide variety of sources. A host of functions, including embedded audio and WFM (Waveform Monitor) / VS (Vectorscope) display support broadcast work. Versatility and easy operation are provided by functions such as user files for simple color matching across multiple monitors, and menu setting with a USB mouse.
AC/DC/battery drive and 19 -inch rack mounting (7U) meet the needs of field shooting and live relay, supporting a wide range of production and broadcasting applications. The optional fixed/tiltable stands and the optional fixed/tiltable rack-mounting brackets will be released concurrently.
The BT-LH1770 will be on display at the NAB Show in Las Vegas, USA, from April 24 (Monday) to April 27 (Thursday), 2017.
< Main Features >
IPS LCD panel with Full-HD/10-bit display
3G-SDI, HDMI, and analog composite input as standard equipment
AC/DC power supply capability and 19-inch rack mounting provides extra convenience in field shooting and live relay