AG-HPX610PJH/EJH

Memory Card Camera Recorder "P2 Cam"
Bundled with AG-CVF15G Color LCD Viewfinder
AG-HPX610PJH/EJH



This P2 cam combines high cost-performance, easy operation and expandable functions to meet needs in a wide range of uses, from image production to broadcasting. A 2/3-type shoulder-type model, it accommodates a variety of interchangeable lenses. And its compact body provides superb mobility with approximately 2.8 kg (6.2 lb) for the main unit. Its MOS sensor attains high F12 sensitivity (at 59.94 Hz) and low noise with an S/N of 59 dB (standard).
Multi HD/SD codecs, including AVC-Intra100/50, are equipped. In addition to these basic specifications, a wide range of functions are available as options, such as networking functions, uplink device support, and a Variable Frame Rate (VFR). This enables low-cost system support for numerous and diverse applications. The AG-HPX610PJH/EJH/PJF/EJF also supports new P2HD technologies such as microP2 cards to enhance the high-speed data transfer, reliability and security.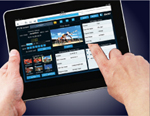 Proxy and Networking Options

Low-rate proxy files (Quick Time/H.264)*1 with high resolution and superb sound quality are supported. This allows a PC, a Mac, a tablet, or a smartphone*2 to be used for previewing, metadata input, network transfers and even simple editing,*3 for a cloud-based workflow that maximizes IT potential.
High-Resolution Proxy Video Supported
(With the optional AG-YDX600G Video Encoder Board)

With this option, the AG-HPX610TH/610TF records proxy files onto SD/SDHC memory cards or onto P2 cards.*1 It supports high-quality video (Quick Time/H.264) and audio formats at a low bit rate. High-quality proxy files can be used for breaking news and other scenarios that would benefit from proxy workflows. Moreover, it streamlines the production workflow by allowing the editor to review the content details during offline editing.
Streaming with a Wireless or Wired LAN
(With the optional AG-SFU601G Upgrade Software Key [Bundled] and AJ-WM30 Wireless Module)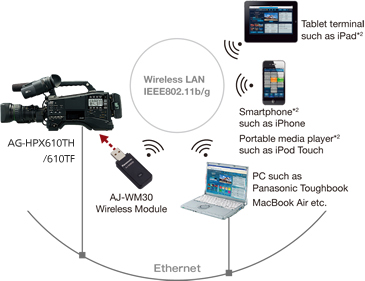 These options enable use of a wireless or wired (Ethernet) LAN. Proxy files*4 can be streamed or viewed via a standard web browser on a PC/ Mac, tablet, or smartphone.*2 While viewing the streamed files, metadata can be added to the P2 files. Using a PC/Mac also enables a cloud-based workflow by uploading and sharing video data via a network.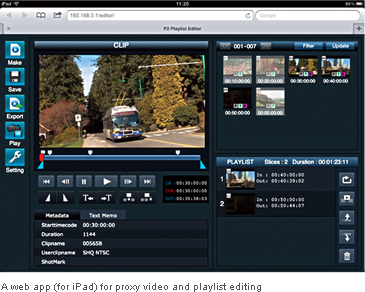 Playlist Editing*5 with Proxy Video on a PC or Tablet
(With the Optional AG-SFU604G Upgrade Software Key)
The AG-HPX610PJH/EJH/PJF/EJF and a device, such as a PC, a Mac, or a tablet, connected to a wired or wireless network can be used for playlist editing. This greatly increases the efficiency and speed of your workflow by making it possible to handle preliminary editing with only the camera and connected device, and then transfer the data*6 wherever it is needed. Playlist editing and saving, playlist viewing and SDI output, as well as editing and copying can all be done by web apps.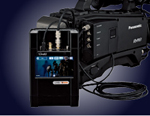 Optional Uplink Device Support

Portable uplink solutions are supported.
The status, settings, and bandwidth condition for the LiveU LU40 Series*7 can be displayed on the camera viewfinder, and uplink start/stop can be operated. This allows the camera operator to handle live relays comfortably and securely.
Video Uplink System Supported
Support*8 is provided for video uplink systems using ordinary phone lines. The status, settings and bandwidth condition for the LiveU LU40 Series*7 can be displayed on the camera viewfinder, and uplink start/stop can be operated by camera-operator without taking eye away from VF. This allows the camera operator to handle live relays comfortably an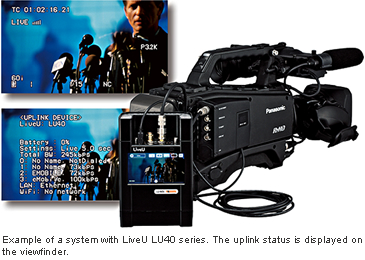 d securely.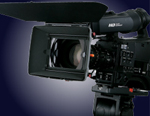 Optional VFR and 24PsF Production

Quick/slow-motion recording is provided by the use of a variable frame rate (frame dropping/high-speed shooting). Recording modes of 24p/30p/over 60p can be simultaneously selected, with 24 PsF output from SDI OUT to meet diverse image production needs.
Variable Frame Rate Shooting and 24PsF Output
(With the optional AG-SFU602G Production Package Upgrade Software Key)
In 720p mode, the frame rate can be set in the range of 1 fps - 60 fps, and in 1080p mode it can be set to 1 fps - 30 fps. This allows the use of undercranking and overcranking to create fast-motion and slow-motion effects. Either 24p/30p Native mode or over 60p mode can be selected for recording. In addition, the 24PsF format can be output from SDI OUT for uncompressed data recording.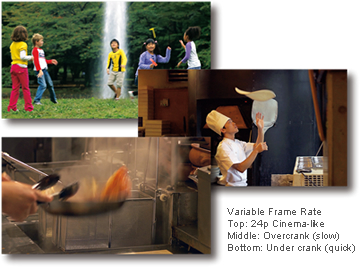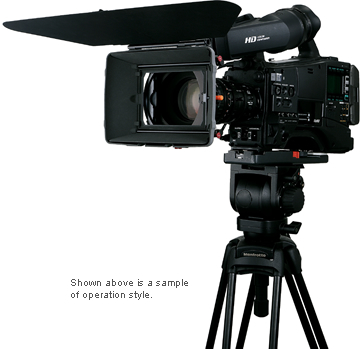 Performance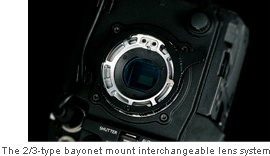 The high-sensitivity MOS sensor and AVC-Intra codec enable high-quality, Full-HD 10 bit 4:2:2* recording.
2/3-type Interchangeable Lenses
The 2/3-type bayonet mount interchangeable lens system lets you choose from a variety of 2/3-type zoom lenses for broadcasting and other professional uses from third-party manufacturers. Select the lens type and performance level that meet your needs.

High-Sensitivity F12 MOS Sensor
The 2/3-type MOS sensor allows you to select two modes: the NORMAL mode offering ultra low noise, and the LOW LIGHT mode offering high sensitivity levels of F12 at 59.94 Hz (F13 at 50 Hz).
High-Quality Image Processing and Versatile Image Settings
CAC (Chromatic Aberration Compensation): When using a CAC compatible lens, the small amount of circumjacent chromatic aberration (circumjacent blur) that is not corrected by the lens is compensated by this process.
DRS (Dynamic Range Stretch)*: Suppresses blocked shadows and blown highlights to achieve a visually wide dynamic range.

Advanced Flash Band Compensation (FBC): High-precision flash band detection and compensation.
Gamma: Select from 7 mode (HD NORM/LOW/SD NORM/HIGH/B. PRESS/CINE-LIKE D/CINE-LIKE V) gamma curves.
Digital image settings: H Detail, V Detail, Detail Coring, Skin Tone Detail, Chroma Level, Chroma Phase, Color Temperature, Master Pedestal, Knee (LOW/MID/HIGH), Matrix (NORM1/NORM2/FLUO/CINE-LIKE).
Professional Shooting Functions
Scan Reverse function for use with a cinema lens adapter.
Digital Zoom function for 2x and 4x close-ups.
Variable Shutter Speed from 1/12 sec to 1/2000 sec plus Synchro Scan function.
Four-position (CLEAR, 1/4 ND, 1/16 ND, 1/64 ND) optical neutral density filter wheel.
Standard-Equipped, High-Quality AVC-Intra Codecs

This advanced system maintains intra-frame compression based on the new MPEG-4 AVC/H.264 moving picture compression technology.
It records in AVC-Intra100 mode (1920 x 1080,* 10 bit, 4:2:2) for images with full-pixel HD and full sampling, and AVC-Intra50 mode (1440 x 1080,* 10 bit, 4:2:0) for high-quality images at a low bit rate and for low-cost operation.
HD/SD Multi-Format and Multi-Codec Recording
AVC Intra100/50: 1080/60i, 24pN, 30pN, 720/60p, 24pN, 30pN*
DVCPRO HD: 1080/60i, 24p, 24pA, 30p, 720/60p, 24p, 30p*
DVCPRO 50/DVCPRO/DV: 480/60i, 30p, 24p, 24pA*
50 Hz mode: 1080/50i, 25p, 25pN, 720/50p, 25p, 25pN, 576/50i, 25p
48 kHz/16 bit, 4 Channel Digital Audio
The AG-HPX610PJH/EJH/PJF/EJF can record full 48 kHz/16 bit digital audio on all four channels. You can freely select the audio source for each channel, choosing from mic-in, line-in and wireless receiver.
P2 Card/microP2 Card* — Excellent Speed, Reliability and Environmental Performance
Reliable for broadcast-use: Offers high reliability to withstand impacts, vibrations and temperature changes.
Quick start: Lets you stand by with the power off, then start shooting immediately with no need for cueing.
Safety: Automatically records onto blank card sections and protects against accidental data overwriting.
Re-use: High durability and reliability allows years of repeated use.
Instant playback: Files can be played or transferred as soon as the thumbnail images are displayed.
Versatile File-Based Recording Functions
Double Slot system: Two P2 card slots allow continuous recording, card select (recording slot selection), and hot-swap recording (replacing a card during recording).
One-Clip rec mode: Records up to 99 consecutive cuts as a single clip.
Loop rec:*1 Repeatedly re-records while maintaining a recording of the most recent, predetermined period.
Pre-rec:*1 Continuously stores footage prior to pressing Rec Start for recovery if desired.
Interval rec:*1 Automatically records intermittently based on a set interval and recording time.
One-shot rec:*1 A frame-shot recording function useful for producing animations.
Text Memo:*2 Up to 100 memos can be posted onto a clip as bookmarks.
Shot Marker:*2 Used to mark clips as OK, NG, etc.
Metadata: Data with information such as operator's name, shooting location, and text memos can be added via an SD Memory Card.
Function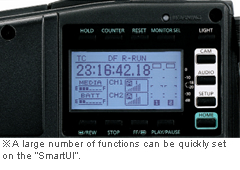 Comfortable operating functions, such as SmartUI, and a host of system functions are included in this compact, lightweight (approximately 2.8 kg [6.2 lb]) body.
The 2/3-type Shoulder-type Model
The AG-HPX610PJH/EJH/PJF/EJF is approximately 2.8 kg (6.2 lb) for the main unit. This compact body provides superb mobility. It is also designed with excellent forward visibility.
Low Power Consumption
Power consumption for the main unit is only 18 W. This is a reduction of about 50% from our previous model, the AJ-HPX2000/2100 (36 W for the main unit only, with LCD off), which was released in 2007. The AG-HPX610PJH/EJH/PJF/EJF consumes only 22 W even with the optional AG-YDX600G Video Encoder Board and optional AG-YA600G HD/SD SDI Input Board mounted.
SmartUI — User Interface
This user interface consists of an LCD and a variety of switches. A large number of functions, including Scene File settings, Audio Level settings, Audio IN/OUT selection, Time Code settings and MON/HDMI Output Video settings, are easy to recognize and can be set with only a few steps each.
Versatile Shooting Assist Functions
Focus Assist: Press the Focus Assist button to expand the center section of the viewfinder screen for easier focusing.
Scene Files: Select either of six preset files from the menu according to the shooting situation. The settings can also be stored onto an SD card.
Gain: There is a three-position gain selector with a maximum gain value of +18 dB.
User Buttons: Functions can be freely allocated to the three User buttons.
Shockless White Balance: A smooth transition occurs when switching White Balance modes. This is effective, for example, when moving from outdoors to indoors.
WFM: Simplified waveform and vectorscope display.
Zebra: Select any two levels from among 50% to 109%, in 1% steps.
Mode check: Displays a list of the camera settings.
Y-GET: Measures brightness at center and displays numerical data.
Auto White Balance with an auto tracking white function.
User files can be saved to an SD card and shared with other cameras.
Audio input level adjustment (front) can be switched on/off and allocated to desired channels.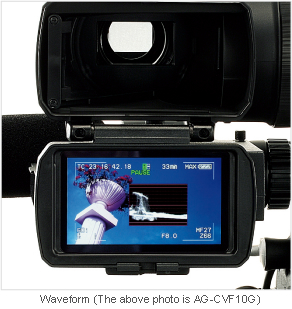 Color LCD Viewfinder
The optional AG-CVF10G Color HD Viewfinder (cost-effective model) and AG-CVF15G Color HD Viewfinder (upper grade model) are 8.76 cm (3-1/2 inches) color LCD with approximately 920,000 dot resolution and a 16:9 aspect ratio. When opened, it serves as an LCD monitor. The optional 5.08 cm (2 inches) AJ-HVF21KG Monochrome HD Viewfinder can also be used.
Camera Remote System Compatibility
10 pin Remote Terminal: Camera remote operation is enabled with the optional AG-EC4G Extension Remote Control Unit or AJ-RC10G Remote Control Unit.*
Camera Studio System: The optional camera extension system (AG-CA300G Camera Adapter and AG-BS300 Base Station) support low-cost studio integration.
HD SDI IN/OUT, HDMI OUT
SDI OUT (IN): It outputs SDI with embedded audio. Backup recording operation can be interlinked with the Rec Start/Stop controls of an SDI input-equipped Panasonic recorder, such as the AG-HPD24. Adding the optional AG-YA600G HD/SD SDI Input Board makes it possible to switch SDI input with this terminal, for line recording.
HDMI OUT: This terminal allows digital A/V output to a wide range of devices with both professional and consumer specifications.
MON OUT: This terminal outputs separate from the SDI OUT terminal. It can also be set to output HD SDI, down-converted SD SDI, or VBS.
Aspect conversion: The aspect ratio can be selected to Side Crop, Letter Box, or Squeeze mode when down-converting and outputting from SDI OUT/MON OUT terminals.
Other Interfaces
TC IN/OUT: A built-in SMPTE time code generator/reader. IN/OUT selectable by menu settings.
GENLOCK IN: For synchronized recording with a multi-camera system.
USB 2.0*1: Equipped with both HOST (for connection to an HDD) and DEVICE (for connection to a PC/Mac) terminals.
UniSlot®*2 compatible wireless receiver slot (2 channels).
XLR audio input: 2 channel mic/line inputs supporting 48V phantom power supply.
Audio output terminals (pin jacks), 2 channels.
Multiple battery support, including Anton Bauer.