12G-SDI/3G-SDI/HDMI multi interface compatible


Development of the Compact Live Switcher for live 4K production
Equipped with basic functions of high-end large switchers

September 12, 2019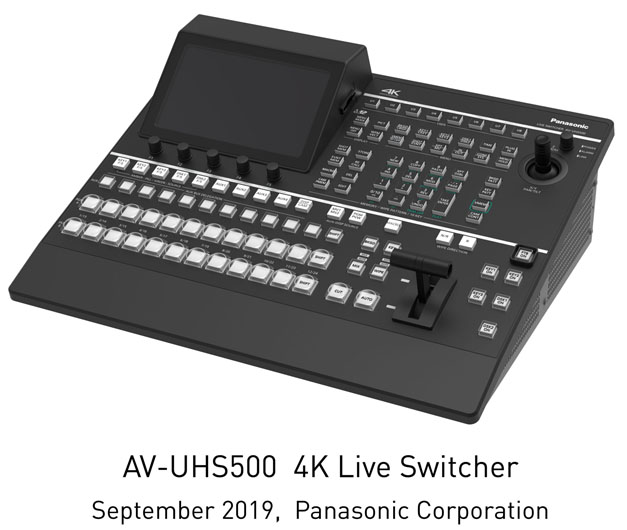 Panasonic has developed a new 12G-SDI compatible compact 4K Live Switcher, the AV-UHS500, which is planned for release in February 2020.
We have long been highly regarded in the field of compact live switchers for use in a variety of contexts, including broadcast studios , various live staging and sports events.
The AV-UHS500 represents the next step for the various technologies that we have developed. In addition to providing 4K/3G/HD multi format support, the same number of inputs and outputs as HD can be maintained even when operating in 4K. It also has nearly all the basic functions of high-end large models and is capable of 4K video production with the same operability as HD.
Five optional units have also been developed in order to expand various functions. Additional optional units can be installed to increase the number of inputs to as many as 16 SDI* or 8 HDMI*, ensuring smooth operation at big events with a large number of cameras. The unit is equipped with 5 keyers, including 2ch of chroma-key and 2ch of PinP, to enable a variety of production effects. The switcher is also equipped with an up/down conversion function, HDR/SDR conversion function and ITU-R BT.2020/BT.709 conversion function. These enable the flexibility to select video output as needed in environments where there are a variety of formats being used.
The 4K Live Switcher is easy to use in a variety of applications, such as event staging, broadcast at stations and OB vans, lectures at universities, conference halls and so on, demonstrating outstanding performance in live video production on the field.
This unit will be exhibited at the International Broadcasting Convention IBC2019, due to be held in Amsterdam, the Netherlands from September 13th (Fri) to 17th (Tue) 2019.
Compatible Formats
3840×2160/59.94p, 50p, 29.97p, 25p, 24p, 23.98p
1080/59.94p, 50p, 29.97Psf, 25Psf, 24Psf, 23.98Psf, 59.94i, 50i
720/59.94p, 50p
Optional Units
SDI Input Unit

AV-UHS5M1G
SDI Output Unit

AV-UHS5M2G
HDMI Input Unit

AV-UHS5M3G
HDMI Output Unit

AV-UHS5M4G
4K DVE Unit

AV-UHS5M5G
*With the optional unit attached.
For more information on Panasonic's range of Broadcast and ProAV products, please visit:
Preliminary Product Information
•AV-UHS500