Panasonic Announces a New CX Series Line-up,
Industry's Smallest and Lightest*1 4K 60p Professional Camcorder
January 6, 2020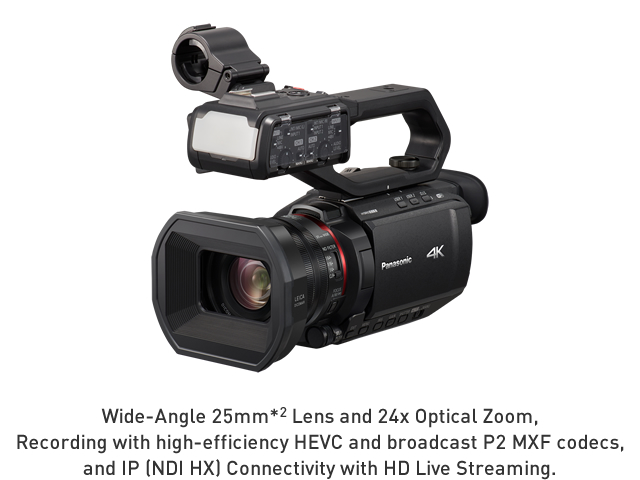 Osaka, Japan – Panasonic is pleased to announce a new professional camcorder in the CX Series, the AG-CX10 Memory Card Camera Recorder, the industry's smallest and lightest 4K 60p camcorder. Packed into a compact body and offering the on-site mobility and portability demanded by professionals, the new camcorder enables high-quality 4K 60p recording, and will start shipping from February 2020*3.
The new AG-CX10 features high-spec optical performance with a wide-angle 25mm lens and 24x optical zoom, Panasonic's exclusive high-precision AF provides high-speed, accurate focusing for both 4K and Full-HD shooting. The AG-CX10 has two manual rings, an ND filter, a built-in LED video light, and 24-bit linear PCM audio recording. For video recording, the AG-CX10 supports 4:2:2 10-bit internal recording*4, the high-efficiency HEVC codec, and the P2 MXF file format*5. The best of various recording formats can also be selected.
And a 3G-SDI output for connection to an external recorder, Wi-Fi /Ethernet HD direct streaming and an NDI|HX*6 compatible IP connection function are equipped, which meet the needs of various shooting situations.
The AG-CX10 will also be simultaneously launched and displayed with two consumer models (HC-X2000, HC-X1500) at CES2020, to be held from January 7-10 in Las Vegas, USA.
< Main Features >
A high-mobility 4K 60p camcorder, detachable handle with LED light.
Wide-angle 25mm, optical 24x zoom lens and fast face detection AF/AE.
4:2:2 10-bit/HEVC/P2 MXF recording, NDI HX*6 IP connectivity, live streaming.
*1: For a camcorder with an integrated lens capable of 4K 60p recording (as of January 6, 2020, according to Panasonic research).
*2: 35mm camera equivalent.
*3: The shipping start date depends on the region.
*4: Up to 4K 30p.
*5: AVC-Intra100/50 codec support is planned for the future. Recording by all P2 formats requires a microP2 card.
*6: For use, an activation key code supplied by NewTek Company is required. NDI stands for "Network Device Interface" technology from NewTek Company.
For more information on Panasonic's range of Broadcast and ProAV products, please visit:
Product Information
•AG-CX10