Panasonic Connect's New 4K/IP CCU to Offer Robust IP Connectivity: AK-UCU700 Series
Unprecedented Support for Dante,® NDI® and SRT as well as ST 2110
October 18, 2023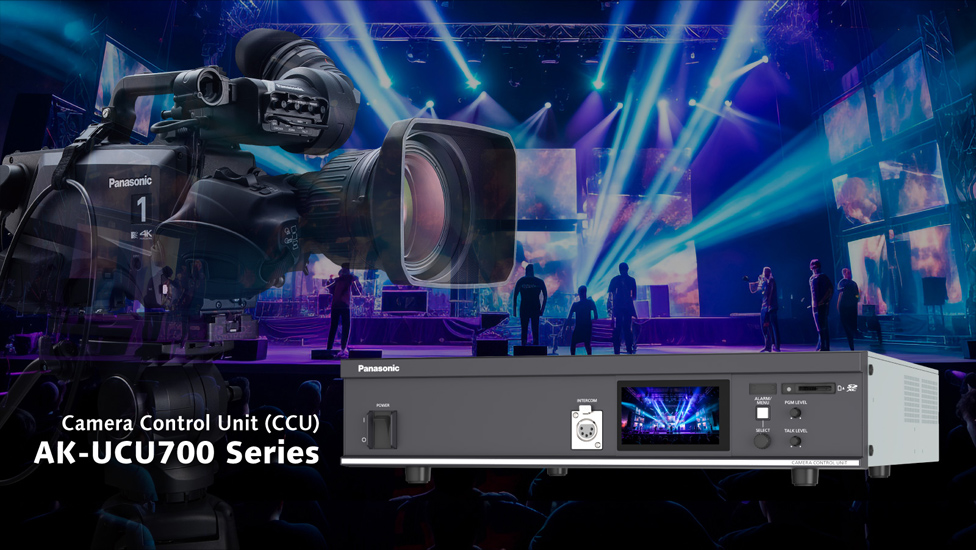 Tokyo, Japan – Panasonic Connect Co., Ltd. today announced that it has developed a new camera control unit (CCU), the AK-UCU700 series, to support diverse IP migration paths for the company's existing 4K studio camera systems.*1 The AK-UCU700 offers 4K and HDR operation, flexible IP migration of existing operation systems, and a 3.5" LCD touch panel for easy operation. It will be release in the first quarter of next year (calendar year).
With live events now regaining their pre-pandemic momentum, the demand is growing for hybrid operations combining in-person and remote video production. In addition, viewing environments are rapidly diversifying, necessitating support for various resolutions and aspect ratios as well as simultaneous distribution to multiple media. As the live-production industry migrates to IP-based systems, Panasonic Connect's new AK-UCU700 series will enable diverse IP studio camera systems to output IP directly from studio cameras, as well as offer IP options for seamless migration from conventional CCU-based baseband systems to IP systems.
The AK-UCU700 will support the new SMPTE ST 2110*2 IP-transmission standard as well as JPEG-XS to uncompress/compress 4K video by a factor of 10 without degrading quality. As the industry's first*3 studio camera system to support the Dante*4 network audio standard as well as the NDI (High Bandwidth NDI) and SRT (Secure Reliable Transport)*5 IP transmission standards, Panasonic Connect's new CCU will help realize diverse networks and applications for IP studio camera systems.
Users will combine the AK-UCU700 with Panasonic Connect's highly efficient and flexible IT/IP platform "KAIROS" to build totally IP-based studio camera systems for complete shooting, editing and projection.
The AK-UCU700 series' many outstanding features include:
1. 4K & HDR Operation: The AK-UCU700 series supports 4K and HDR operation with 12G-SDI output as standard (4K high-speed video to be added later).
Optical Transmission up to 2km:

4K/HD uncompressed optical transmission between the camera and CCU up to 2km when power is supplied from the CCU.

Simultaneous HDR & SDR operation:

Simultaneous output of HLG or HDR BT.2020 and BT.709 for concurrent HDR and SDR production.

12G-SDI for Diverse Operability:

Standard outputs x 8, including 12G/3G/HD-SDI output x 2, 3G/HD-SDI output x 5, and HD-SDI (1.5G) x 1.

High-speed Shooting (Future update):

Connection to the AK-UC4000 will enable high-speed HD shooting at up to 4x the speed of 1080/59.94i/p-240 fps or 1080/50.00i/p-200 fps*6. In the future, connection to a next-generation studio camera (under development) will allow 4K shooting at up to twice the speed of 2160/59.94p-120 fps or 2160 50.00p-100 fps.
2. Diverse IP Migration Paths for Studio Production: Compatibility with the ST 2110 and Dante IP interfaces (both standard) as well as streaming enables seamless migration from baseband to IP for flexible network development as required for main lines, backup, monitoring, etc.
ST 2110 for Uncompressed 4K and JPEG-XS:

The ST 2110 interface board (AK-NP701; sold separately) supports the SMPTE ST 2110*2 international standard for 4K (2160p) and HD (1080p) uncompressed signal transmissions as well as the extra-efficient JPEG-XS standard. Support for IS-04 and IS-05 control standards from AMWA NMOS is also planned. Two SFP28 connectors are provided for network redundancy. *7
Industry-first*3 Support for Dante*4: The AK-NP702 (sold separately) enables use of the Dante digital-audio interface (primary/secondary, 16x16 matrix input/output). Dante-compatible audio mixers are connectable directly via the CCU without going through a converter. Dante-supported redundant connections are standard.
Industry-first*3 Support for NDI*5 and SRT: The AK-NP703 streaming interface board (sold separately) enables use of high-bandwidth NDI*5 for IP transmission of high-definition video. Video sources from various devices are possible on the same network, and even unknown IP addresses can be automatically recognized and connected to the camera. Also, the SRT next-generation video transmission protocol can be used on unstable networks to achieve high-quality, low-latency production and streaming as well as to enhance security.
3. Convenient Touch Panel for High Operability: The front panel has been completely redesigned with a 3.5-inch color LCD monitor for intuitive operation and the Web Screen function allows remote setup and video preview from a PC for added operability.
3.5" Color LCD:

The touch panel simplifies switching between status displays (tally, optical communication level, camera images, etc.) and enables intuitive settings and easy image monitoring without a separate monitor.

Remotely Menu Setting via Web Browser:

Connected PC browsers can be used to remotely configure and confirm settings.
Commercial Release
The AK-UCU700 series is scheduled for release in the first quarter of CY2024.
Product Name
Camera Control Unit
Model No.
AK-UCU700
(Basic Model)
AK-UCU710
(ST 2110 and Dante I/Fs installed Model)
Product Name
ST 2110 Interface Board
Dante Interface Board
Streaming Interface Board
Model No.
AK-NP701
AK-NP702
AK-NP703
*1: AK-PLV100GSJ, AK-UC4000/UC4000S and AK-UC3300/UC3300S studio cameras
*2: Standard in AK-UCU710 and optional in AK-UCU700 (requires AK-NP701 interface board)
*3: As of September 2023, based on Panasonic Connect research.
*4: Standard in AK-UCU710 and optional in AK-UCU700 (requires AK-NP702 Dante interface board). Dante is a registered trademark of Audinate Pty Ltd.
*5: NDI is a new protocol for IP-based live video production developed by NewTek, Inc. NDI is a registered trademark of NewTek, Inc. in the U.S. and other countries.
*6: This will be implemented in a future firmware update.
*7: AK-UCU700 requires the optional AK-NP701 interface board for SFP28 connection.
For more information about KAIROS, please visit the product page.
https://pro-av.panasonic.net/en/products/ak-ucu700/
* Due to development, the specifications and images in this document may differ from the final product.