Panasonic is pleased to announce that the AG ROP (Remote Operation Panel) app, which allows remote control*1 of the professional AG-DVX200 4K camera recorder from an iPad, will be available for downloading, free of charge, from the Apple App Store starting on January 18, 2016.
The AG-DVX200 is a 4/3-type large-format 4K/60p*2 camera recorder with integrated zoom lens that was released in September 2015. Its 4/3-type large-format sensor captures stunning images with a shallow focus and attractive Bokeh effect. It also features a wide dynamic range made possible by 12-stop V-Log L processing inherited from the new Varicam Series. The AG-DVX200 records 4K (4096 x 2160)/24p, 4K (UHDF3840 x 2160)/60p, FHD (1920 x 1080)/60p images at a maximum of 120 fps (frames per second) onto a memory card.*3
The new AG ROP app enables wireless remote control of the AG-DVX200's picture quality adjustment, zoom, focus, and REC start/stop from an iPad. This allows easy touch control with an existing iPad, to further expand the mobility of the AG-DVX200 with crane and jib use compatibility.
AG ROP App Features:
Wireless Remote Control*1 of Picture Quality Adjustment, Zoom, Focus, and REC Start/Stop from an iPad
Attach the AJ-WM30 Wireless Module or ASUS USB-N53 to the AG-DVX200 and install the free "AG ROP" app for iPad to enable wireless control of the AG-DVX200 from the iPad.
The AG ROP app for iPad is available free of charge from the Apple App Store. It enables wireless remote control of the AG-DVX200*2 memory card camera recorder. The control screen of the AG ROP app displays large numerals and provides upper and lower touch keys for easy understanding and use. In addition to a multitude of control functions, such as camera settings, picture quality adjustment, REC start/stop and menu setting, the AG ROP app allows control of the AG-DVX200's internal lens for remote operation of the i.ZOOM, zoom and focus. This provides extra versatility when, for example, the AG-DVX200 is set up on a crane.
It also displays a thumbnail view and a preview view, so clips*3 recorded in dual codec recording mode onto the AG-DVX200's memory card can be displayed as thumbnails and previewed on an iPad. The AG ROP app lets the user check the image while recording.
• Controllable Functions
i.ZOOM/ZOOM/FOCUS, KNEE (ON/OFF), TCG (TC/UB display and setting), REC CHK, REC S/S,
SHUTTER (OFF/FIX/SS), GAIN, WB (PRST/A/B/AWB/ABB), M.PED, IRIS (AUTO/MANUAL),
PAINTING GAIN (R/B), Menu display and setting, USER Button, Switching CAM/BAR Output image,
and Character output ON/OFF
• Other Functions
CAM. INFO (display camera recorder info), THUMB (display and playback of camera clip),
Remaining media/battery display, LOCK (disable operation on AG ROP app), and WARNING indicator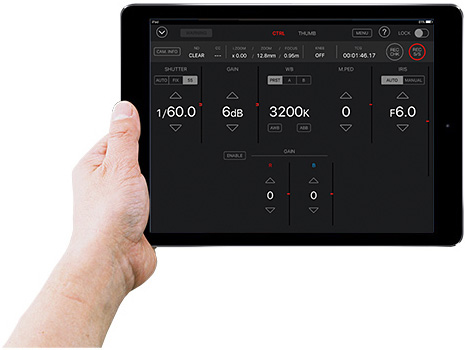 AG ROP control screen