Opening New Paths to Video Production with 4K Quality and Mobility
The AG-DVX200 debuts as the world's first*1 4/3-type large format camcorder with integrated zoom lens. Combining digital video technology that Panasonic has developed over its long history of producing broadcast equipment with its expertise in professional camera recorder, the AG-DVX200 blazes an entirely new trail in video production.
This new camera recorder captures stunning images with the shallow focus and attractive Bokeh effect of its 4/3-type large-format sensor, and the latitude made possible by the 12-stop V-Log L processing inherited. High-speed processing of these high resolution images by a new 4K engine enables high-quality, multi-format (4K/24p, UHD/60p, FHD/60p) recording.
The AG-DVX200 also features a number of functions to meet professional video production needs, including Full-HD, 120-fps Variable Frame Rate(VFR) shooting and dual codec recording. And it integrates a newly developed LEICA DICOMAR 4K 13x zoom lens. High-speed, high-precision full-auto functions and professional-level manual functions provide operating ease and mobility that are possible only from a lens-integrated body. It supports wireless remote control and preview from iPad to enhance remote operation.*2
The crimson red coloring and stylish carbon-black textured body form a highly impressive and innovative design, in response to the artistic sensibility of video creators. This color scheme also reflects the expressive capability of the AG-DVX200's vividly detailed 4K images together with its superb mobility and intuitively easy operation, supporting the everyday demands of active professionals.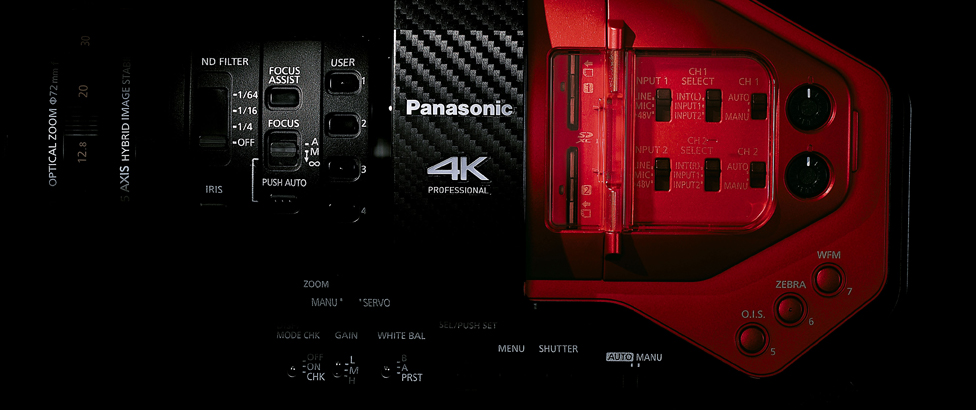 *1: For a lens-integrated 4K/60p camera recorder with a 4/3-type sensor. (As of August 2015, according to a Panasonic survey.)
*2: Installation of a Wireless Module (AJ-WM30 (sold separately) or ASUS USB-N53 (Ver.A1) (sold separately) is required. With iPad, iOS7.1, iOS8.1, iOS9 are supported. Preview is possible with sub-recording (8Mbps) of dual codec recording is supported. The firmware in the camera recorder may need to be updated.
• The use of DCF Technologies is under license from Multi-Format, Inc.
• App Store is a service mark of Apple Inc.
• Apple, the Apple logo, and iPad are trademarks of Apple Inc., registered in the U.S. and other countries.
RELATED VIDEOS
THE DVX 4K - A New Legend Begins - (Consolidated)

Panasonic AG-DVX200 #1 Camera Tour by Barry Green

Shot on AG-DVX200: A Day of Life
SPECIAL CONTENTS
4K WORKFLOW
Live Video Streaming System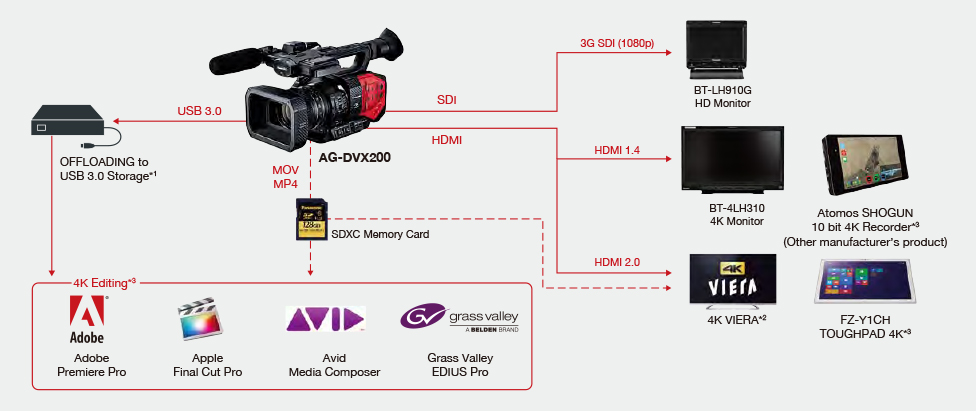 *1: Please see "Operation confirmed USB HDD"
*2: As for the model supporting 4K video playback
*3: It is equipment and software that schedules confirming the operation. Please visit Panasonic website
Battery Pack

AG-VBR118G (11,800 mAh)

Quick-charge with AG-BRD50

XLR Microphone (monaural)

AG-MC200G

LED Video Light

VW-LED1
SDXC Memory Card

SDHC Memory Card

Battery Pack

AG-VBR118G (11,800 mAh)

Quick-charge with AG-BRD50

Battery Pack

AG-VBR89G (8,850 mAh)

Quick-charge with AG-BRD50

Battery Pack

AG-VBR59 (5,900 mAh)

Quick-charge with AG-BRD50

Battery Charger

AG-BRD50

Battery Charger

AG-B23

XLR Microphone (monaural)

AG-MC200G

LED Video Light

VW-LED1

Wireless Module

AJ-WM50
SUPPORTS