Case Studies:

Fuji Television Network, Inc.
The 4K Information Capturing Camera for High Definition Filming at Any Time in Preparation for BS 4K Broadcast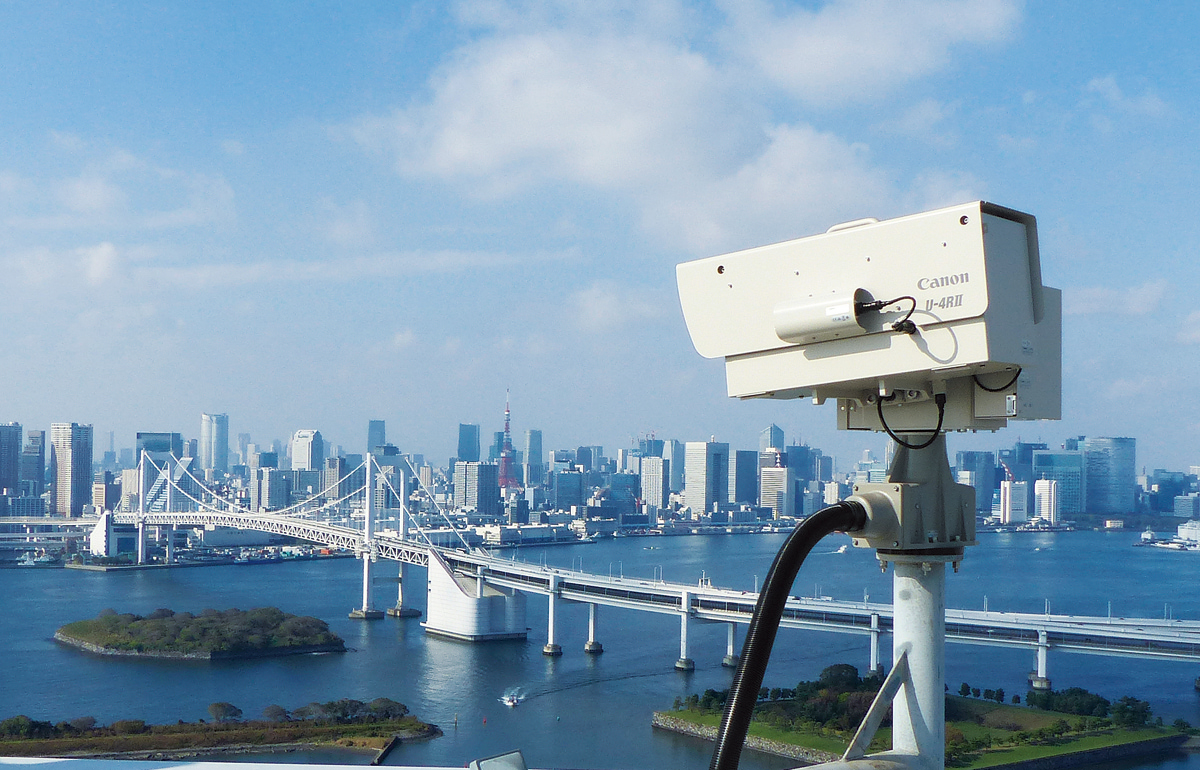 The 4K Multi Purpose Camera AK-UB300GJ installed on the headquarters rooftop (Customize )
Profile
The BS Fuji 4K broadcast channel starts in December 2018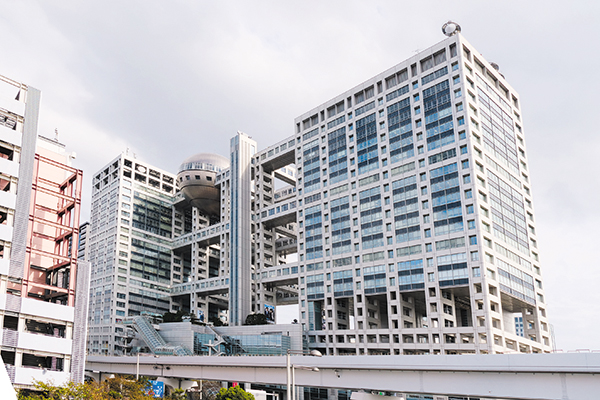 Fuji Television Network, Inc. is a key broadcast company whose Fuji TV system spans 28 networks across the country. The company will add BS Fuji 4K to its current Hi-Vision broadcast starting on December 1, 2018. The concept for this new 4K broadcast channel is "So live! So real! So original!". High definition 4K video will deliver impact and excitement like never before.
Adoption History
Adopting the Panasonic 4K Multi Purpose Camera for the information capturing camera geared toward 4K broadcast
The information capturing camera set up on the Fuji Television headquarters rooftop covers the entirety of the coastal area and central Tokyo stretching out from Rainbow Bridge. The most frequently used camera at any time, it is utilized in every kind of live broadcast from weather reports to commercial transitions, while also playing the vital role of handling emergency broadcast.
Fuji Television established a new 4K compatible studio as they gear up to start BS4K broadcast on December 1, 2018. This required that the information capturing camera also be 4K and they were drawn to Panasonic's 4K Multi Purpose Camera AK-UB300GJ, which is equipped with a large sensor to capture subjects clearly, even over long distances.
There is little shelter in the vicinity of the headquarters rooftop where the information capturing camera is installed, so it is directly subjected to the harsh summer sun. To provide sufficient protection from the heat, the Multi Purpose Camera AK-UB300GJ* was loaded in the Canon Outdoor Housing U-4RII for installation. One major factor concerning adoption at Fuji Television was the capability to control the camera via remote controllers already set up at their nine studios and news video recorders. To ensure compatibility to the mount housing, the interface was improved, with additional customization such as stronger heat protection and reduced power consumption. The setup then underwent approximately one year of operation verification to check stability before being adopted.
*Modification of the AK-UB300GJ is required to install it in the Canon U-4RII.
System Introduction
Long-distance stable 3G TICO video transmission with fewer cables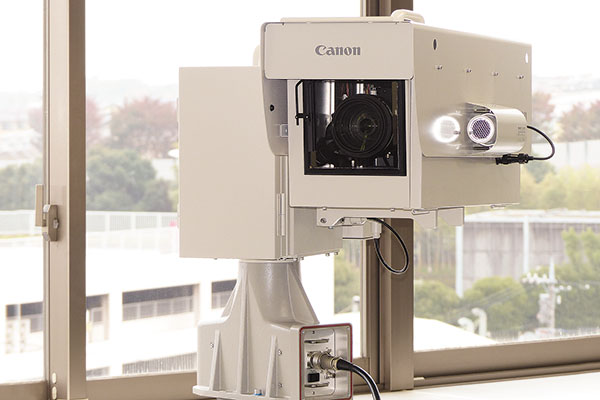 The 4K Multi Purpose Camera AK-UB300GJ installed on the outdoor mount (Customize)
12G-SDI transmission of video output had been assumed from the start. However, it was determined that stable transmission of a 12G-SDI video signal would not be possible over the long distance from the rooftop information capturing camera to the base instruments, so 3G-SDI transmission was adopted. The 4K Multi Purpose Camera AK-UB300GJ was enabled for 3G TICO output by adding the 3G TICO UHD Output Board, reducing the number of 3G-SDI lines from four to a single cable. Though there were concerns over image quality deterioration and delay caused by TICO compression, once video was shot, and TICO compression was compared to that of uncompressed 12G-SDI, very little image quality deterioration or delay was found and the effectiveness of 3G TICO compression was clear. The output TICO compressed video was converted to 3G-SDI x 4 using the 3G TICO & 12G to Quad 3G SDI Converter AK-UGB01G set up at the operation center. After being sent through a converter to change the signal to 12G-SDI 4K and HD, the signals are sent to the sub control rooms handling BS4K and terrestrial broadcast, respectively. The HD signal is constantly recording to construct an environment for broadcast at any time.
Functionality for incredible image capture at any time, whether it's morning, midday, evening or night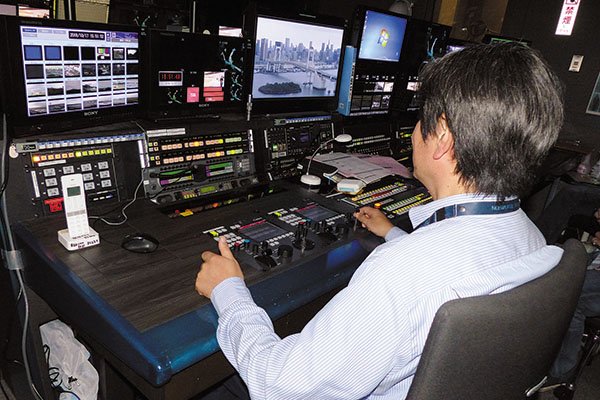 Remote control from all sub control rooms
The images captured by the information capturing camera on the Fuji Television headquarters rooftop are said to be the face of the company. Video capture was tested at every time of day to verify the high color reproducibility required for images of the entire sky in morning, midday, noon and night. The 4K Multi Purpose Camera AK-UB300GJ was highly evaluated for substantial utility in media coverage. Compatible with the HDR/ITU-R BT.2020, it boasts perfect resolution, color and gradation. Even at night when there is little light and the gain is raised, sensitivity is high with no granulation. It was further confirmed that there was little difference in color quality between 4K video and down converted 2K video.
System configuration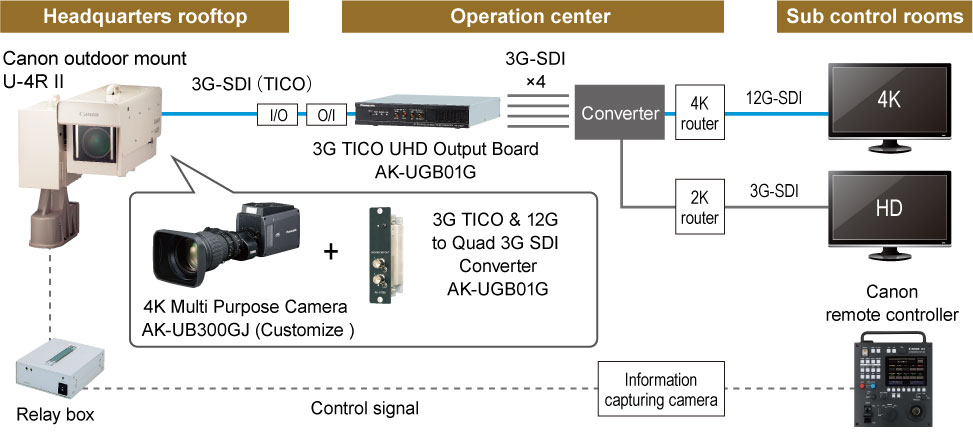 Future Outlook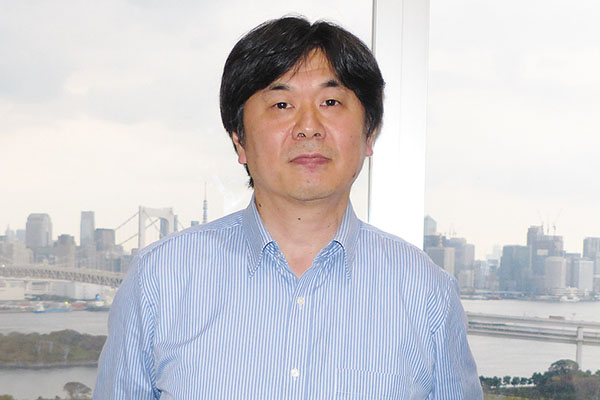 Interviewee
Mr. Hiroshi Amemiya, Facilities Director
Media and Information Technology Division
Technology Bureau and Control Technology Center
Fuji Television Network, Inc.

Moving forward toward full utilization of 4K video
In addition to use of BS4K broadcast in the weather report when broadcast began, full utilization of 4K video is anticipated within 2020 Tokyo Olympics venues around the Odaiba area. We had already adopted multiple information capturing camera in locations besides the headquarters rooftop without issue and complete reliability. I have absolute faith that these cameras will meet our needs.
Equipment Installed

3G TICO UHD Output Board


AK-UTS03G x 1


3G TICO & 12G to Quad
3G SDI Converter


AK-UGB01G x 1
Location