Case Studies:

Ronnie Scott's Jazz Club (U.K.)
Ronnie Scott's Jazz Club extends audience experience beyond frith street venue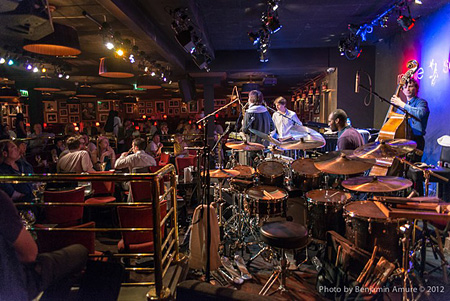 Equipment from Panasonic enables artist performances to be shared in HD.
Ronnie Scott's, is one of the oldest and most famous jazz clubs in the world having been opened by Ronnie Scott and Pete King in October 1959. In the 53 years it has been attracting jazz enthusiasts in London it has featured a huge gamut of jazz legends from Ella Fitzgerald to Miles Davis. Since the revamp of the club in 2006 under new owners Sally Greene and Michael Watt, Ronnie Scott's is more popular than ever, selling out and achieving a full house every time the doors are opened. Today, with a seating capacity of 220, Ronnie Scott's is turning to technology "to help take the experience beyond the walls of the club, improve accessibility and widen our audience demographic" explained Simon Cooke, Managing Director of the club. "We are keen to give those who can't make the journey into London's Soho late on a Friday night, people who are too far away or, simply those who can't get a ticket the opportunity to enjoy the Ronnie Scott's experience".
Cooke had the ambition of broadening the audiences of Ronnie Scotts when the club re-opened its doors in 2006. He was against installing obtrusive technology because he felt that it could detract from the famed ambience of the club the audience come to experience. His idea was not to sell DVD's to boost profits, but to help artists promote their talent.
Today at a time where technology is both more widely available and capable, Cooke felt the time was right to explore the possibilities it could offer. He visited other London venues with similar requirements to help gain insight into how audio visual solutions could assist in bringing performers and customers, separated by boundaries of the venue walls closer. This was the point in the Ronnie Scott's story when high definition cameras came in. Being able to meet the demands of capturing live indoor music events for broadcasting requires reliable, robust and concealable equipment capable of capturing high quality images in very low levels of lighting. A leading independent AV installation company had recommended Panasonic cameras to the club as an ideal and cost-effective solution. Cooke identified from his research that both handheld and remote broadcast cameras could be useful because of their ability to acquire vivid, high definition images, even in the darkest environments.
Amongst the capabilities also required were flexibility through compact form and a system that could offer multiple angles and positions including the ability to be located to achieve often overseen low angles to give viewers the impression of being amidst the live audience. Cooke learned that cameras could be easily concealed within the club and Panasonic pan tilt and zoom (PTZ) were particularly suitable because they featured a compact design and discreet colour. It was part of Cooke's consideration to ensure the audience was mostly unaware there were cameras there at all. With Panasonic PTZs in fixed positions the cameras could be pre-programmed with up to 100 preset zoom, pan positions and tilts making it relatively simple for the live AV technicians to switch views to, for example individual members of a quartet or equally to produce a zoom shot on to the lead microphone for close-ups of singers.
Cooke contacted the Panasonic broadcast division to consult them about what he had learned from both the AV installation company and what he had found from his own research. Panasonic promptly arranged for a demonstration of the cameras, which left Cooke impressed especially with low light, pan and tilt capabilities. This led to the decision to purchase three AW-HE120 HD Integrated Remote Video Cameras and one handheld AG-HPX250 handheld camera recorder which Cooke noted had been recently approved by the BBC for high definition recording. His intentions were to ceiling mount the AW-HE120s and mount the HPX250 to a tripod to allow incredibly flexible, low angle shots of the live performances. The footage captured could then be used for a variety of purposes such as the online promotion of returning artists, live streaming or even distributed to short filmmakers – beautifully transposing the artistic experience promised at Ronnie Scott's to the big screen. The studio set-up will also be made portable so the front-of-house sound engineer can live-edit instead of post-edit late shows, maximising time efficiency and reducing costs. The resultant high-quality content could feature on the Ronnie Scott's website the following morning in a short summary of what was on the previous night; this would attract customers and boost the clubs already sterling profile.
The fixed position cameras were recently installed allowing fans across the globe to enjoy the exuberant Ronnie Scott's experience that could have otherwise been missed.
* The Users Reports provided above is correct as of the time of publication. Note that information such as company and organization names may no longer be correct.