Case Studies:

Effects Series "Kamen Rider"
Legendary Superstar: VARICAM's VFR!
Behind the Scenes of Special Effects Series
"Kamen Rider", from Showa to Heisei to Reiwa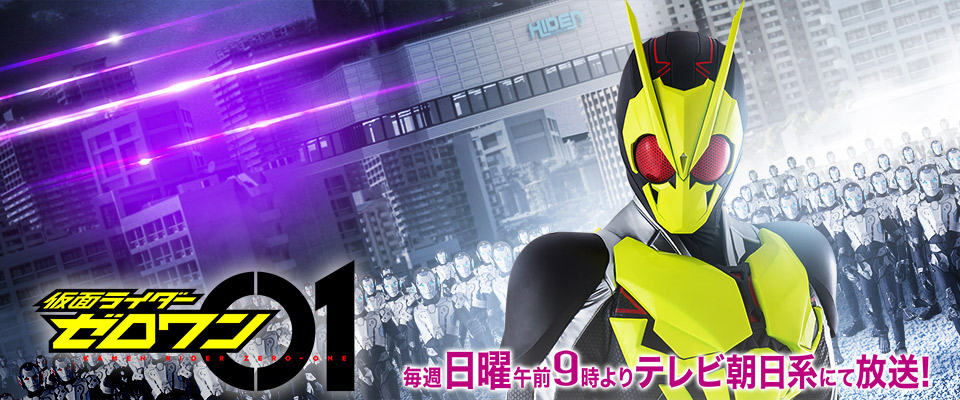 (C) ISHIMORI PRODUCTION Inc., and TOEI COMPANY, Ltd. All Rights Reserved.
"The best thing about the VARICAM LT is that I can shoot with the variable frame rate and test it out right there. Directors love that you can preview it on set, which directly affects the performance."
– Atsushi UETAKE ,Up Side
Why choose Panasonic?
Capable of shooting at 4K Variable frame rate
A record at variable frame rates and check it on set
Compact and Lightweight
The TV series "Kamen Rider" is a beloved longtime show among young children and adults alike.
The current "Kamen Rider" show, a longtime beloved series among young children and adults alike, has been airing on TV Asahi. The series began in 1971 (Showa 46), continuing through the Showa, Heisei, and current Reiwa eras. Not only is it a popular TV show, but it's also been made into movies and internet series. Every Japanese person is familiar with the hero of the special effects series created by comic book artist Shotari ISHINOMORI.
This shoot evolved from film to digital cinema cameras in the early half of the 2000s. The first VARICAM AJ-HDC27F (launched Feb. 2002, hereafter "27F") was tested out on "Kamen Rider 555: Paradise Lost" (Aug. 2003), the theatrical release of "Kamen Rider 555". Its positive results led to it being used annually on the TV series beginning 2005. Taking full advantage of the VFR (Variable Frame Rate), a feature of the VARICAM from early on, it became the camera system used to shoot the 22 frames needed to make the characters' movements look quicker, now indispensable for the Kamen Rider performance.
The Reiwa era Rider, "Kamen Rider Zero One", currently on air, uses the VARICAM LT as its main camera. We spoke with the two cameramen who have been in charge of shooting the Kamen Rider series.
The Early Days of Digital Cinema Cameras
KURATA:
I came on board after "Kuuga" (2000), and before that I was shooting with 16mm film, so I've been doing it since then. During the days of film, you could make it look faster by changing the frame number, but you couldn't do it when video first came on the scene. The shutter results were unreliable. The editing made it look choppy, the expression jumpy. It was around this time that the Panasonic DVCPRO HD camera recorder AJ-HDC270F came out, and it could handle a high frame rate of 60, so Kamen Rider jumped on it. It was first used on a movie: "Totsunyu seyo! Asama Sanso Incident" (2002, cinematography: Zensho SAKAMOTO). I was shocked that you could have VFR (Variable Frame Rate) with video. I did it with film, but it was when video couldn't do 24P or even high speed. On "Kamen Rider Hibiki" we were shooting mixed 59.94i and 30P. The broadcasting station's order was interlaced and the composite team was progressive. In addition, we were shooting a high frame rate of 60P, mixing things, so it was our most transitional time.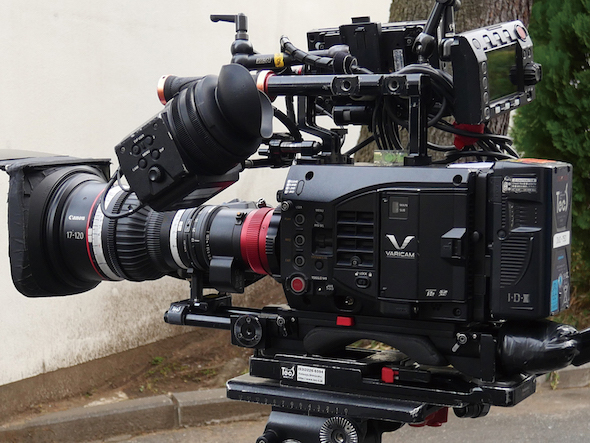 4K Camera Recorder VariCam LT
The camera changes on Kamen Rider are essentially a reflection of VARICAM's history. (see below) The P2HD camcorder AJ-HPX2700G was released in 2010, and since adopting the P2 system as the data camera system, they have been using the P2 card with everything from offline/online editing to shooting on location. Although at one point they did use ARRI's ALEXA, as things evolved towards 4K, they switched to the VARICAM 35. A camera that shot VFR with 4K = VARICAM 35, so it became the main camera on the Kamen Rider series.
Kamen Rider/shooting equipment itinerary
Year
Title
Camera
Frame rate
Basic signal
High speed
expression
Color space
when shooting
Option
2005
Hibiki
AJ-HDC27F
59.94i + 30p
720HD, 525SD/ LB
FRC 60 fps Max.
Rec 709, Linear
Hibiki /
Theatrical
version
24p
2006
Kabuto
23.98p
2007
Den-O
2008
Kiva
2009
Decade
720
up to 2/3 pulldown
1080/59.94i HD
2010
W
AJ-HPX2700
2011
OOO
2012
Fourze
2013
Wizard
—
1080 HD
2/3 pulldown
1080/59.94i HD
Adaptation for
recording settings
120 fps QTHQ
2014
Gaim
2015
Drive
2016
Ghost
VariCam 35
+ VariCam HS
Adaptation for
recording settings
AVC-Intra 120 fps
AVC LT 240 fps
V-Log
Panasonic LUT
C Camera
GH-4, GH5 V-Log
2017
Ex-Aid
VariCam LT x2
V-Log
TVP LUT
2018
Build
2019
Zi-O
2020
Zero-One
Significant Improvement in the P2 System Workflow
UETAKE:
I became a regular on "Den-O" (2007). As a recent graduate, I worked on "Kamen Rider Ryuki" (2001) one time as an assistant. With each series we conduct an annual camera selection meeting. Every year we start fresh.
KURATA:
We debated whether 4K was necessary, which was a new thing in 2010. The director wanted to shoot composite footage with 4K. At the time ALEXA was HD/2K, Panasonic released the VARICAM 35 and the HS lineup, so on "Kamen Rider Drive" in 2015 we figured it was the right time to switch over and we changed cameras. The Kamen Rider set is all about mobility, so large cameras were a no-go. We were looking for a good, compact camera, and that's when the VARICAM LT launched. The LT doesn't go beyond the 4K high frame rate, but we could record 4:2:2 10bit in 2K, and the high frame rate would increase to 240fps at most. It was plenty for Kamen Rider's purposes, so we went with 2 LTs, and here we are today. Most of our shots are action, so a compact camera makes life easier. You have to run around hand-holding it.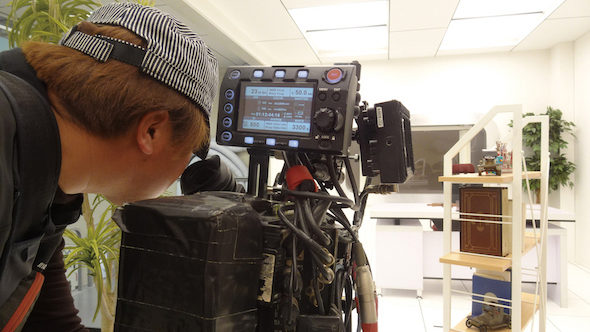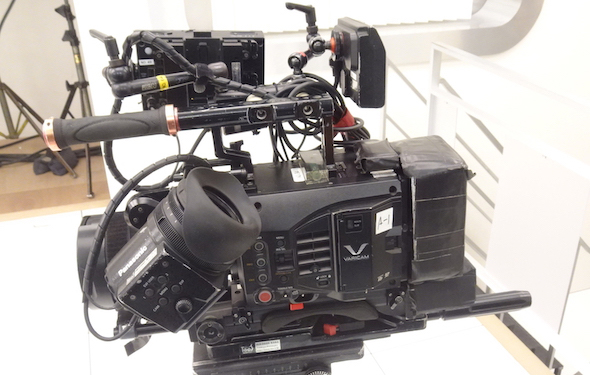 The VARICAM LT can record at 4:2:2 10bit in 2K, and the high frame rate can increase to 240fps at most.
Kamen Rider = 22 frame shooting
KURATA:
From the days of film, I've been shooting theater with 24P. When you're shooting an action scene, it's 22 frames. With video, you couldn't shoot in high speed, so you'd have to increase the shutter and get creative. On this year's Zero One, we tried out 21 frames or 20 frames. With just those 2 frames, the movement becomes quicker. This is the traditional style of the Kamen Rider shoot.
UETAKE:
These days you can see what you've shot right away, so if you feel you want a greater sense of speed, you can test out 18fps. There's a difference even between 22fps and 21 fps. Depending on the action or duration. You try it out on location. The best thing about the VARICAM LT is that I can shoot with the variable frame rate and test it out right there. Directors love that you can preview it on set, which directly affects the performance.
Various Composite Scenes
Composite scene editing is important on Kamen Rider. In the beginning we gave the data with the frames we put together in editing to the composite team, but it was a lot of work to put the frames together. The pacing just didn't work. Since switching over to the VARICAM series in 2016, we could give the composite team the native LUT, which made detailed work like adding light to a frame much faster. Until then, we had to involve the lab to convert and combine the frame rate, but what used to take a day or two now gets handed over for finalization the day after the shoot.
Massive Shoots and Various Action Scenes
There are 50 Kamen Rider shows a year at the moment, and we also shoot 3 movies. In addition, we are simultaneously record subcontent for network streaming.
KURATA:
We shoot hundreds of frames daily and our second camera is the GH5 on a gimbal. The camera is high up, down low and I run around with it. It's labor-intensive work so the more compact it is, the better. I've been doing this nearly every day for 20 years.
UETAKE:
Basically, it's us two and a few other cameramen on the shoot. Amazon Prime has a separate unit, but the main Kamen Rider team splits up. The director is the same one we had before. It'd be best if we could go as one unit, but it's hard to get the timing to work. Of course we have first-timers, so we share our know-how and information. We have a particular shooting style so we've made adjustments to camera peripherals and unique equipment that are specific to the Kamen Rider shoot. Our action shots get really close to the lens, so we handmade an original matte box that isn't wide, for example.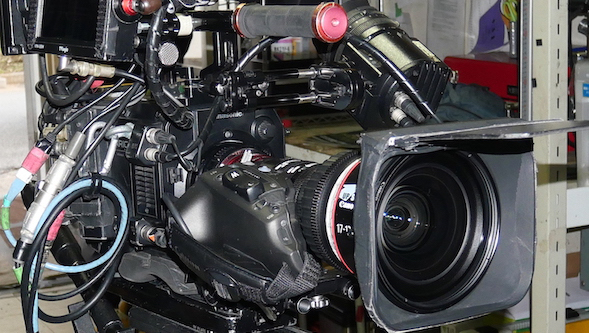 Incorporating the Latest Technology into Workflow
In a sense, the Kamen Rider shoot isn't your standard shoot. If people from Hollywood were to come observe us, they'd be surprised to see we work at 1/100th of the cost and time compared to what they're used to. Our current codec is AVC-Intra 200M. When we up the fps to high speed, we use AVC-Intra 100M. What's improved our workflow is that we can work on native data with composite scenes. We no longer have to convert data, which saves time and lessens the strain on codec and thereby the computer. The Kamen Rider set is always at the forefront of the latest technology in digital cinema.
UETAKE:
We've never had a case where we couldn't read the data or we couldn't replay the footage we shot. This is thanks to our know-how dating back to our film days, and whatever the cinematography team secures gets handed over accurately. Thanks to the P2 card's robust interface, we haven't had many data errors. Basically we don't touch anything other than the copied data. We've only ever had one human error in 10 years.
KURATA:
We have to work within our frame number limits. The expression may be different, but technically it's been the same for the past 5 years. With the major improvement in our workflow, the frame numbers have increased significantly. We've shot so many frames on the latest "Kamen Rider Zero One", but compared to the "Hibiki" days, you can see an evolution.
Data sharing thanks to camera selection emphasizing work flow
We're always using the latest cameras on the Kamen Rider set, but when it comes to adopting the latest equipment, even more than technical or numerical issues, we're very careful about whether everyone offline, online, and the composite team editing the data from the set can open the data with native when editing, which is why we chose AVC-Intra codec. When each department has a different way of accessing the data, image editing doesn't proceed smoothly. In the past, we've had cases where specific cameras didn't work with certain editing equipment or you couldn't open it on a PC, and it caused problems.
UETAKE:
Our recent director likes to incorporate drones and such for more interesting shots. I'd prefer to be able to achieve a more consistent overall resolution, but it's hard with so many different things we're using on set. In that sense we use lots of different cameras on Kamen Rider. Panasonic's cameras are the key!
(C) ISHIMORI PRODUCTION Inc., and TOEI COMPANY, Ltd. All Rights Reserved.
Interviewee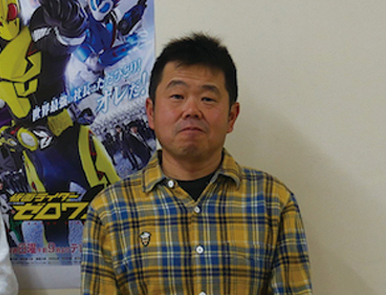 Mr. Koji KURATA
Cameraman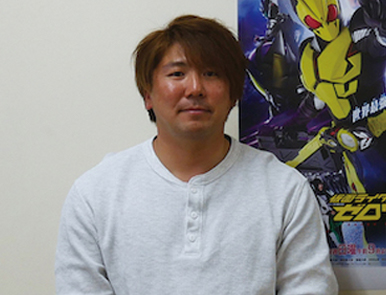 Atsushi UETAKE
Cameraman (Up Side)
Equipment Installed
Location