Case Studies:

Movie "Tokyo Living Dead Idol"
Recorded with a VARICAM 35 and EVA1. Easy color matching using the same V-Log gamma.
Movie "Tokyo Living Dead Idol"
Dual native ISO provides great advantages in action scenes and other high-speed shooting.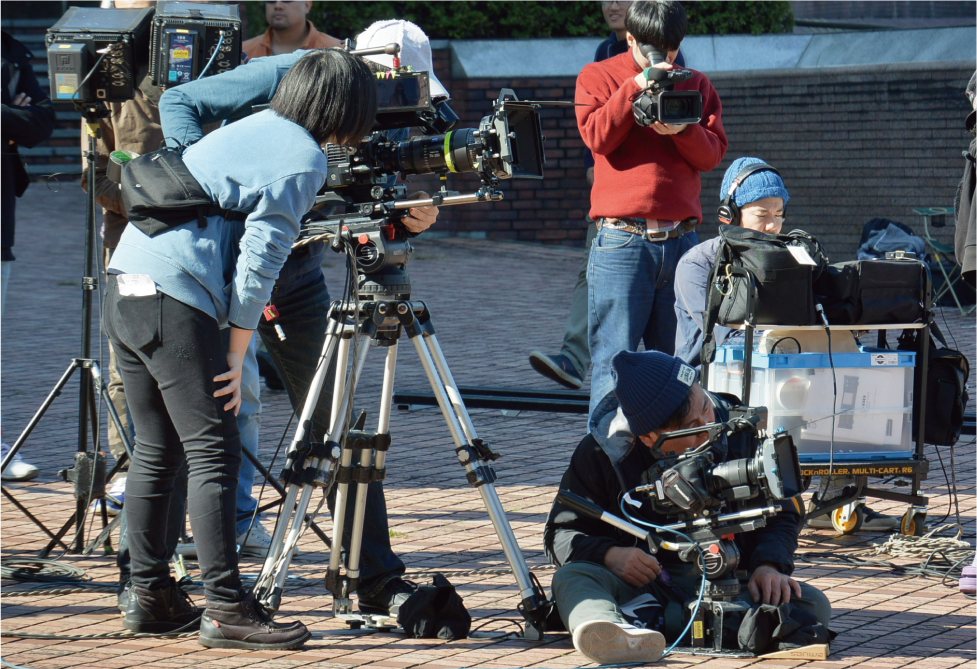 A combination of VARICAM 35 and EVA1 was used in the production of the movie "Tokyo Living Dead Idol"
The movie "Tokyo Living Dead Idol" (production partnership: TBS Service, Inc., Pony Canyon Inc., L'espace Film Co., Ltd., Gokuraku-Eizousha Co., Ltd. and Triple Up Co., Ltd.) was released in June 2018. This movie was recorded with a combination of the Panasonic VARICAM 35 4K camcorder and the newest AU-EVA1 (EVA1) compact cinema camera. It was the world's first full-length commercial movie to be recorded with the EVA1. Gokuraku-Eizousha was in charge of shooting the movie. Mr. Akira Nozawa, the president of Gokuraku-Eizousha, said, "The compact and lightweight EVA1 can be mounted to a handy stabilizer, and is very easy to use as a second camera. Both camera models employ the same V-Log*1 mode, so color matching is a simple procedure. We shot a large number of action scenes. The dual native ISO*2 provided in both products was extremely useful in capturing scenes with high-speed shooting." The movie was scripted and directed by Yuki Kumagai, produced by L'espace Film and post-produced by L'espace Vision.
*1: V-Log: VARICAM and EVA1 boast a wide dynamic range of 14+ stops. In V-Log mode, V-Gamut fully covers the 2020 color space.
*2: Dual native ISO: Panasonic's original technology has enabled the incorporation of two built-in reference sensitivity levels, ISO 800 and ISO 5000 (ISO 2500 in the EVA1), into the image sensor. To realize this function, each pixel of the image sensor is mounted with two dedicated analog circuits, and those two types of native ISO analog circuits are switched before the gain stage to achieve super-high sensitivity without increasing the noise in the gain stage.

The compact and lightweight EVA1 was put to maximum use as a second camera in shooting action scenes with an easy rig.
EVA1 used for the first time in the world to shoot a full-length commercial movie
The VARICAM 35 and EVA1 were used as a main camera and a second camera in shooting the movie "Tokyo Living Dead Idol."
Gokuraku-Eizousha used the EVA1 unveiled in CINE GEAR 2017 ahead of others and employed a multi-camera system consisting of the VARICAM 35 and EVA1.
Mr. Kei Nozawa said, "It was essential to use a multi-camera system to make this movie. We were contemplating which combination of cameras and other equipment to use until immediately before the shooting started. In consideration of shooting under dim lighting and capturing action scenes, I proposed a combination of the VARICAM 35 and EVA1, both equipped with a dual native ISO function, because they would be easier to use for high-speed shooting."
In actual shooting, in addition to the VARICAM 35 and EVA1, we also used various other camcorders manufactured by Panasonic, such as 4K-compatible POVCAM and wearable cameras as sub-cameras."

The VARICAM 35 used as a main camera was mounted securely to a tripod or slider dolly for the intricate shooting of each scene.
Images recorded in two different 4K formats
"Tokyo Living Dead Idol" was recorded in V-Log 4K DCI.
VARICAM 35 uses the AVC Intra 4K444 recording format, while EVA1 uses 422 LongGOP 150M. The recording media used by VARICAM 35 is expressP2 card, and the media used by EVA1 is the SD memory card. Although two different recording formats and recording media were used, the staff did not feel any inconvenience. All images recorded on the two types of cards were copied to a hard disk drive each day, and all 4K images were collected in L'espace Vision for editing and color grading.
Mr. Ken-ichi Kobayashi in charge of cinematography/VE at Gokuraku-Eizousha stated in retrospect: "In shooting the movie, we sometimes used two cameras simultaneously to catch both a long shot and a close-up shot. At first, we thought that performing the color matching with the two cameras would be difficult on-site. However, both Panasonic cameras had a V-Log mode, so the color matching process was very easy and the cameras were easy to operate."
Easy, flexible color management thanks to V-Log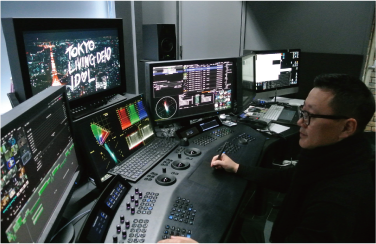 Kim Kyung-Tae performing grading and finishing at L'espace Film using "E-1: FilmLight Baselight TWO."
Original V-Log video data was directly imported and conformed. For grading and finishing, a 4K color grading suite system, "E-1: FilmLight Baselight TWO," was used.
Tsutomu Suga, the VFX supervisor at L'espace Vision, said, "Although the movie was scheduled for release in June 2018, it was suddenly decided to enter the movie in the 2018 Yubari International Fantastic Film Festival held in March. So we adopted the shortest post-production workflow. We usually write out log files before color correction in the DPX format for use in CG/VFX. To shorten the schedule, we first conducted CG/VFX processing on the images after color grading, then performed the final grading and finishing using Baselight."
The grading and finishing were performed by Kim Kyung-Tae, a colorist at L'espace Vision.
"Our company has nine grading/finishing rooms. We used Baselight, which was introduced at the end of 2018, for the first time in 'Tokyo Living Dead idol.' I worked on many materials shot with VARICAM 35 before, but this was my first movie to be shot with the newly released EVA1. Since both products use the same V-Log mode, color management was easy and could be performed very flexibly," said Mr. Kim.
Mobility was the greatest advantage of EVA1
Gokuraku-Eizousha has a variety of 4K/8K cameras, including VARICAM 35 and EVA1, and the company uses them selectively according to conditions, such as the budget, schedule and usage environment. In addition, the company has 4K-compatible editing equipment and color grading equipment to provide comprehensive 4K video production services -- ranging from shooting and editing to the production of complete packets. Gokuraku-Eizousha produces not only movies and TV commercials but also videos in wide-ranging genres, such as music videos, live videos, large-screen videos and corporate video promotion. The company mentioned that most of the videos they produced in recent years were 4K.
Mr. Nozawa described the choice of VARICAM 35 and EVA1 combination. "Characteristics and features of the camera vary from product to product. I think the VARICAM and EVA1 equipped with a dual native ISO function are suitable for capturing action scenes that convey fast-moving events or actions to viewers. Dual native ISO was extremely useful in the high-speed shooting of dark scenes, such as live scenes, using a slightly dark EF lens."
Mr. Kobayashi, on the other hand, considers "mobility" as the EVA1's greatest advantage. "EVA1 is easy to use because it's compact. We mounted EVA1 onto an easy rig. EVA1 is very light,*1 and its grip is easy to hold. When Panasonic develops and offers a broad range of options, we'll probably find many more scenes that we can shoot effectively with the EVA1. The recent firmware update allows the camera unit of EVA1 to record in ALL-Intra (400 Mbps) codec format and to output 5.7K RAW signals*2 to an external recorder. This will make EVA1 a perfect camera for all kinds of video shoots."
*1: Main camera unit weighs approximately 1.2 kg, and EVA1 set up for shooting weighs approximately 2.05 kg.
*2: Supported by the version upgrade of the main unit firmware in March 2018.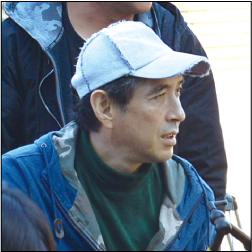 Mr. Kei Nozawa
President
Gokuraku-Eizousha Co., Ltd.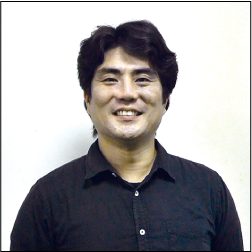 Mr. Ken-ichi Kobayashi
In charge of cinematography/VE
Gokuraku-Eizousha Co., Ltd.
Work Flow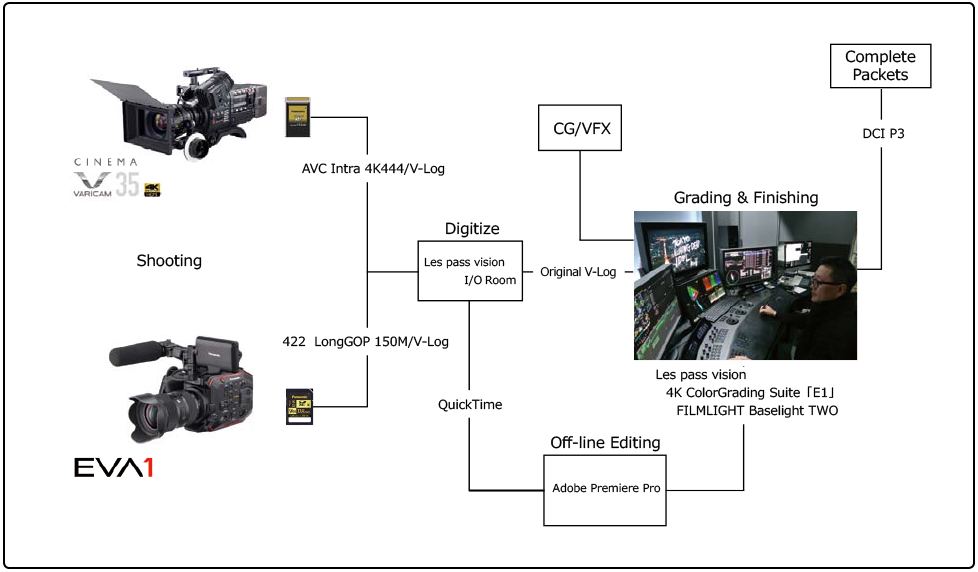 Equipment Installed
A new-type girls' action/zombie movie, "Tokyo Living Dead Idol."
"Tokyo Living Dead Idol" is a thrilling, new-type girls' action/zombie movie in which an idol changes to a zombie and performs various actions such as parkour. Yuki Kumagai, the director of this movie, also directed "Yurui – Special Edition" (Loose - Special Edition) which was shown in the 2017 Yubari International Fantastic Movie Festival and "Ramen Kuitei! (We Want to Eat Ramen!)" which was the first movie planned by Nigyo Suzuki, the president of L'espace Vision and L'espace Film. Mr. Kumagai described the movie as an "easy-to-watch zombie movie that presents a unique world containing various elements such as an idol, comedy, and hard-boiled style."
The leading character is played by Nana Asaka, a popular member of the idol group, SUPER☆GiRLS. She appeared in "The Werewolf Game: Mad Land," "Love and Lies," "honey" (scheduled for release in March) and other movies. She is also known as "a girl in a thousand years who has a baby face and beautiful figure." She was featured on the covers of many comic books in 2017. In "Tokyo Living Dead Idol," Nana Asaka plays the lead character, a popular idol character who is bitten by a zombie.
Co-starring includes Shogen, who appeared in the movie "Street Fighter: Assassin's Fist" and TV drama "Death Note;" Yumeri Abe and Runa Ozawa, members of SUPER☆GiRLS; Yuki Nakayama and Tomoya Yamaguchi, members of the SOLIDEMO male vocal group; Sana Hoshimori, a voice-over actress and singer; Mipo Chisa, the Grand Prix winner of the 2013 Kanto High School Girls Contest; and Yuki Izawa, who appeared in the movie "HiGH & LOW The Movie 2/End of Sky."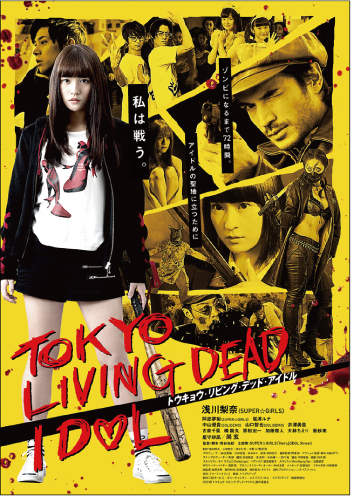 Location