Enables Use of Large Studio-use Lens.
Smooth camera mounting/removal possible
Precise optical axis (horizontal/vertical) adjustment structure
Rear control panel equivalent to that of a large camera
DC OUT 12V 7.5 A (XLR4-pin)/DC OUT 1.5 A (4-pin).
* It may require to replace lens mount parts at using a specific 4K lens. Please contact your dealer for more details.
Rear Control Panel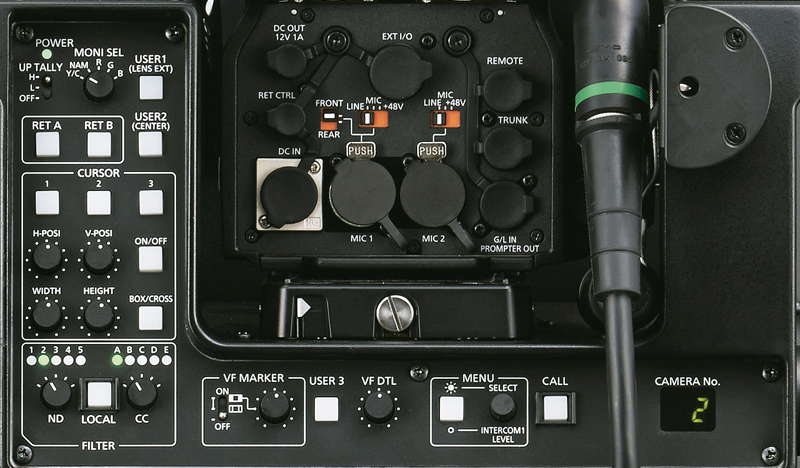 Specifications
Power Supply
12 V DC (when external power is supplied)
240 V AC 50 Hz/60 Hz (when UCU is connected)
Power Consumption
70 W (when external power is supplied)
165 W (when UCU is connected)
Operating Temperature
-10°C to 45°C (14°F to 113°F)
Operating Humidity Range
85% or less (relative humidity)
Storage Temperature
-20°C to 60°C (-4°F to 140°F)
Weight
Approx. 12.8 kg (28.22 lb) (unit only)
Dimensions (W x H x D)
300 mm x 417 mm x 510 mm
(16-7/16 inches x 20-1/16 inches x 11-13/16 inches)
Camera Number Display
1 to15 (depending on system settings)
LENS I/F Connector
36-pin x 1
CAMERA I/F Connector
20-pin x 1
[DC IN] Connector
XLR x 1, 4-pin, 12 V DC
[DC OUT 12 V 1.5 A] Connector
4-pin x 1
[DC OUT 12 V 7.5 A] Connector
XLR x 1, 4-pin