Compact operation panels that support IP control and PoE*1 power supply.
Camera serial control and IP control are possible. Panasonic 4K/HD Integrated Cameras are supported*2.
Equipped with joystick control lever. IRIS/PEDESTAL operation is possible.
Equipped with scene file function.
Equipped with SD memory card slot. Saving of user files and firmware version updates are supported.
IP connection and PoE*1 power supply are supported.
*1: Abbreviation of Power over Ethernet.
*2: For information on the AK-HRP250GJ and 4K/HD Integrated Camera support, please refer the page.
Rear View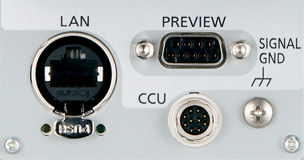 Specifications
Power Supply
12 V DC (Power supply from camera: 10 V - 16 V DC)
42 V - 57 V DC (PoE power supply)
Power Consumption
0.44 A (Power supply from camera: 10 V - 16 V DC)
0.11 A (PoE power supply)
Operating Temperature
0 °C to 40 °C (32 °F to 104 °F)
Humidity
90% or less
Storage Temperature
−20 °C to 60 °C (−4 °F to 140 °F)
Weight
Approx. 1.5 kg (3.3 lb)
Dimensions (W x H x D)
82 mm x 355 mm x 124.4 mm (3-1/4 inches x 14 inches x 4-7/8 inches)
Camera/CCU Control
Control signals (camera, CCU control)
Power supply 16 V DC (when CCU connected)*,
12 V DC (when camera connected)*
Maximum Cable Length
When camera connected: 20 m (65.7 ft)
When CCU connected: 50 m (164 ft)
* Can be provided from CCU.
RESOURCES