Options for 4K output
This optional kit outputs 4K video signal on the AK-HC3900 system.
To use these items, the 4K Optical Low Pass Filter is attached to the lens mounting surface of the AK-HC3900 and the 4K Output Board is attached to the Camera Control Unit (CCU) AK-HCU250.
Output is switchable between two 12G-SDI systems and 4K SDI with 3G-SDI Quad Link.
Horizontal / vertical resolution 2000TV 4K video output supported.
Simultaneous output of 4K/HDR/BT.2020 and HD/SDR/BT.709 supported.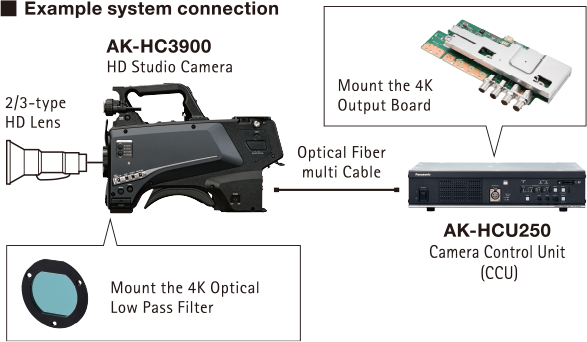 * Installation of this product is to be performed by the vendor. Contact your Panasonic dealer when installing.
* A firmware update is required for the HD Studio Camera AK-HC3900 and Camera Control Unit AK-HCU250 before mounting the 4K/12G-SDI Interface Kit AK-HUC01.
See "Download / Firmware" on the page for more information.
Rear View
LEMO Connector Model

Specifications
Dimensions (W x H x D)
Approx. 177 mm x 24.7 mm x 95.3 mm (6-31/32 inches x 31/32 inches x 3-3/4 inches)
Weight
Approx. 140 g (0.31 lbs) (including heat sink)
Operating Temperature
0 °C to 40 °C (32 °F to 104 °F)
Humidity
10% to 90% (no condensation)
Input/Output Section
<UHD/HS/HD SDI OUT1>
terminal
BNC x 1, 12G / 6G / 3G /1.5G HD SDI : 0.8 V [p-p], 75 Ω
<UHD/HS/HD SDI OUT2>
terminal
BNC x 1, 12G / 6G / 3G /1.5G HD SDI: 0.8 V [p-p], 75 Ω
<UHD/HS/HD SDI OUT3>
terminal
BNC x 1, 3G / 1.5G HD SDI: 0.8 V [p-p], 75 Ω
<UHD/HS/HD SDI OUT4>
terminal
BNC x 1, 3G / 1.5G HD SDI: 0.8 V [p-p], 75 Ω
RESOURCES