Solutions focused on live entertainment


Exhibition at IBC 2019(International Broadcasting Convention)
September 6, 2019
Panasonic Corporation will be exhibiting at IBC 2019 (International Broadcasting Convention), a broadcast equipment show to be held in Amsterdam, Netherlands, starting Friday, September 13. The Panasonic booth (Hall 11/ Booth No.C45) will feature live entertainment solutions.
The booth will be set up in four zones: the Live Entertainment Studio Area, the PTZ Camera Area, the Production Area and the New Technologies and Products Area.
At the Live Entertainment Studio Area will cover the followings;the new 8K ROI Camera System, Studio Camera, PTZ Camera, Cinema Live Camera and other products. Third-party collaborations will be showcased, including robotics, rail tracks, elevations, pan tilt system, AR/VR, slow motion and compact cameras. Additionally,the company will be showcasing the Next-Generation IT/IP Platform (sample) that supports e-sports and other live production.
The PTZ Camera Area will feature a special exhibition celebrating the 10th anniversary of Panasonic PTZ Camera as well as products such as the new HD Integrated Camera AW-HE42W/K, the Compact 4K PTZ Camera AW-UE4WG/KG and the new PTZ Camera Controller. Panasonic provides a variety of PTZ camera solutions that can be adapted felixbly to any situation.
At the Production Camera Area, visitors will find a specialized lineup utilized for a wide variety of production, inluding our Cinema Camera line-up which are VariCam series, EVA1 and new LUMIX DC-S1H. Also you will find Camera Recorder AG-CX350 with built-in streaming functionality.
The New Technologies and Products Area will be an exhibition of development samples such as our 8K Camera System with Built-In 8K Organic Sensor and new products like the 4K Compact Switcher and 4K P2 Shoulder Mount Camcorder , showcasing new development for the broadcasting industry.
Panasonic strives to contribute to the customers by improving the quality of video contents as well as the efficiency of the workflow through providing the systems that expand the new possibilities in video production.
Main Systems to be Exhibited
Live Entertainment Studio Area
Cinema Live Cameras
3rd Party Collaborations
Next-Generation IT/IP Platform (sample)
New Technologies and Products Area
Camera System with Built-In 8K Organic Sensor (sample)
New 4K Compact Switcher (sample)
New 4K P2 Shoulder Mount Camcorder (sample)
Production Area
PTZ Camera Area
PTZ Camera Controller (new)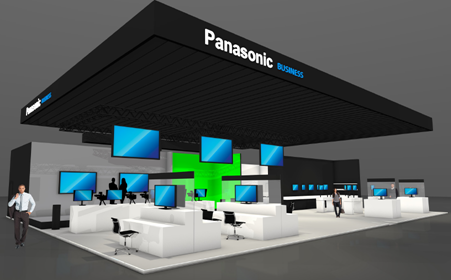 Exhibition Booth Concept Image