Supports 4K/60p/10-bit/HDR High Image Quality, Streaming and IP (NDI | HX) Connection Capability, The High-End Handheld Camcorder for Production, Broadcasting and Distribution
The Panasonic CX Series is a lineup of camcorders that supports the fusion of video, broadcasting, and communication. The AG-CX350 is a handheld camcorder that features 4K/UHD resolution, 10-bit depth HDR-compatible V-Log/HLG image quality and various recording formats including broadcasting P2HD.
It offers creative activities that meets the needs of various scenes. Furthermore, innovative network solutions are provided with the 4K/SRT-compatible direct streaming function and NDI|HX-compatible* IP connection function, to serve as a live camera, and clearly expands the usability of the handheld camcorder beyond conventional news gathering and recording applications to meet a wide range of professional needs. It is also lightweight, compact, and has low power consumption to support all professional users in production, broadcasting, and distribution.
* NDI® is a new protocol developed by NewTek, Inc. that supports IP video production workflow. NDI® is a registered trademark of NewTek, Inc. in the United States and other countries. In this instance, NDI®|HX is used to indicate high efficiency low bandwidth NDI®|HX. Recording, streaming and 4K output are not available when using NDI®|HX mode.
To use this function, an activation keycode from NewTek is required. Keycodes can be purchased from the following website: https://store.newtek.com/index.php/panasonicndihxlicense-1.html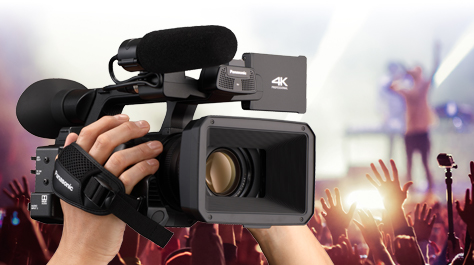 RELATED VIDEOS
Case Study

Promotion Video
WORKFLOW
Live Video Streaming System

* Wired LAN and Wi-Fi network cannot be operated simultaneously.
NDI | HX Multi-Camera Live Production System

Memory Card SDXC UHS-II V90 COBALT 300R

PGSD64GBCK** (64GB)
PGSD128GBCK** (128GB)

<ProGrade Digital>
Memory Card SDXC UHS-II V90 COBALT 300R

PGSD64GBCK** (64GB)
PGSD128GBCK** (128GB)

<ProGrade Digital>
CASE STUDIES