Panasonic announces release of cost-effective HD studio camera
with high sensitivity and low noise as part of
new total system featuring CCU and ROP
November 13, 2020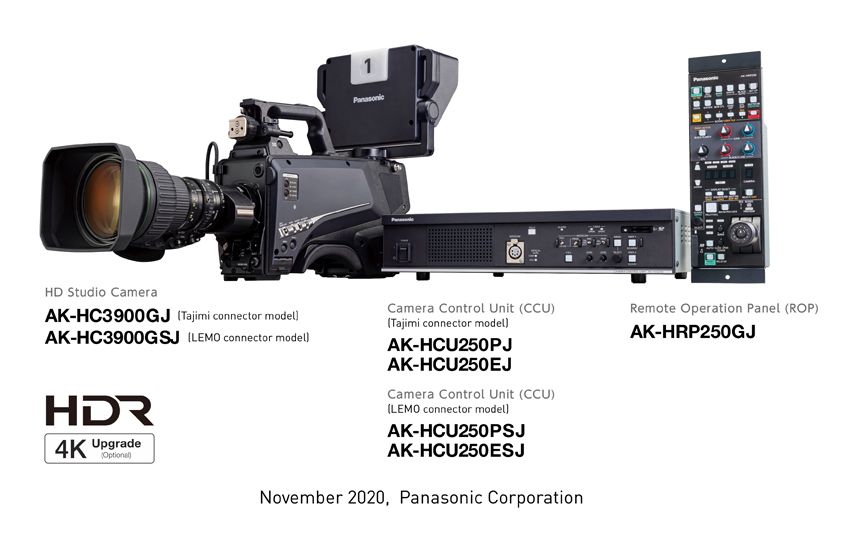 Osaka, Japan (November 13, 2020) – Panasonic Corporation has announced the release of the
AK-HC3900GJ/HC3900GSJ HD Studio Camera. The camera is fitted with a large image sensor for high sensitivity and video quality, excels in terms of cost effectiveness, and is scheduled for release in November 2020.
A Camera Control Unit (CCU), Remote Operation Panel (ROP) and 7 inches (17.8 cm) LCD Color Viewfinder are also scheduled for concurrent release, providing a high-operability system for studio productions and coverage of sports and other once-in-a-lifetime live events.
The AK-HC3900GJ/HC3900GSJ HD Studio Camera is equipped with a large 11.14-megapixel image sensor and features high sensitivity of F10/59.94Hz and F11/50Hz (2000 lx), maintaining an S/N of 62 dB or higher to achieve low noise, high-quality images even in dimly lit event spaces. Features such as low-skew shooting to reduce distortion and chromatic aberration compensation to automatically reduce circumjacent blur have also been included to improve ease of use when shooting at live events. High-quality 4K shooting with horizontal and vertical resolution of 2,000 TV lines is also supported with an optional 4K upgrade*1. 4K/HDR and ITU-R BT.2020 are also supported, enabling higher luminance and a wider range of color expression. With the 4K upgrade, 12G-SDI output and 3G-SDI Quad Link output are supported when connected to the AK-HCU250PJ/HCU250EJ/HCU250PSJ/HCU250ESJ Camera Control Unit (CCU), enabling operability rivaling that of high-end 4K models.
Panasonic will continue to provide new value that supports those working in the live production industry through studio camera systems that combine high-quality visuals with ease of use to create a better life and a better world.
*1: Support is planned with a software version update (4K Upgrade) in the second quarter of CY2021.
* This unit does not support Build-up Units. When using box lenses, a lens supporter from the lens manufacturer is required.
For more information on Panasonic's range of Broadcast and ProAV products, please visit:
Preliminary Product Information
•AK-HC3900GJ/HC3900GSJ