Large 11.14-megapixel image sensor for high sensitivity, low noise video
The CCU and ROP have also been completely updated to create a Full HD camera system that is easy to use as a total system. A highly operational system can be built at low cost for live events and sports as well as studio program production.
In addition, 4K*1 and IP connection (SMPTE ST 2110)*2 are also supported with paid upgrades.
A wide range of scalability is provided, which can be selected according to the type of operation.
*1: When using the CCU AK-HCU250/HCU250S, the separately sold optional AK-HUC01G 4K/12G-SDI interface kit (paid) is required.
*2: Activation with the separately sold AK-SFC391 software key is required. See "How to use the AK-SFC391" for details.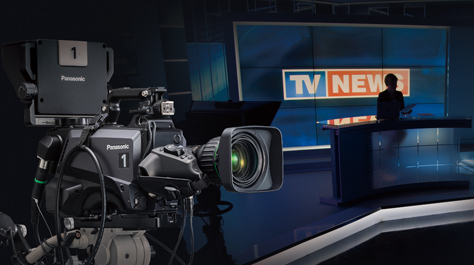 RELATED VIDEOS
Camera Systems Philosophy Video

Introduction Video
AK-HC3900 Studio Camera System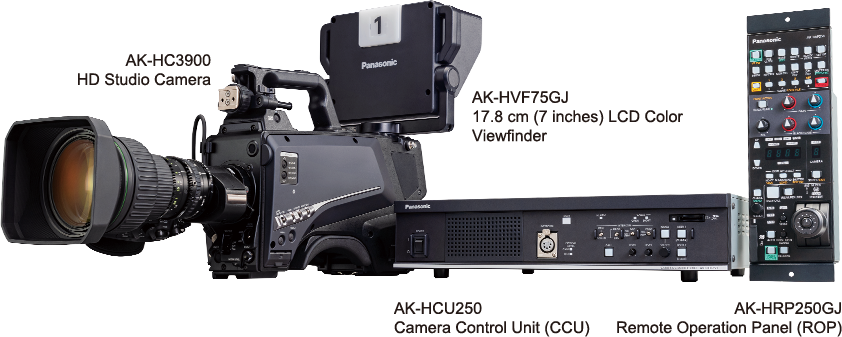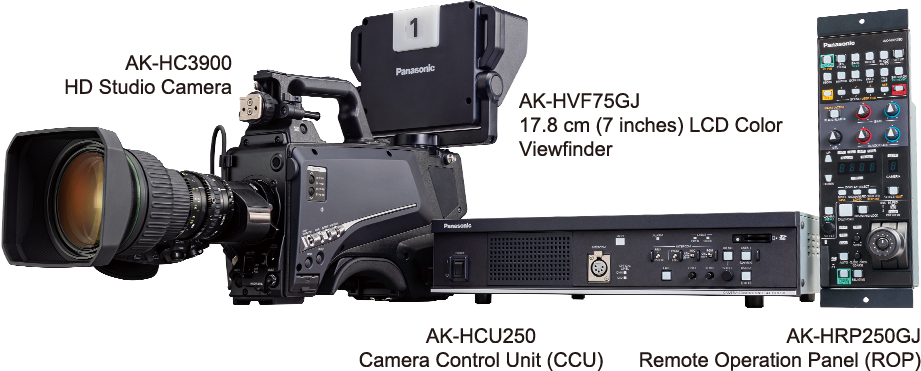 * This unit does not support Build-up Units. When using box lenses, a lens supporter from the lens manufacturer is required. Lens and viewfinder are optional accessories.
Camera Control Unit (CCU)

AK-HCU250PJ/EJ
(Tajimi Connector Model)
AK-HCU250PSJ/ESJ
(LEMO Connector Model)
AK-HCU250PTJ
(ST Connector Model)

More Info

1.78 cm (0.7 inches) Full HD OLED Color Viewfinder

AJ-CVF70GJ

Equipped with full HD OLED panel and 38mm large-diameter eyepiece.

87.6 mm (3.45 inches) Electronic HD Color Viewfinder

AJ-CVF25GJ

Lightweight, high-resolution viewfinder. Equipped with color LCD with two eyepiece opening positions.

38.1 mm (1.5 inches) Viewfinder

AJ-CVF50G

50.8 mm (2 inches) Electronic HD Color Viewfinder

AJ-HVF21KG

Super-Directional Electret Capacitor Microphone (monaural)

AJ-MC700P

AC Adaptor

AW-PS551

Tripod Adaptor

SHAN-TM700

Remote Control Cable

AJ-C10050G

50 m (164 ft)

Microphone Holder

AJ-MH800G