Panasonic announce release of new Remote Operation Panel (ROP)
AK-HRP1010GJ to provide even greater operability during shooting
October 12, 2021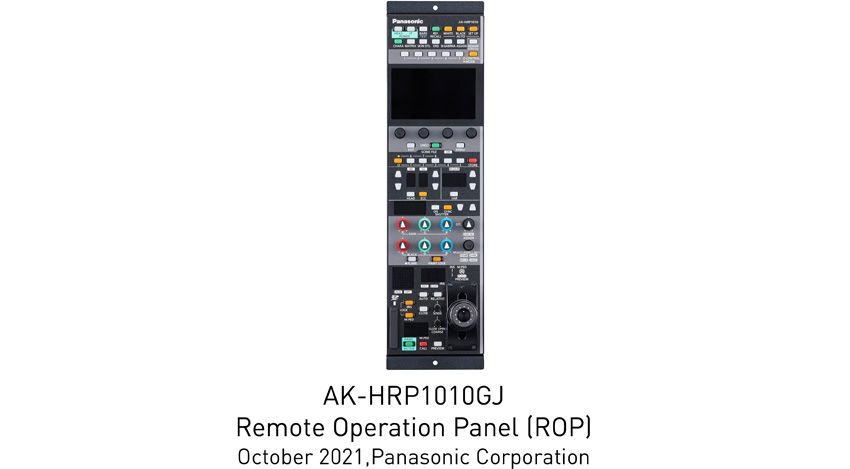 Osaka, Japan (October 12, 2021) – Panasonic Corporation's Connected Solutions Company (headquarters: Chuo-ku, Tokyo, CEO: Yasuyuki Higuchi, company name will change to Panasonic Connect Co., Ltd. in April 1, 2022 pursuant to the Panasonic Group's transition to a holding company system) has announced the November 2021 release of the Remote Operation Panel (ROP) AK-HRP1010GJ for Panasonic's studio camera systems, which are used in countries all over the world for shooting in settings ranging from studios to sporting events.
As a 1/4 rack size panel, four AK-HRP1010GJ units can be installed in a single 19-inch EIA rack, which are used as standard around the world. It is also the same size as Panasonic's existing AK-HRP1000GJ, enabling seamless replacement without modifying installation locations. The layout of the operation buttons on the panel simplifies operation by prioritizing frequently-used functions, while the new high-resolution 3.5-inch color LCD touch panel improves ease of use on location through high visibility and intuitive operation. The AK-HRP1010GJ also supports serial connection, IP connection for control and PoE*1 power supply. IP connection to studio cameras allows operators to control cameras from remote locations, enabling more efficient operation with fewer on-site personnel. In addition to studio camera connectivity, future support is also planned for IP connection to Panasonic's PTZ cameras, memory card camera recorders and cinema cameras.*2
The release of this new ROP forms part of Panasonic's efforts to make changes to the "gemba"—the frontline operations that are essential to both business and our daily lives—by driving Gemba Process Innovation. By improving the operability of studio and PTZ cameras as part of total systems, Panasonic will continue to create new value by providing the speed and reliability required by broadcasters and the video production industry.
1/4 rack size, four units can be installed in a single 19-inch EIA rack
Color LCD touch panel and a variety of operation buttons in an easy-to-use layou
IP connection supported, enabling control of Studio camera, PTZ camera and others*2
■ Main Features and Specifications
1/4 rack size enables four units to be installed in a single 19-inch EIA rack.
High-resolution 3.5-inch color LCD touch panel and easy-to-use layout of operation buttons provide high visibility and intuitive operation.
IP connection enables control of Studio camera, PTZ camera and others, improving operability*2 as a total system by providing greater freedom during system construction. Operation from remote locations is also supported.
Up to 99 cameras can be switched between and controlled with a single unit and ROPs can be positioned to fit the various system.
Functions designed to improve operability on location include the angled position of the color LCD panel, IP connection support, and PoE*1 power supply support.
Knobs for master gain, color temperature, master flare, etc. can be assigned by users.
Users can assign frequently-used functions such as gain and matrix to priority buttons for rapid operation.
An SD memory card slot is provided and SDXC card support has been added. Camera setting files and device settings can be saved and read using SD cards.
PREVIEW connectors have been changed from the HIROSE 4-pin round shape connectors used on existing devices to D-Sub 9-pin connectors, improving the availability of connectors for connection cables.
Lens iris and master pedestal adjustment can be performed with the joystick control lever.
*1: Abbreviation of Power over Ethernet.
*2: Studio Camera AK-UC4000/UC4000S, AK-UC3300/UC3300S and AK-HC5000/HC5000S are supported. For information on other cameras that can be connected to this device, please refer to the Compatible Controller on the Panasonic website.
■ 3.5-inch Color LCD Touch Panel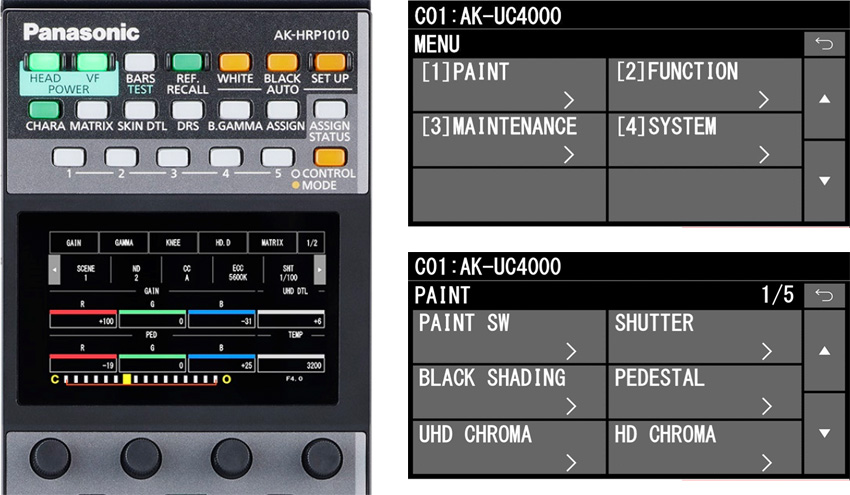 * Screen image superimposed onto device for illustrative purposes.
■ Rear View

For more information on Panasonic's range of Broadcast and ProAV products, please visit:
Preliminary Product Information
• AK-HRP1010GJ