Panasonic develops new NDI I/F Unit with NDI® support for Live Switcher AV-UHS500,
enabling transmission over IP with NDI® and NDI®|HX
October 12, 2021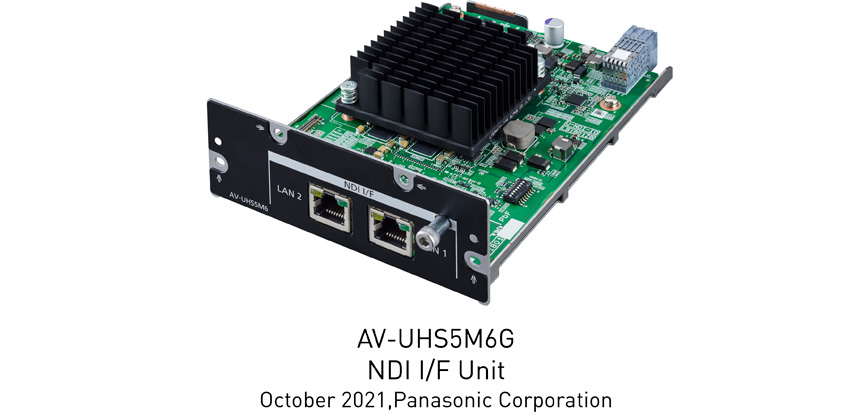 Osaka, Japan (October 12, 2021) – Panasonic Corporation's Connected Solutions Company (headquarters: Chuo-ku, Tokyo, CEO: Yasuyuki Higuchi, company name will change to Panasonic Connect Co., Ltd. in April 1, 2022 pursuant to the Panasonic Group's transition to a holding company system) has announced the March 2022 release of an optional AV-UHS5M6G NDI I/F Unit for the compact Live Switcher AV-UHS500, which was released in February 2020. This new unit will enable the AV-UHS500 to perform IP transmission over NDI®*1 and NDI®|HX*1 in addition to 12G-SDI and HDMI.
The live production industry has faced increasing workloads in recent years as a result of labor shortages and a focus on working on location. The impact of the COVID-19 pandemic has also further increased demand for efficient working with fewer people on site in order to minimize the risk of infection. Remotely-managed live video production through equipment with IP support provides a solution to these challenges faced at production sites.
With the NDI I/F Unit attached, the AV-UHS500 supports the high quality, low latency video transmission of NDI® (high bandwidth NDI®)*1 and the stable, low bit rate transmission of NDI®|HX (high efficiency low bandwidth NDI®|HX)*1. This enables the use of highly-reliable IP transmission protocols with a hardware switcher. The unit is attached to the back of the AV-UHS500 body, enabling the construction of IP streaming systems with a single LAN cable without the need for complex configurations incorporating external converters. This reduces setup time and facilitates remote production of live video in temporary venues and other event spaces. Furthermore, when used in combination with Panasonic cameras*2 that support NDI®*1 or NDI®|HX*1, operations from video transmission to camera control and tally output can be performed using a single LAN cable. By supporting camera operation in addition to video transmission, this unit enables the creation of a new way of workflow, under which live streaming can be carried out without operators or camera personnel stepping foot in the production location.
Panasonic aims to create A Better Life, A Better World by revolutionizing approaches to situations that have traditionally been centered on working on location, including concerts, sports events and online seminars, and creating new workflows that respond to recent increases in demand for remote live production.
NDI®*1 and NDI®|HX*1 signals can be input directly from cameras to the AV-UHS500 using a single LAN cable
NDI®*1 signals enable the AV-UHS500 to be connected to a streaming PC using a single LAN cable
Hardware processing enables the construction of highly-reliable IP systems
Remote live production that supports video transmission and camera control can be achieved when used in a system with Panasonic cameras*2 with NDI®*1 and NDI®|HX*1 support
*1: In this instance, NDI® is used to indicate low latency with high bandwidth NDI®, NDI®|HX is used to indicate high efficiency low bandwidth NDI®|HX. NDI® is a new protocol developed by NewTek, Inc. that supports IP video production workflow. NDI® is a registered trademark of NewTek, Inc. in the United States.
*2: Panasonic 4K/HD Integrated Cameras and Memory Card Camera Recorder AG-CX350. Refer to the Panasonic website for details on 4K/HD Integrated Cameras with NDI® and NDI®|HX support.
■ Example System Configuration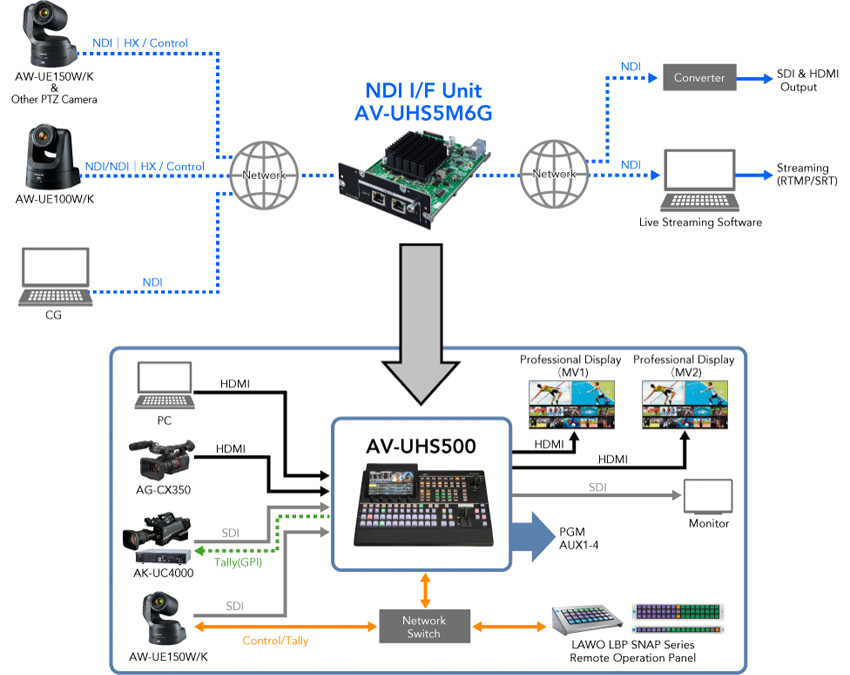 For more information on Panasonic's range of Broadcast and ProAV products, please visit:
Preliminary Product Information
• AV-UHS5M6G