Panasonic Connect to Exhibit Latest Video Production Systems
and Studio/PTZ Camera Solutions at 2022 NAB Show in Las Vegas
April 21, 2022
Tokyo, Japan – Panasonic Connect Co., Ltd. announced today that it will participate in the 2022 NAB (National Associations of Broadcasters) Show in Las Vegas, USA from April 24 to 27, showcasing its latest video technologies for enhancing live production, supporting automated smart studios, and driving connected communications, as well as its solutions for creating highly immersive experiences. The Panasonic Connect exhibition, organized under the theme "Connecting It All Together," will be located at Booth C3607 in the Las Vegas Convention Center's Central Hall during the 2022 NAB Show, the world's largest annual trade show for broadcast, entertainment and technology professionals.
Booth visitors will view demonstrations of Panasonic's latest live-production workflow systems and advanced Studio/PTZ Camera solutions covering five fields: Connected Solutions, Connected Cloud, Immersive Live, Smart Studios, and Remote Production.
Featured products will include:
New lineup of PTZ Cameras

to meet diverse needs for video production, including five new models ranging from Entry-level models offering professional-level image quality and functions, ideal for online meetings, to Standard models equipped with a new proprietary super-quiet direct-drive system suitable for camera operation in diverse production environments.

Robotic Camera Systems

offering broadcast-quality application of PTZ Cameras for value-added production with dynamic, wide-angle shooting by linking with dollies and robotic systems.

KAIROS IT/IP platform

, a flexible, expandable, low-latency IP-based video-production platform featuring open-architecture live video switching with versatile input/output options, realizing virtually unlimited control for the creation of amazingly immersive experiences. Also, reference-only exhibits will include KAIROS's

Cloud Video Production

, a new U.S.-only system that removes time and physical location boundaries by realizing decentralized, flexible, and streamlined remote-production workflow, and the compact KAIROS Control panel (AT-KC10C2) still under development scheduled to be released in the fourth quarter of CY2022.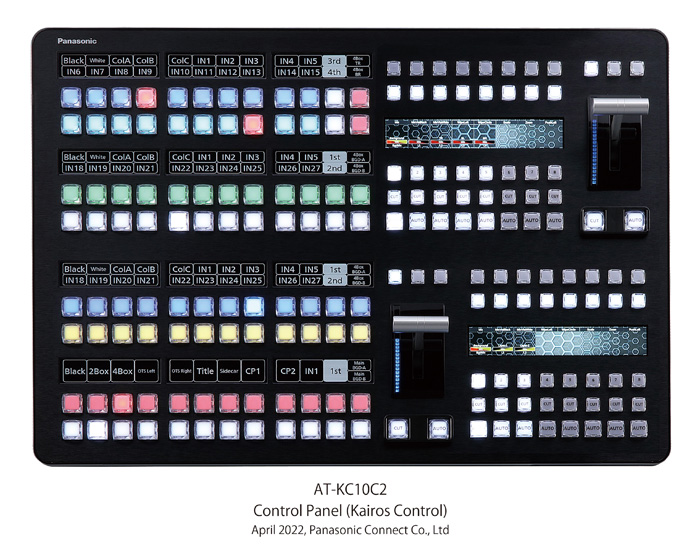 Panasonic Connect's systems and solutions at this year's NAB Show will help meeting the growing demands for extra-scalable, increasingly automated, highly reliable video-production systems incorporating flexible video-streaming tools and affordable 4K-imaging systems. For more about Panasonic's video-technology exhibitions at the 2022 NAB Show, please visit: https://pro-av.panasonic.net/en/event/#nab-show-2022
About Panasonic Connect
Panasonic Connect Co., Ltd. was established on April 1, 2022, as part of the Panasonic Group's switch to an operating company system. With roughly 28,500 employees worldwide and annual sales of JPY818 billion (approx. USD7.5 billion) the company plays a central role in the growth of the Panasonic Group's B2B solutions business and provides new value to its customers by combining advanced hardware, intelligent software solutions, and a wealth of knowledge in industrial engineering accumulated in its over 100-year history. The company's purpose is to "Change Work, Advance Society, Connect to Tomorrow." By driving innovation in the supply chain, public services, infrastructure, and entertainment sectors, Panasonic Connect aims to contribute to the realization of a sustainable society and to ensure well-being for all.