Introducing the new, high-performance mainframe Kairos Core 1000.
The live video production platform allows flexible system configuration and operation, delivering improved video quality and productivity.
The IT/IP platform "KAIROS" is a live video production platform developed based on a new concept and innovative architecture. It incorporates proprietary, ground-breaking software to maximize the CPU and GPU capacities for video processing.
Therefore, KAIROS will be the solution to meet today's requirements of live video production needs to adapt new technologies and create a better sense of reality and new technologies for improving productivity of video production.
General-purpose IT equipment is deployed to run on CPU and GPU to take advantage of the most advanced IT technology. And the proprietary, and innovative software technology has enabled unprecedented flexible live video processing with low latency executed on a GPU, while the open software architecture ensures excellent system flexibility and scalability.
A variety of video inputs and outputs are available with KAIROS to support not only baseband signals such as SDI but also new IP signals including SMPTE ST2110, NDI®*1 and SRT*2 to realize remote live video production and streaming.
KAIROS uses the GPU for the video processing, thus allowing flexible video production using multiple layers with unrestricted number of MEs or keys and the "CANVAS" screen unhampered by resolution or format.
Because KAIROS is an IT-based open architecture platform, it enables functional enhancements and control linkage with external devices by adding software. With the system integration capability, KAIROS improves work efficiency and ensures future expandability.
With the new mainframe Kairos Core 1000, these features have been further enhanced, increasing video processing and production composition performance as well as streaming capability.
Achieving flexibility in all levels of production unlike any existing hardware-based systems, KAIROS breaks new ground for live video production.
*1: NDI® is a new protocol developed by NewTek, Inc. that supports IP video production workflow. NDI® is a registered trademark of NewTek, Inc. in the United States. In this instance, NDI® is used to indicate low latency with high bandwidth NDI®.
*2: SRT stands for Secure Reliable Transport.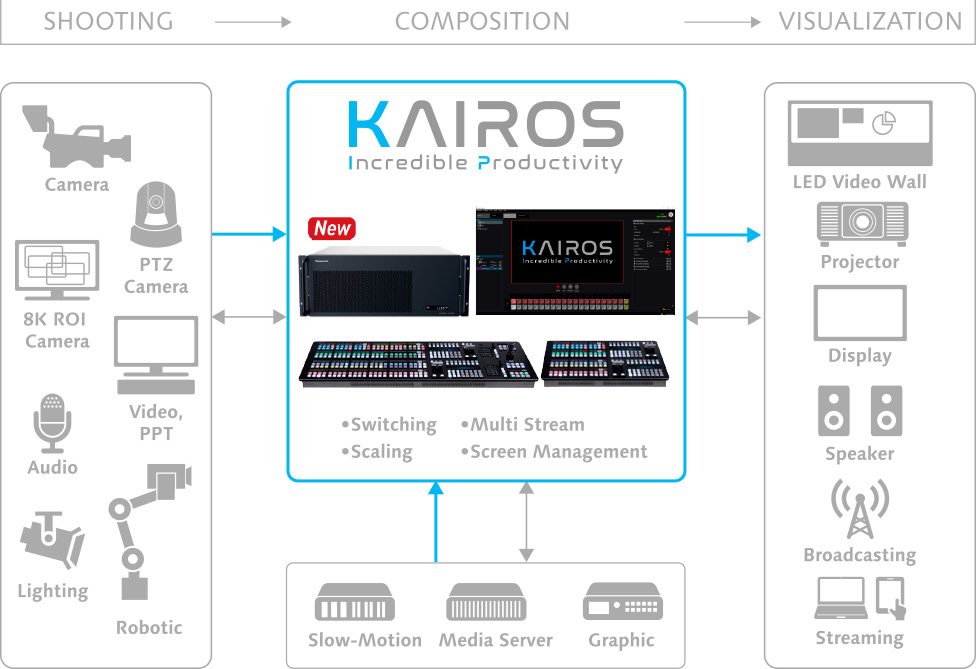 IT/IP Platform System Products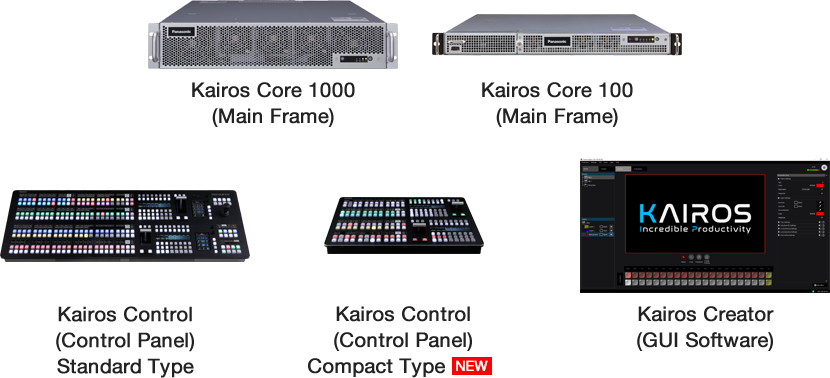 RELATED VIDEO
Behind eLaLiga Santander: Kairos Powers live IP production

Kairos Operational Basics (32 mins) From Panasonic

INSIDE KAIROS
Facebook
AT-KC1000
Kairos Core 1000
(Main Frame)

2 RU size

AT-KC100
Kairos Core 100
(Main Frame)

1 RU size

AT-KC10C1
Kairos Control
(Control Panel)

2 Faders with 24XPT style Layout;all elements user assignable - operable in linked condition
AT-KC1000
Kairos Core 1000
(Main Frame)

2 RU size

AT-KC100
Kairos Core 100
(Main Frame)

1 RU size

AT-KC10C1
Kairos Control
(Control Panel)

2 Faders with 24XPT style Layout;all elements user assignable - operable in linked condition
AT-SFC10
Kairos Creator
(GUI Software/
Software Key)

OS: Windows10, MacOS (Catalina/Big Sur)
For various settings and operations

AT-SF001
Software Key
4K option

AT-SF002
Software Key
I/O option

AT-SF003
Software Key
Canvas option
AT-SFC10
Kairos Creator
(GUI Software/
Software Key)

OS: Windows10, MacOS (Catalina/Big Sur)
For various settings and operations

AT-SF001
Software Key
4K option

AT-SF002
Software Key
I/O option

AT-SF003
Software Key
Canvas option

AT-SFE03
Software Key
NMOS Option

AT-SF005
Software Key
Audio Mixer Option
Third Party Products
RESOURCES
CASE STUDIES