Panasonic Broadcast and Professional AV's Solutions
Staging & Event / HoW
Stage Management (Large-scale Concerts)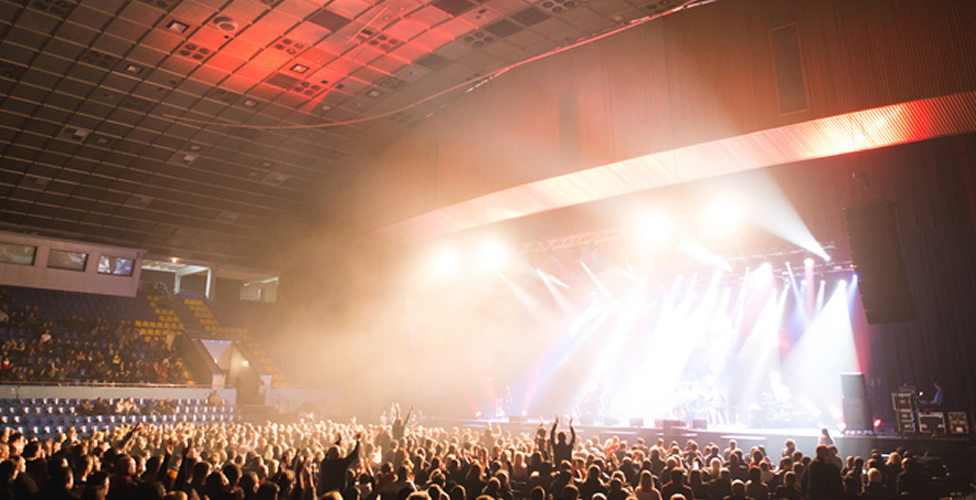 Integrated management of multi-camera recording, large screen displays and stage production
The IT/IP Platform "KAIROS" is a solution for improving IT/IP-based live video production, such as live concert recording. KAIROS fully supports base bands, such as SDI, ST 2110 and NDI®, and IP packet input and output. Its operation is not restricted by the resolution or aspect ratio, so it can handle special aspect ratios such as 32:9 for wall displays. KAIROS is capable of simultaneously outputting video signals suitable for a variety of image display systems. All those operations can be integrally managed. When combined with PTZ cameras, KAIROS simplifies the equipment to use and reduces the number of operators and the setup space. It helps achieve smart management that contributes to efficient live event/video production.
* NDI® is a new protocol developed by NewTek, Inc. that supports IP video production workflow.
* NDI® is a registered trademark of NewTek, Inc. in the United States and other countries. In this instance, NDI® is used to indicate low latency with high bandwidth NDI®.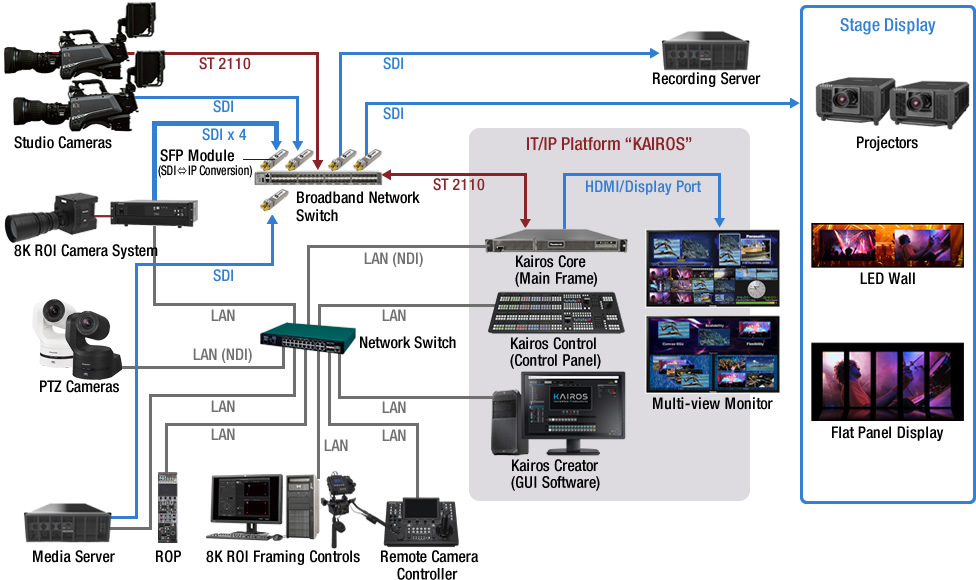 XR Live Events
High-quality live XR*1 events brought to life through simple systems built around PTZ cameras with FreeD*2 support
The AW-UE160W/K and AW-UE100W/K are PTZ cameras that support FreeD*2, a protocol for sending information such as pan, tilt and lens positions directly from cameras to 3D rendering engines. When incorporated into systems, these cameras simplify the execution of next-generation video productions that leverage XR*1.
Challenges
Boost engagement among fans attending live events both in person and remotely as part of the "new normal" by adding value to video productions without exceeding budget and space constraints that preclude the use of stage sets and other large-scale equipment
Overcome the barriers to adoption presented by existing XR*1 systems, which require complex equipment configurations and are difficult to install, set up and operate
Avoid compromising on camera image quality and performance in order to create high-quality content
Solutions
Leverage XR*1 technology to create video performances with greater freedom
The use of a 3D rendering engine and PTZ cameras with FreeD*2 support enables the real-time composition of 3D graphics with video from cameras. This allows the flexible creation of a range of video productions free from the physical restrictions of a stage and equipment.
Utilize FreeD*2 to build compact and simple XR*1 systems
With the AW-UE160W/K and AW-UE100W/K, a range of information required for video processing in 3D spaces can be acquired and output using only the camera units. A separate encoder for information acquisition is not required, meaning that XR*1 live events can be created with a compact system that minimizes the amount of equipment needed. With lenses integrated into the AW-UE160W/K and AW-UE100W/K camera bodies, the time spent on calibration with a 3D rendering engine can also be minimized.
Support high-quality content production with high-quality PTZ cameras
The AW-UE160W/K and AW-UE100W/K enable the creation of high-quality XR*1 live events through a range of features that support the shooting of high-quality video, including high-resolution 4K/60p*3 output, high-precision image stabilization and smooth pan and tilt camera movements.
*1: X Reality (XR) refers to technologies that merge the real and virtual world to create new experiences. These technologies include augmented reality (AR), virtual reality (VR), mixed reality (MR) and substitutional reality (SR).
*2: FreeD is a widely used protocol for transmitting camera tracking information in AR/VR systems. The AW-UE160W/K and the AW-UE100W/K transmit the pan, tilt, zoom and focus information that are required for compositing with AR/VR.
*3: Actual output format is UHD (3840 x 2160) 59.94p/50p.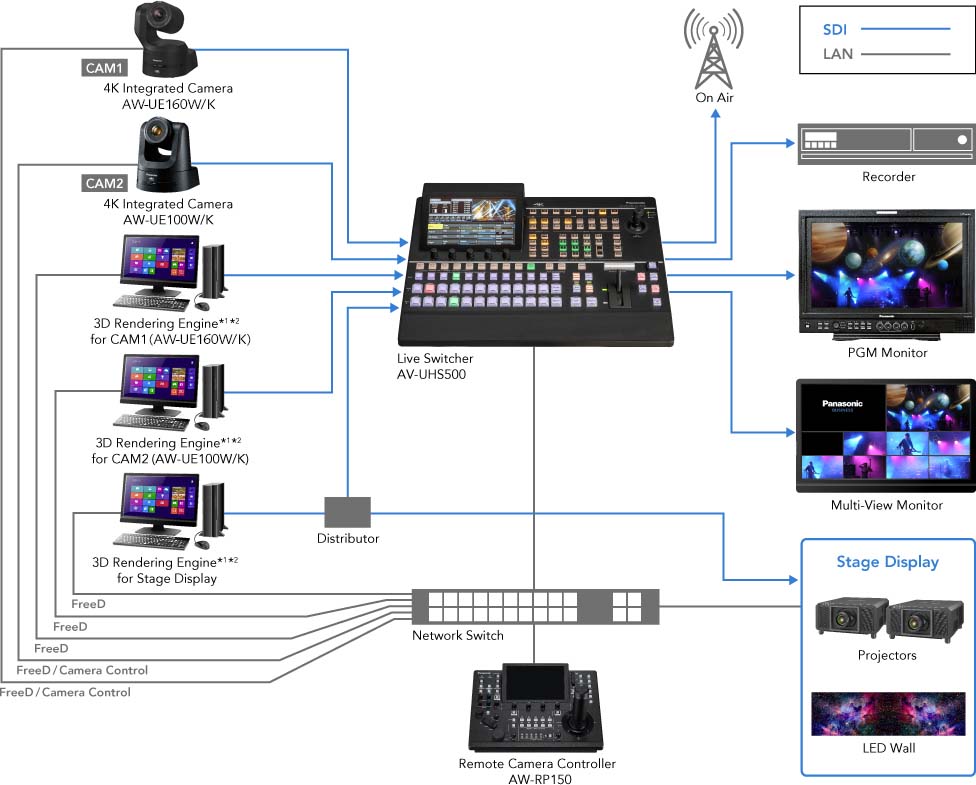 *1: Video from PTZ cameras and graphics from 3D rendering engines are composited in a Live Switcher AV-UHS500.
*2: 3D rendering engines are systems for generating 3D graphics in real time.
Live Concert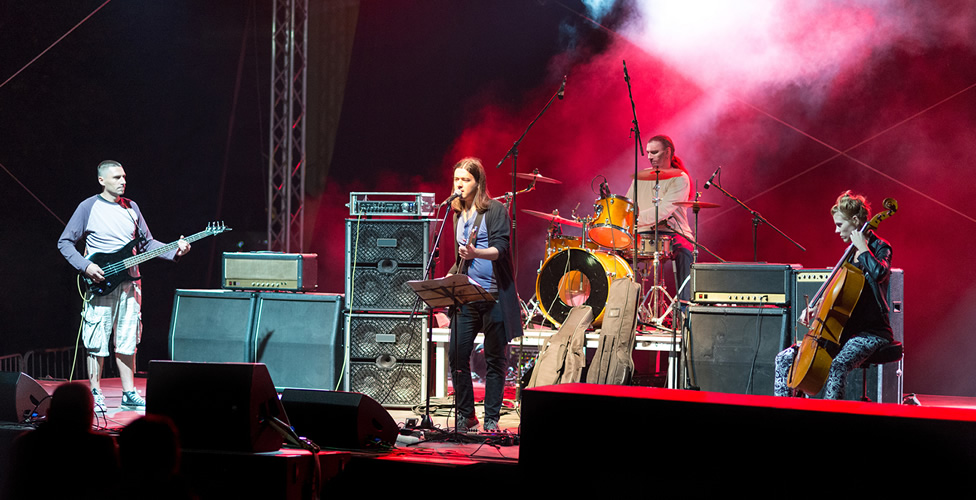 A single compact 8K camera enables recording of an entire concert stage and four separate close-up images, thus eliminating the need to take up audience seats.
From the wide-angle, high-resolution image captured by a single 8K camera, a total of five different HD videosーfour close-up images and one perspective image of the stage, front man, side players, etc.ーcan be acquired. Because an 8K camera is compact and supports remote operation, it can be set up without taking up audience seats at the center of the hall unlike conventional cameras, and allows for easy setup and removal. A single operator can operate multiple crop frames or multiple persons can operate individual crop frames.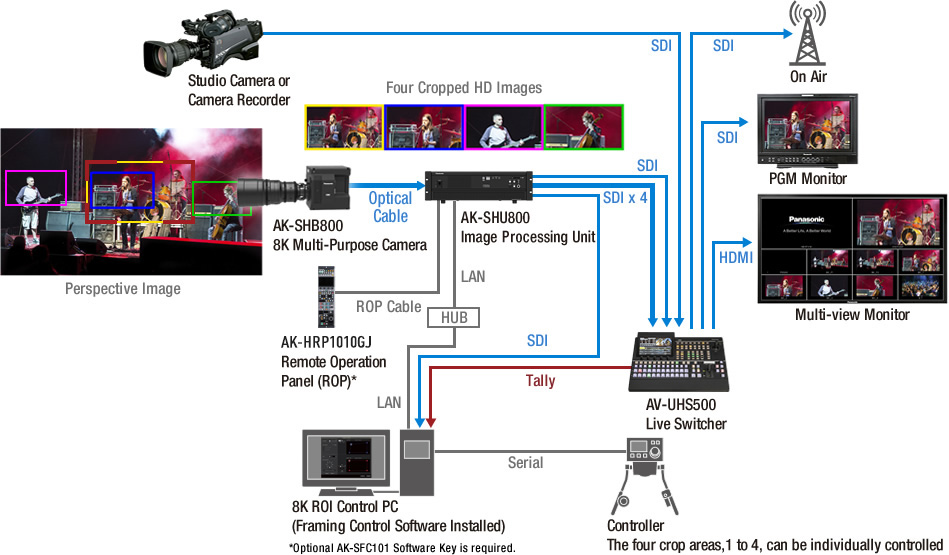 * Software must be updated when used with the AK-SHB800 8K Multi Purpose Camera.
Once it is updated, it cannot be used except with the 8K Multi Purpose Camera.
Events and Productions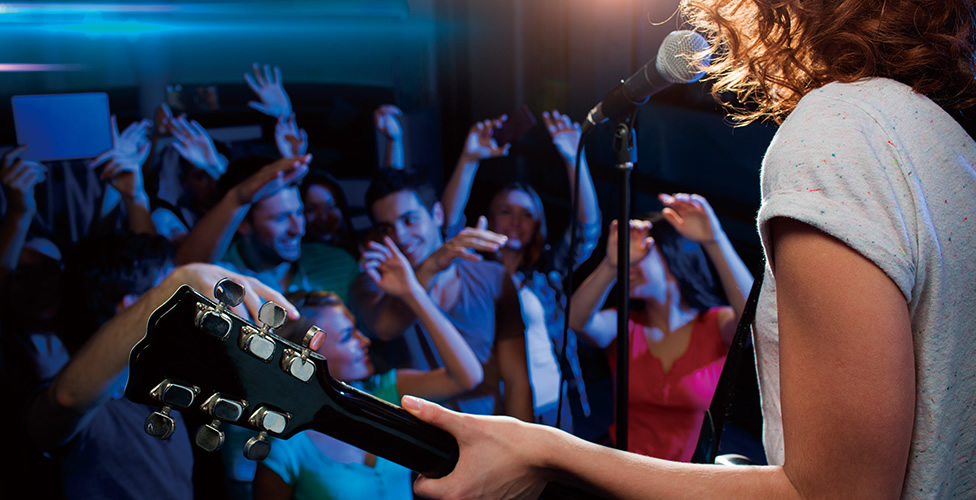 Easy operation at live events requiring multiple cameras
The AV-HLC100 enables simultaneous input of various signals such as SDI, HDMI and IP where multiple different cameras will be used together. The operator can easily operate the PTZ camera controls while checking the multiview of the live event venue.
Direct online streaming of real-time footage
The title function and PinP function can be used to display live footage on a big screen in the venue. Footage can also be directly streamed on video streaming services such as YouTube Live and Facebook Live. External audio input/output terminals are available, reducing the number of AV operators needed.

* Abbreviation of Power over Ethernet Plus Plus.
HoW (multi place)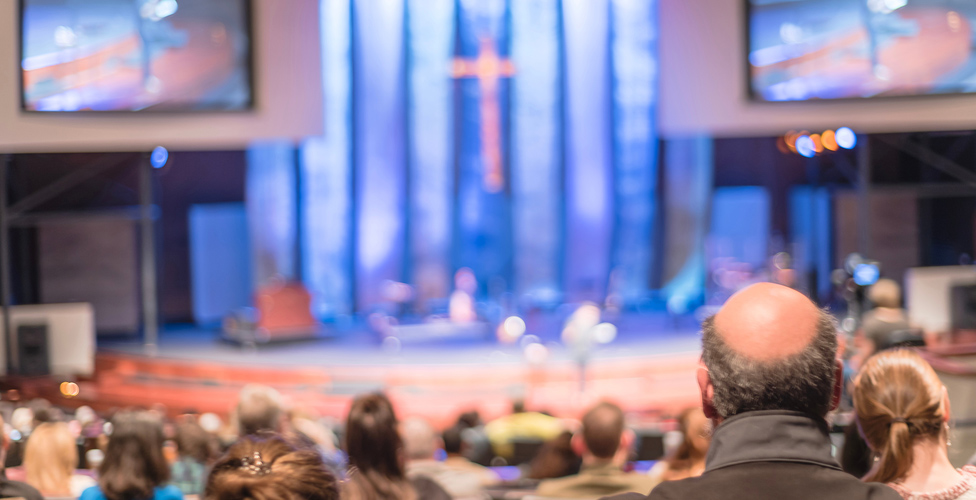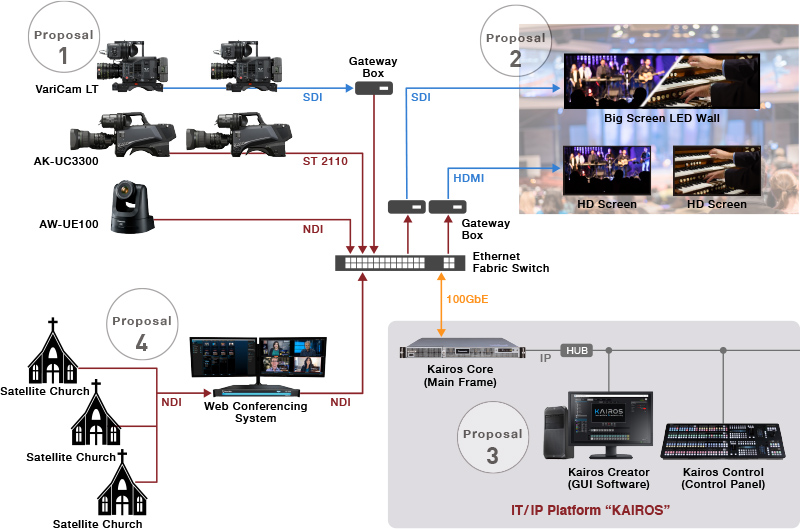 Staging/streaming images that will touch the hearts of believers even when managed by volunteers
Challenge
We want to convey the impressive atmosphere and realistic sensation of live events to many believers.
We want volunteer operators to be able to set up the production in a short time and operate the live performances quickly and surely.
We want to construct a satellite environment where believers who live away from their hometown can participate in and experience a sense of unity.
Solutions
Proposal 1: Multi-camera operation with a diverse lineup that can be realized by Panasonic
Panasonic's professional cameras offer a diverse lineup of cameras that enable you to shoot high-level images, including studio cameras with broadcast quality that support 4K/HDR, PTZ cameras that enable difficult angle shooting with conventional cameras and dynamic shooting by linking with robotics and live-compatible cinema cameras that provide cinematic and impressive images. Furthermore, by combining these, multi-camera operation is possible as a single system to provide a higher-grade video production than ever.
Proposal 2: Minimum level image delays of LED video wall
The IT/IP platform KAIROS directly captures various images such as SDI, ST 2110 and NDI®, and complex compositions do not increase image delays by performing video composition processing on the GPU. It also incorporates the multi-canvas function for LED video wall productions that usually required separate equipment, achieving low delays as the total system by eliminating the delay caused by other equipment and enhancing the realistic sensations of the venue production.
Proposal 3: GUI and control panel that are easy to set and operate
The setting software KAIROS Creator enables easy operation by a volunteer believer with intuitive GUI similar to a typical graphic app. It is also possible to create a scene file in which you can set a series of effects according to the scenario. By loading a scene file onto the layout-free control panel KAIROS Control and assigning it to any key, reliable operation is possible without missing the timing.
Proposal 4: Supporting bidirectional connection with satellite churches with NDI®
KAIROS supports NDI® input/output and linking to an existing NDI® system easily. It is possible to produce a sense of unity among believers by mutual live performances by connecting churches and satellite sites around the world with the web conferencing system.
* NDI® is a new protocol developed by NewTek, Inc. that supports IP video production workflow.
* NDI® is a registered trademark of NewTek, Inc. in the United States and other countries.
* In this instance, NDI®|HX is used to indicate high efficiency low bandwidth NDI®|HX.
Event / HoW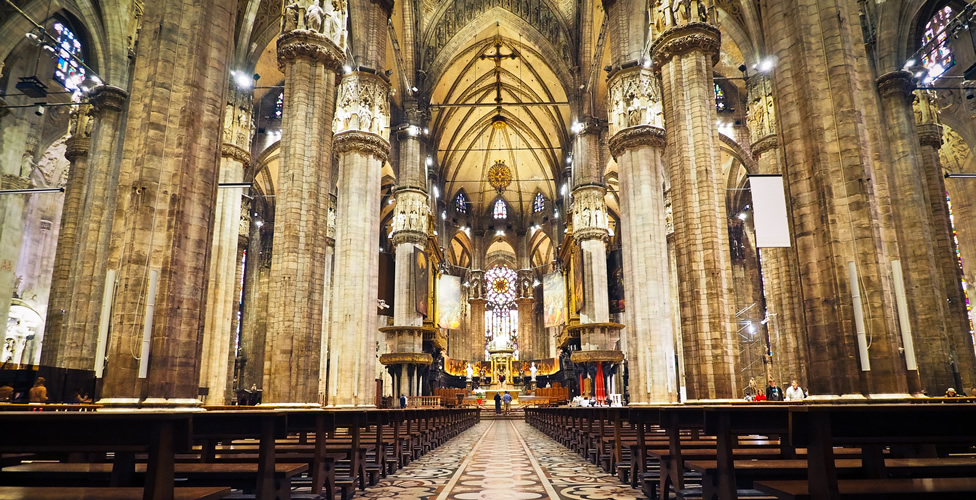 Sophisticated image production combining high-performance cameras and switchers
By installing the optimum camera for each scene, it is possible to capture all the scenes. Richly varied shooting is possible through the control of multiple types of cameras using the Remote Camera Controller AW-RP150 and Remote Operation Panel (ROP) such as AK-HRP1010GJ/AK-HRP1015G.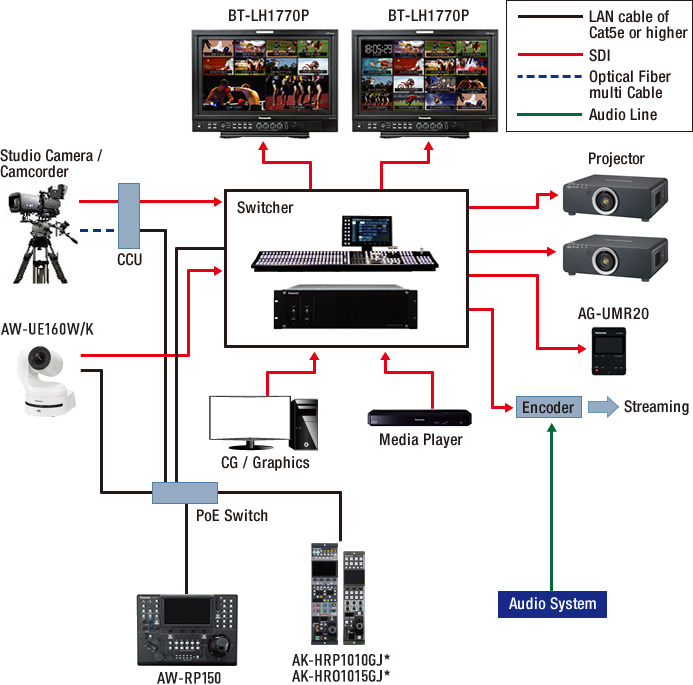 * Use may require a software version update.
Halls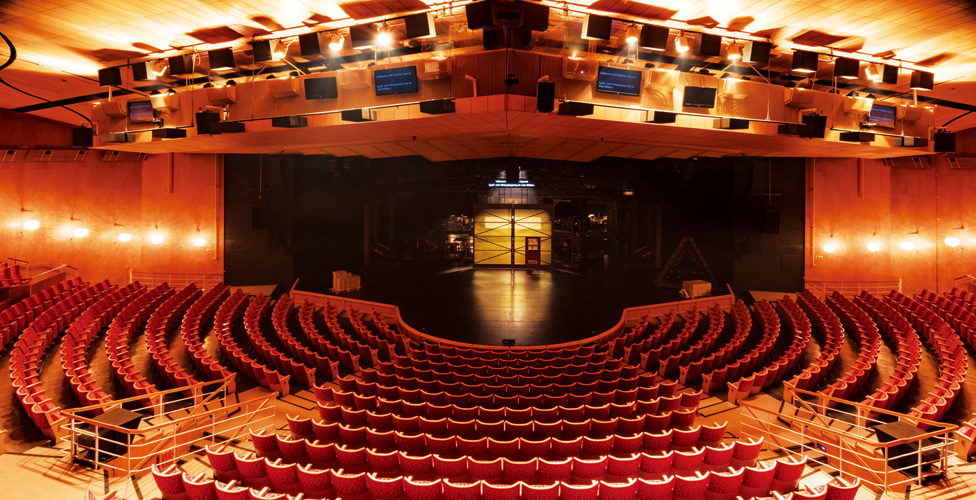 High-magnification zoom and wide-angle shooting ensure targets are captured clearly in large venues
The large 1.0-type MOS sensor enables high-sensitivity shooting with little noise in halls and other dark locations. The optical 20x zoom further ensures that even far-away targets shot in large venues are captured clearly. 75.1° horizontal wide-angle shooting allows incredible flexibility in shooting location while still being able to capture the entire shot.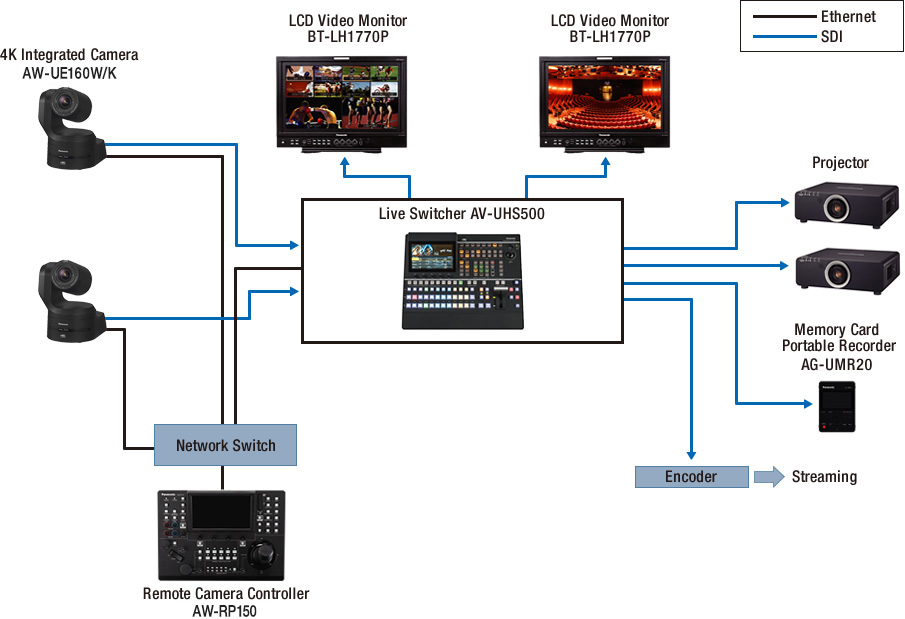 Cine Live
CINE LIVE AND EVA-LIVE
CINE LIVE and EVA-LIVE solutions refer to the use of cinema cameras for multi-camera live or near-live productions. A cinema camera is defined by its large sensor, usually 35 mm, which captures high-quality images and enables excellent recording characteristics.
Multi-camera live production consists of shooting with several cameras at once with applications including TV programs, concerts, theater performances, sporting events, stand-up comedy, fashion shows, and other events that take place in front of an audience. It involves the use of a control area (OB vehicle or control room) where captured images can be controlled and dispatched to projectors, displays, recorders, or transmitters.
Near-live refers to productions where there is no direct live broadcast. Images are recorded live, corrected, and edited in post-production before they are aired.
Live production is usually achieved with studio cameras. These camera systems are specifically designed for multi-camera live shooting: they include optical-fiber output, large viewfinders, remote control, CCU, and special functions such as tally and video-return management, call function, and more.
These cameras have been improved over many years, but due to their small sensor (2/3") and the use of broadcast lenses, they produce a "video look" with limited dynamic range and poor flexibility when post-production is required.
For this reason, and because digital cinema cameras are becoming so popular, demand for the "cinema look" on multi-camera shoots continues to grow.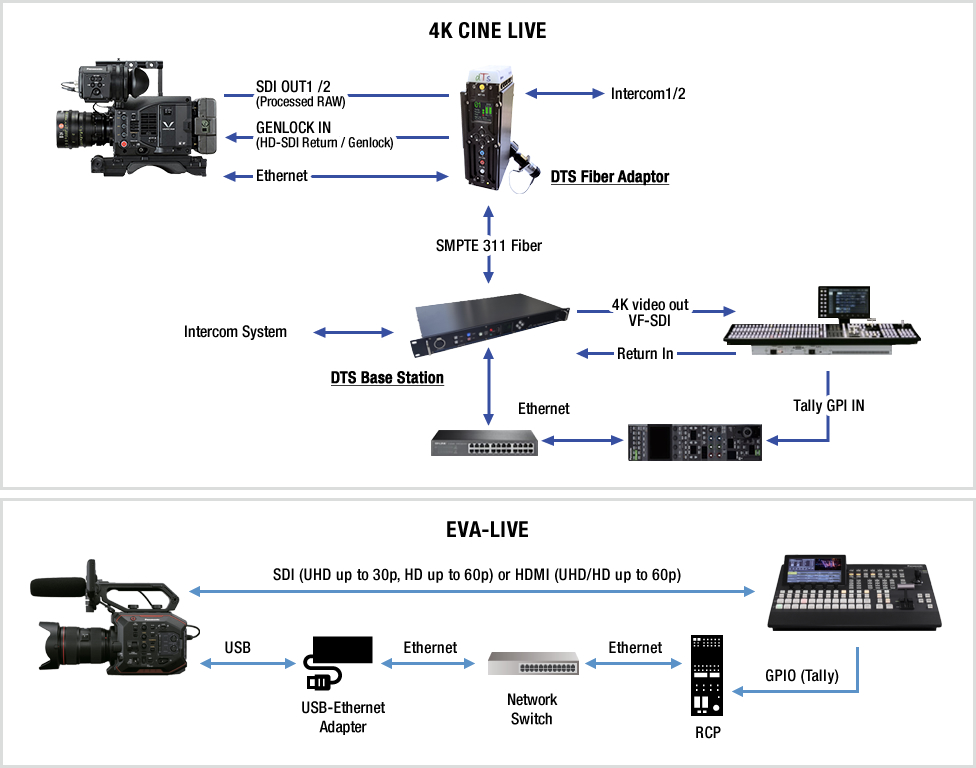 Easy IP Connection
Easy IP Connection: NDI®|HX Capablity
The AG-CX350 is the industry's first camcorder to support NDI®|HX*1 Equipped with an NDI®|HX mode, it allows video transmission and camera control via IP connection, without using an external converter. When connected to a system configured with PTZ cameras, it enables end-to-end video production of live events and web distribution.
* NDI® is a new protocol developed by NewTek, Inc. that supports IP video production workflow.
* NDI® is a registered trademark of NewTek, Inc. in the United States.
* In this instance, NDI®|HX is used to indicate high efficiency low bandwidth NDI®|HX.
*1: Recording, streaming and 4K output are not available when using NDI®|HX mode. Industry's first camcorder to support NDI®|HX. As of March 2020 (according to a Panasonic survey). To use this function, an activation keycode from NewTek is required. Keycodes can be purchased from the following website: http://new.tk/ndi_panasonic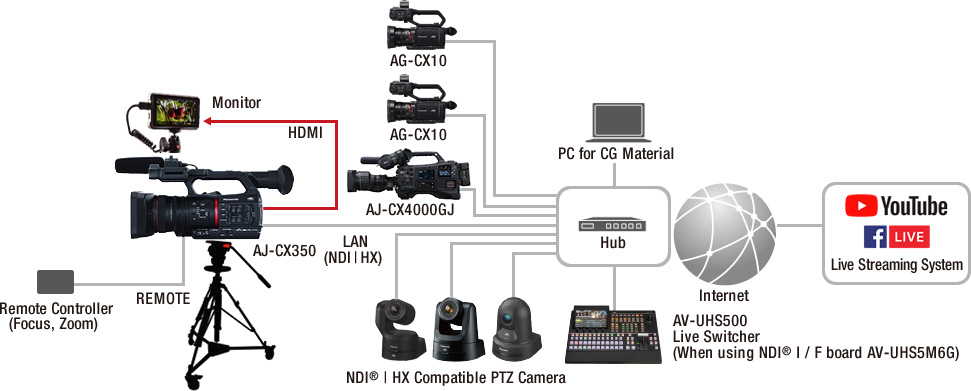 Live Streaming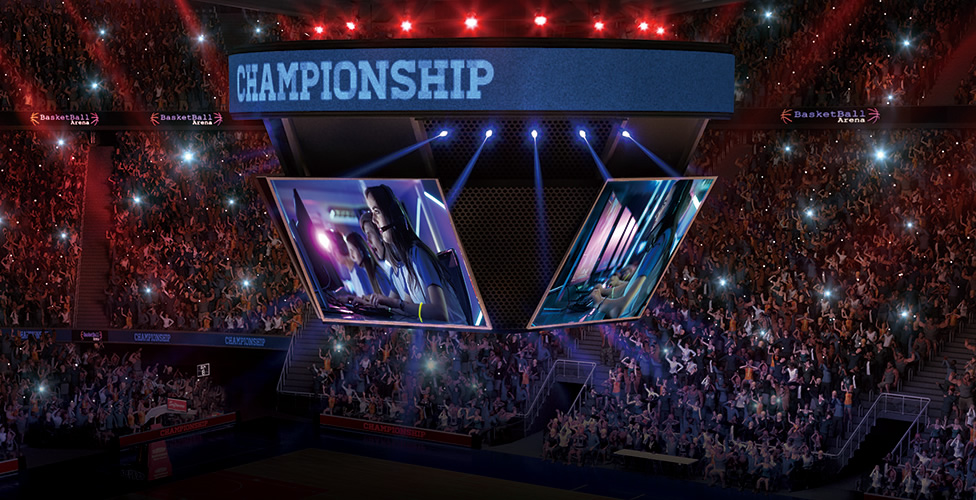 RTMP /RTMPS and NDI®|HX support*1 enable streaming workflow to be optimized to the situation
Video being shot from a single camera can be uploaded directly from the AW-UE160W/K to a live-streaming service via RTMP/RTMPS. For multi-camera setups, use NDI®|HX*1 to connect to the Live Production Center AVHLC100* . Multiple AW-UE160W/K units can be controlled from the AV-HLC100*2 for smooth live streaming.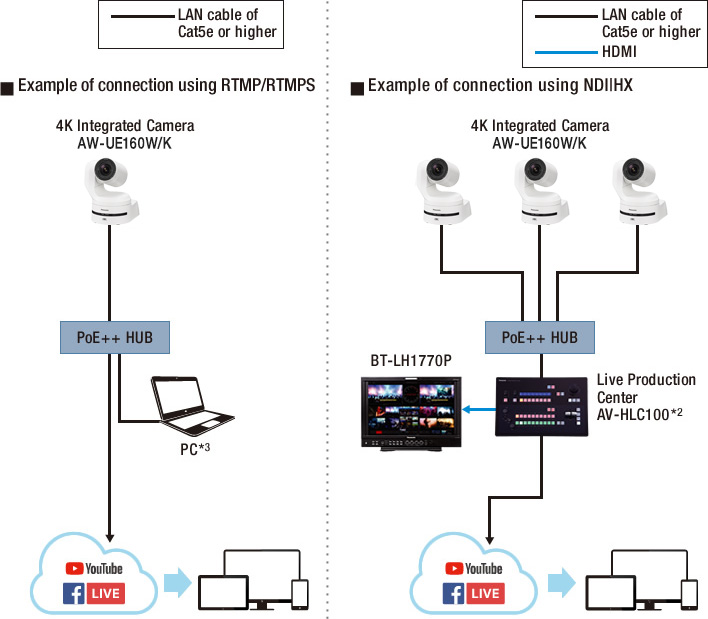 *1: Contact your Panasonic sales representative for further details.
*2: Use may require a software version update.
*3: A computer is required for server connection settings.
* NDI® is a new protocol developed by NewTek, Inc. that supports IP video production workflow.
* NDI® is a registered trademark of NewTek, Inc. in the United States and other countries.
* In this instance, NDI®|HX is used to indicate high efficiency low bandwidth NDI®|HX.
Live Webcasts by IP Streaming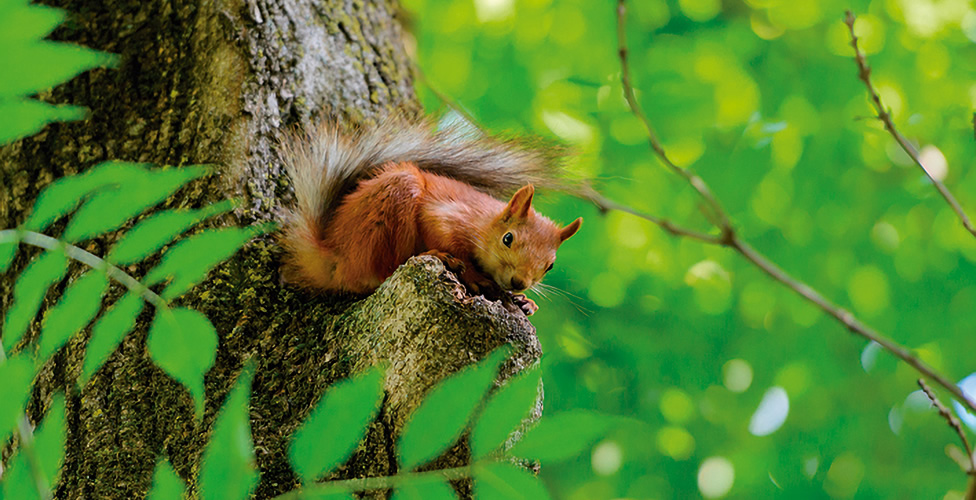 For Nature Observations, Documentaries, Sports and Webcasts
While shooting extended images in high-quality 4K (UHD) or Full-HD format, live webcasts can be produced by IP streaming. The compact Camera Head can be flexibly mounted and combined with IP control for remote shooting, providing the high image quality that is required for video production. Infrared (IR) mode also allows nighttime shooting.
* In the night shooting is required IR light. IR light is recommended the product of the wavelength 800 nm to 950 nm (850 nm is the most suitable). In order to shoot to clear the subject, it also requires a large amount of irradiation of IR light in addition to the performance of the camera.