Panasonic Broadcast and Professional AV's Solutions
Broadcast Studio
Smart Studio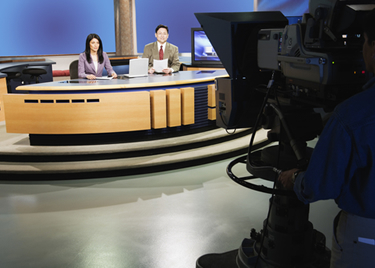 IT/IP Platform "KAIROS" enables new "Smart Studio" concept
"KAIROS" is an open-architecture, software-based live video production platform. The Kairos Core (Main Frame) fully supports base bands, such as SDI, ST 2110 and NDI®, and IP packet input and output. It is not subject to restriction by resolution or aspect ratio. KAIROS also supports remote production and full IP-based environments. Processing of effects/mixing is not restricted by the number of MEs or Keys, unlike a conventional switcher, and as many layers as the GPU power permits can be overlaid. Furthermore, the KAIROS processing latency can be as low as one frame. Kairos Creator (GUI Software) is designed for easy, intuitive operation, while Kairos Control (Control Panel) allows for flexible customization of the layout to contribute to space saving and improved operational efficiency. KAIROS does not require many dedicated devices, software, cables or conversion tools, which the conventional system needs, so it enables the creation of a simple, flexible and space-saving video production studio.
* NDI® is a new protocol developed by NewTek, Inc. that supports IP video production workflow.
* NDI® is a registered trademark of NewTek, Inc. in the United States and other countries. In this instance, NDI® is used to indicate low latency with high bandwidth NDI®.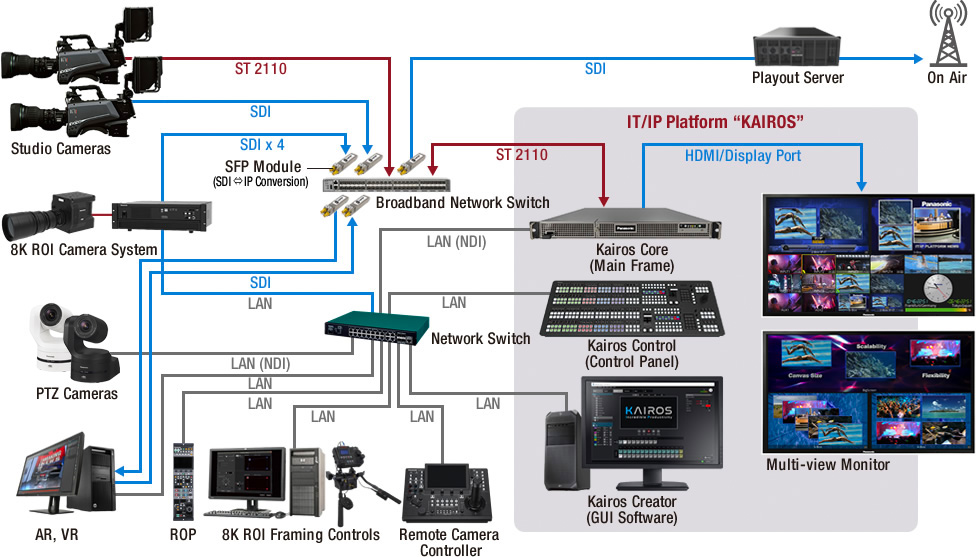 News Studio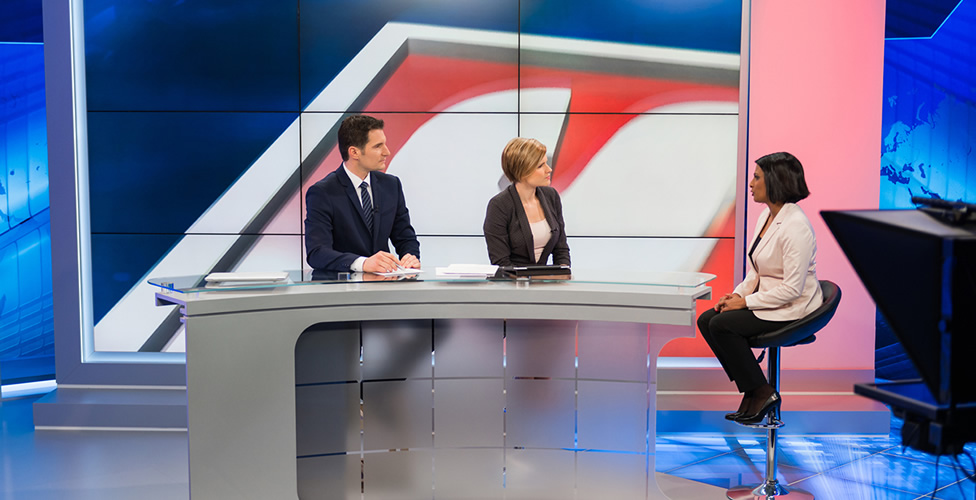 A single 8K camera provides up to five separate HD videos simultaneously for efficient use of a studio.
A single wide-angle, high-resolution multi-purpose 8K Camera provides up to five separate HD videos in total—four crop images and one perspective image—so that one camera can simultaneously obtain a multiple of independent close-up images of the studio and news casters. What's more, panning, tilting and zooming of the image captured by a remote camera from a different angle can be linked to the crop frame of the 8K camera. This allows a single operator to perform multi-camera/multi-angle recording or broadcasting.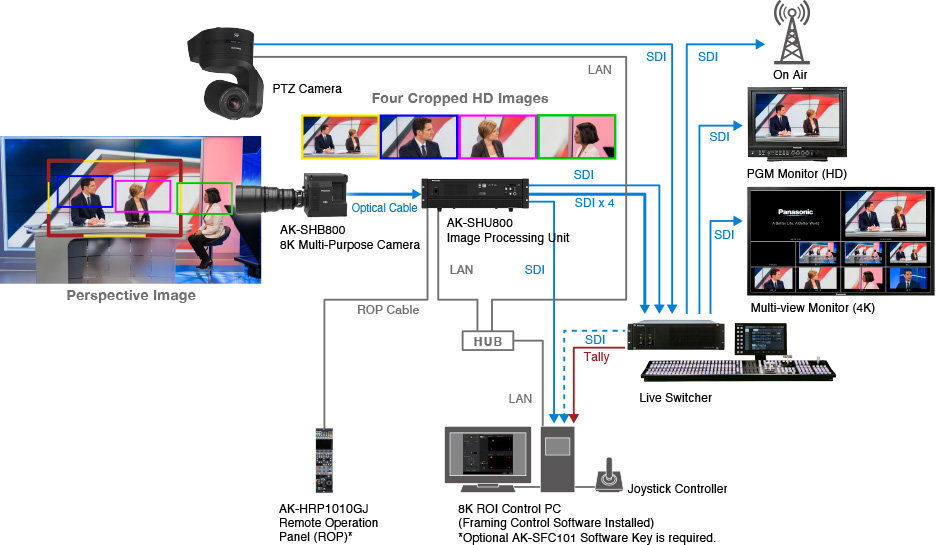 * Software must be updated when used with the AK-SHB800 8K Multi Purpose Camera.
Once it is updated, it cannot be used except with the 8K Multi Purpose Camera.
HD Studio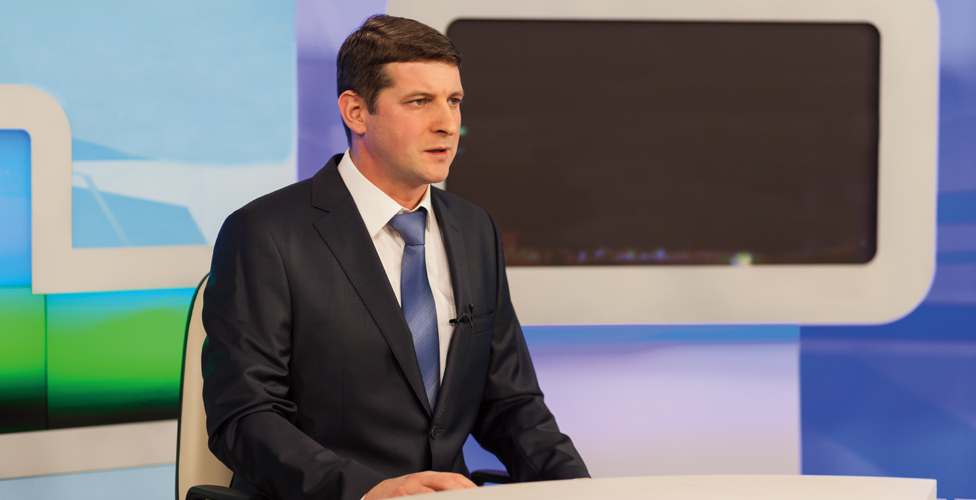 Achieve a range of visual effects with a small team by combining studio and PTZ Cameras
Multi-camera shooting can be performed with a combination of studio and PTZ Cameras, enabling shooting from a range of angles without the need for additional camera operators. In addition, the video TRUNK function enables the transmission of PTZ Camera images over optical fiber cables, reducing the number of transmission cables.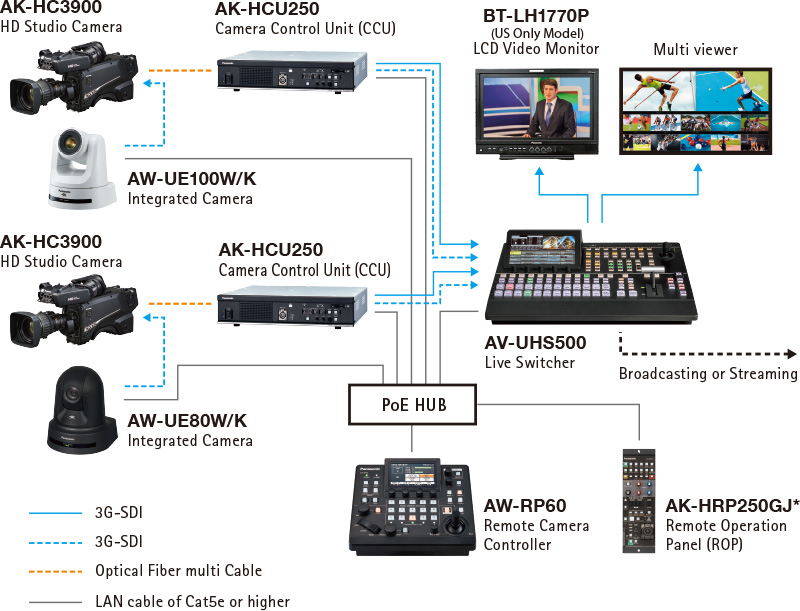 * Integrated Camera support is planned in future.
4K Studio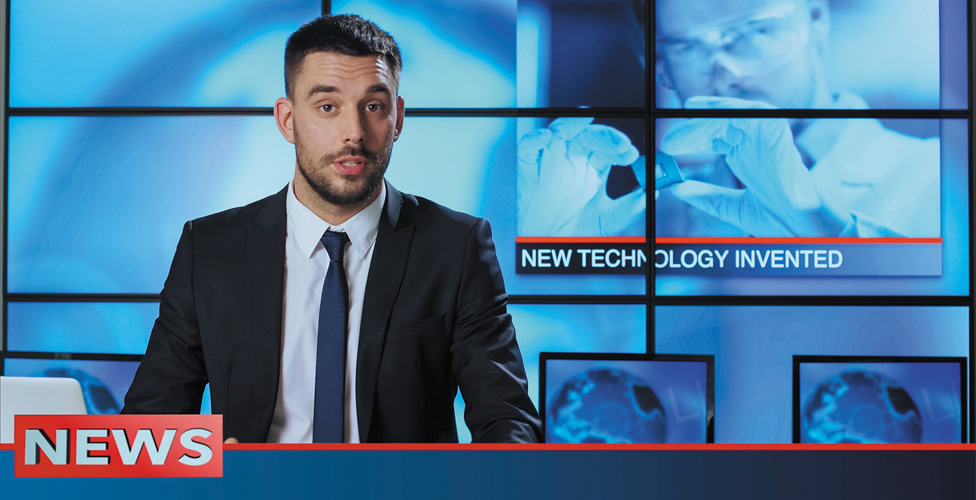 Studio shooting of smooth, high-quality 4K 60p/50p*1 images
The AW-UE160W/K is capable of 4K 60p/50p*1 output for high-quality remote shooting in studio operations where high image quality is required. A large tally lamp has been equipped to make on-air cameras easily identifiable, even from far away.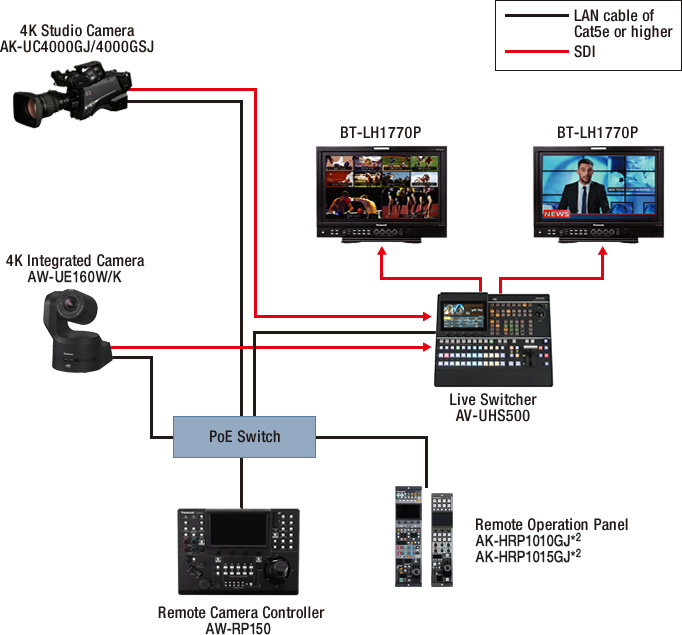 *1: Actual output format is UHD (3840 x 2160) 59.94p/50p.
*2: Use may require a software version update.
Virtual Studio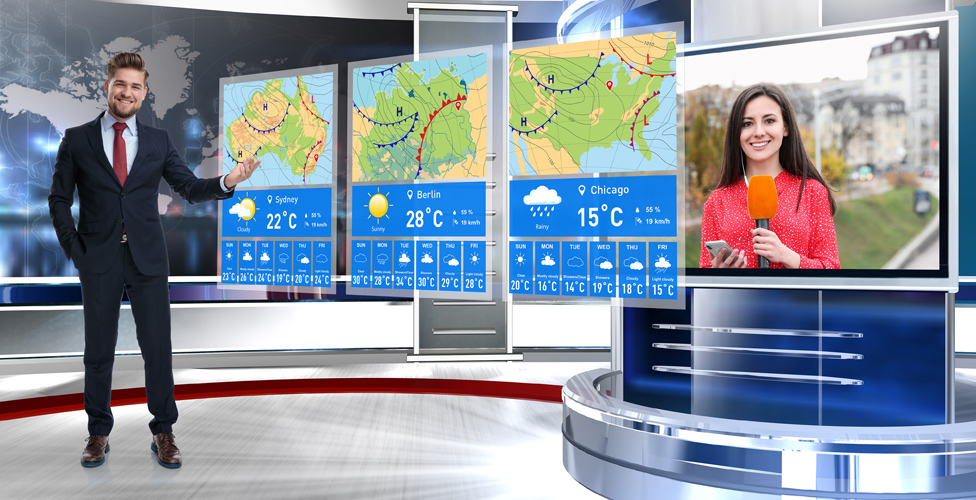 The value of a program can be increased by adding information within the real video images, so the number of scenes that are required to be combined with CG is increasing. Until now, an extremely expensive system was required to superimpose CG according to the movement of the camera.
Challenge
It is necessary to incorporate an encoder into system in order to measure/transmit the position information of the camera and lens.
Peripheral equipment is extremely expensive, so a high system cost is required to realize it.
Solutions
The pan/tilt information retained by the PTZ camera is used, so there is no need to install a separate encoder.
A system configuration with only the PTZ camera or real-time CG device is possible, enabling you to realize it at a significantly lower price than before.