AJ-P2AD1G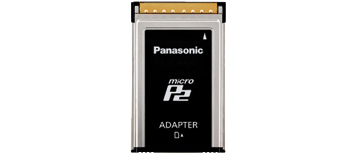 A Conversion Adapter for Using the microP2 Card in Existing P2 Equipment.*1
Memory Card Adapter
AJ-P2AD1G
*Precautions When Using SDHC/SDXC Memory Cards with the AJ-P2AD1G Memory Card Adapter
Only the DV, DVCPRO, DVCPRO50, and AVC-Intra50 recording formats can be used when using the Memory Card Adapter on P2 Series products. Memory cards of Class 10 or higher are recommended, but recording may not be possible with some cards.
DVCPRO HD and AVC-intra100 cannot be used.
Memory card data capacity must be 4 GB or more and 128 GB or less.
Interval Rec, One-Shot Rec, Loop Rec, or One-Clip Rec cannot be used.
If the reading performance is insufficient during playback, frames might be skipped (Best-effort playback).
When copying clips that extend over two SDHC/SDXC memory cards onto another SDHC/SDXC memory card, the connecting relationship between the cards will not be saved. Under certain conditions, the connecting relationship between original and copied SDHC/SDXC memory cards is saved.
* SDHC logo and SDXC logo are trademarks of SD-3C, LLC.