4K RAW-only capture – designed for high-end productions
Powered by Codex, VariCam Pure contains the existing VariCam 35 camera head, but with the Codex VRAW 2.0 recorder, creating a RAW-only solution in a lighter and more compact body of just 5.15 kg (11.35 lb.).
With Codex Virtual File system, users can transcode additional file formats, including Panasonic V-RAW, Apple ProRes and Avid DNxHR.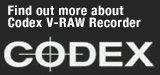 SPECIFICATIONS
WEIGHT
5.15 kg (11.35 lb.) [V35C1: 2.7 kg (5.95 lb.) / VRAW2.0: 2.45 kg (5.40 lb.)]
5.45 kg (12.02 lb.) including a cheese plate
SENSOR
Super 35 mm, MOS sensor
DIMENSIONS

(W x H x D)

180.2 mm x 236.3 mm x 314 mm
(7 3/32 x 9 19/64 x 12 23/64 inches)
LENS MOUNT
PL mount
OPTICAL FILTER
ND filter:
1: CLEAR, 2: 0.6 ND, 3: 1.2 ND, 4: 1.8 ND
MEDIA SHOT
CODEX Capture Drive
POWER CONSUMPTION
105 W
KEY FEATURES
Super 35 MOS Sensor
Super 35 mm MOS sensor for high-quality Super 35 sensor 120 fps 4K capture
Codex Workflow
Codex's flexible and reliable uncompressed RAW workflow
Smaller Form Factor
New lightweight, compact body delivers smaller form factor for on-set versatility
4K V-RAW
Recording Formats: VRAW 4K 12-bit, 4K 10-bit, UHD 12-bit, UHD 10-bit
OPTIONAL ACCESSORIES
Product availability may vary by country/region.