Image Quality
Newly Developed Wide-Angle 24.5 mm*1 and 15x Optical Zoom LEICA DICOMAR Lens
15x Optical Zoom: The 4-Drive Lens System achieves both high image quality/sensitivity and compactness with a wide-angle 24.5 mm*1 and 15x optical zoom lens. This speedy zoom provides quick zooming in and out.
High-Resolution Intelligent Zoom: In FHD mode, the i.Zoom function increases the zooming capability to a maximum of 25x while maintaining high resolution. The i.Zoom function seamlessly switches on when the optical zoom limit is reached.
Digital Zoom (x2/x5/x10): The Digital Zoom function activates without any drop in light intensity. Combining the optical zoom and i.Zoom enables maximum zooming of 250x*2.
LEICA DICOMAR*3 Lens: This lens has passed the stringent quality standards of Leica Camera AG. A multi-coating process minimizes ghosts and flaring, resulting in especially clear images.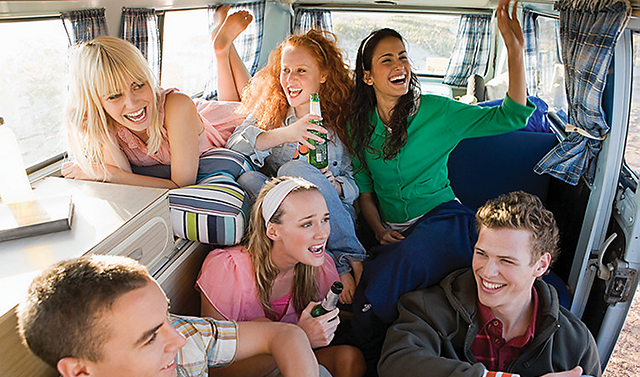 An image shot on a bus using the wide angle.
*1: 35 mm film camera equivalent in FHD mode. 35.4 mm in UHD mode.
*2: Using 15x Optical Zoom + i.Zoom + Digital Zoom 10x in FHD mode. The higher the magnification, the greater the image quality degradation.
*3: Leica is a registered trademark of Leica Microsystems IR GmbH. DICOMAR is a registered trademark of Leica Camera AG. LEICA DICOMAR products are manufactured using Leica-certified measuring instruments and quality assurance systems based on rigorous quality standards approved by Leica Camera AG.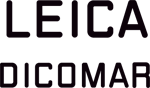 1.0-Type MOS Sensor for High-Precision, UHD 25p or FHD 50p Recording
High-Image-Quality, High-Sensitivity, 1.0-Type 4K MOS Sensor:

The 1.0-type MOS sensor provides an outstanding depth of field and excellent balance between image quality and sensitivity. High-resolution recording is possible in UHD (3840x2160) 25p mode.

High-Image-Quality FHD Recording:

Professional, high-end image recording is possible in FHD (1920x1080) mode with a 50-Mbps bit rate.

UHD/FHD/SD Multiformat:

Versatile recording modes can be selected according to resolution, frame rate, bit rate, and file format. (See table below.)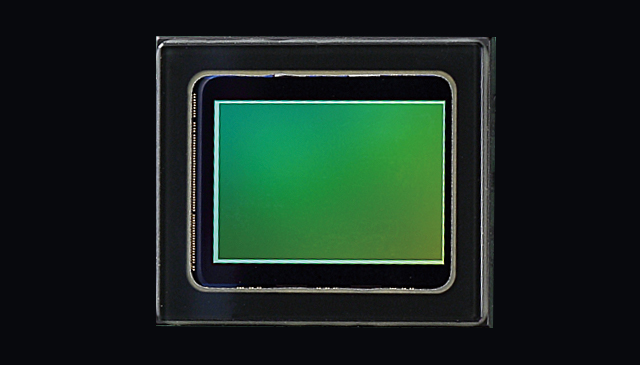 Recording Format Supported by AG-UX90
Image Size
Frame Rate
Bit Rate
Compressed Mode
Sound
File Format
UHD
3840 x 2160
25.00p
100Mbps
LongGOP
LPCM
MOV or MP4
HIGH BITRATE FHD
1920 x 1080
50.00p/25.00p/50.00i
50Mbps
LongGOP
LPCM
MOV or MP4
AVCHD
1920 x 1080
50.00p
25Mbps
LongGOP
Dolby Audio
AVCHD
50.00i
21Mbps
50.00i
17Mbps
1440 x 1080
50.00i
5Mbps
1280 x 720
50.00p
8Mbps
720 x 576
50.00i (16:9/4:3)
9Mbps
Recording Quality
Advanced Optical Image Stabilizer and High-Speed, High-Precision Intelligent AF

Advanced Optical Image Stabilizer [UHD/FHD]:

The correction area of the Optical Image Stabilizer (O.I.S.) has been expanded to approximately 900% over the conventional area (as compared to the Panasonic AG-AC160). This provides powerful correction even in unstable shooting situations, such as low-angle or high-angle shots.

5-Axis Hybrid Image Stabilizer [FHD]:

In HD shooting modes, by using hand-shake correction that combines the effects of both optical and electronic image stabilization, hand-shake in various directions, including the rotary direction, is detected and corrected.

Intelligent Auto Focus:

The Microdrive Focus Unit achieves superior auto focusing with higher-speed tracking and stability even in 4K images.

Custom AF Function:

Auto focus operation can be customised by adjusting the AF Speed, AF Sensitivity and AF Area Width. This function enables the AF to operate exactly as intended by the user in accordance with the subject type or application.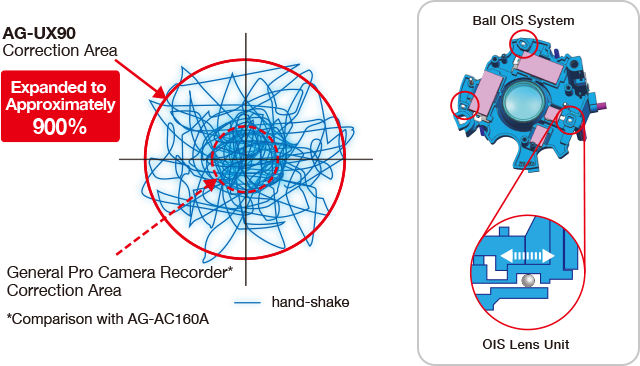 Versatile Manual Functions — Manual Three Rings + Focus Assist
Manual Three Rings:

The AG-UX90 features manual three rings for Zoom, Focus and Iris control. These manual controls ensures professional operation.

Focus Assist (Expand and Peaking):

Expand (enlargement)* or Peaking (coloured emphasis of focus point) is displayed to assist the user's manual focusing operation.

One-Push AF:

This function temporarily activates Auto Focus when shooting in Manual Focus mode, using a "PUSH AUTO" button.

Area Function:

Auto Focus is easily possible with just a touch on the LCD panel. You can also change this to Auto Iris and Brightness Display.
By moving the Micro Drive Focus Unit minutely and quickly, highly precise AF performance is also achieved when shooting in 4K or shooting with a shallow depth of field.
* The part to be expanded is designated by touching the screen.
FHD VFR (Variable Frame Rate) Recording, Double SD Memory Card Slots
FHD VFR Recording:

VFR recording can be set in 9 steps from 2 to 50 fps.

Unlimited Relay Recording:

By using double SD memory card slots, automatically records continuously from Slot 1 to Slot 2. By changing the SD card, images can be recorded continuously for many hours*.

Simultaneous Recording:

By using double SD memory card slots, identical data is recorded onto cards in both slots in this dual recording mode.

Pre Rec:

This function constantly caches approximately 4 seconds of video and audio data in MOV/MP4 format, or approximately 3 seconds in AVCHD format, prior to Rec Start, so the data can be recovered in case there is a delay in pressing Rec Start.

Interval Rec:

Records intermittently based on a set interval time of 1 sec, 10 sec, 30 sec, 1 minute or 2 minutes.

Freeze Frame:

Images can be recorded as still images together with audio. This function is convenient when moving the camera to a different location or when shooting a different scene.

Time Stamp:

The date and time can be stamped onto recorded images.
Unlimited Relay Recording

Simultaneous Recording

* Recording can continue across multiple SD cards. However, each time the file reaches 96 GB, it will be split into two files, but the recording continues. If the Relay recording time reaches 10 hours, shooting will temporarily stop, and then automatically restart a few seconds later.
Recording Time
Recording Format
4 GB
8 GB
16 GB
32 GB
64 GB
128 GB
MOV/
MP4
UHD
100
Mbps
—
—
Approx. 20 min.
Approx. 40 min.
Approx. 1 hour
20 min.
Approx. 2 hours
40 min.
FHD
50
Mbps
Approx. 10 min.
Approx. 20 min.
Approx. 40 min.
Approx. 1 hour
20 min.
Approx. 2 hours
40 min.
Approx. 5 hours
20 min.
AVCHD
PS
25
Mbps
Approx. 19 min.
Approx. 40 min.
Approx. 1 hour
20 min.
Approx. 2 hours
40 min.
Approx. 5 hours
20 min.
Approx. 11 hours
PH
21
Mbps
Approx. 21 min.
Approx. 45 min.
Approx. 1 hour
30 min.
Approx. 3 hours
Approx. 6 hours
Approx. 12 hours
30 min.
HA
17
Mbps
Approx. 30 min.
Approx. 1 hour
Approx. 2 hours
Approx. 4 hours
10 min.
Approx. 8 hours
30 min.
Approx. 17 hours
HE
5
Mbps
Approx. 1 hour
30 min.
Approx. 3 hours
20 min.
Approx. 6 hours
40 min.
Approx. 13 hours
40 min.
Approx. 27 hours
30 min.
Approx. 56 hours
HE
8 Mbps
Approx. 1 hour
Approx. 2 hours
Approx. 4 hours
15 min.
Approx. 8 hours
30 min.
Approx. 17 hours
10 min.
Approx. 35 hours
SA
9 Mbps
Approx. 1 hour
Approx. 2 hours
Approx. 4 hours
Approx. 8 hours
Approx. 16 hours
30 min.
Approx. 34 hours
Camera Image Adjustment Functions, Including Details and Gamma Modes
Skin Detail:

Makes skin colours appear soft and beautiful. Especially effective when recording the person up close.

Master Detail:

Adjusts the overall degree of contour enhancement.

8-Mode Gamma: The AG-UX90 is equipped with eight selectable gamma modes, including two Cine-Like Gammas, drawing on technologies developed for the VariCam.

| | |
| --- | --- |
| HD NORM | Suitable for standard HD recording. |
| SD NORM | Increased gain in darker areas more than HD (High Definition). |
| FILMLIKE 1 | Reproduces more gradation in highlight areas than when shooting in HD. |
| FILMLIKE 2 | Reproduces more gradation in highlight areas than when shooting in FILMLIKE 1. |
| FILMLIKE 3 | Reproduces more gradation in highlight areas than when shooting in FILMLIKE 2. |
| CINE-LIKE D | The Cine-Like mode shifted to prioritize dynamic range. |
| CINE-LIKE V | The Cine-Like mode shifted to prioritize contrast. |
| STILL-LIKE | Setting to match images captured with still cameras. |
Scene Files:

Six files preset with picture quality settings are provided as Scene Files (Standard, Shooting under fluorescent lights, Spark, Still like, CINE-LIKE contrast, and CINE-LIKE dynamic range). You can change any of the settings as desired and store one set as a Custom File in the AG-UX90, and up to eight sets on an SD memory card.

Other Professional Picture Quality Settings:

Selectable matrix tables including CINE-LIKE mode, V detail, detail coring, chroma level, chroma phase, colour temperature, master pedestal and knee point.

Excellent Operability
Functions and Designs to Support Professional Camera Work
User Buttons:

Any of the 40 functions can be allocated to the User Buttons. There are a total of 13 User Buttons: Nine on the AG-UX90 body, and four on the LCD Touch Panel.

Touch-panel LCD and EVF:

The 3.5-type monitor LCD built into the handle section can be pulled out and turned 270 degrees in the vertical direction for use in high-angle,
low-angle or selfie shots. The touch panel function can be used for menu setting and area functions. The 0.24-type LCD colour viewfinder is also equipped.

ND Filters:

OFF, 1/4, 1/16, 1/64 ND filters built-in.

Gain Selector:

Select from −3 dB to 30 dB gain for 3-position (L/M/H) allocation.

AWB Selector:

Two-value (A/B) memory and presets (3200/5600/VAR) can be selected. ATW (auto-tracking white balance) function is also equipped.

ZEBRA/Marker (Y Level):

Two zebra patterns are integrated, from 50% to 105% in 5% steps. When switched to Marker, the brightness level in the centre of the screen is displayed in percentage.

Level Gauge:

Horizontal or vertical tilting of the camcorder can be checked.
A Safety Zone Marker and Centre Marker can be displayed.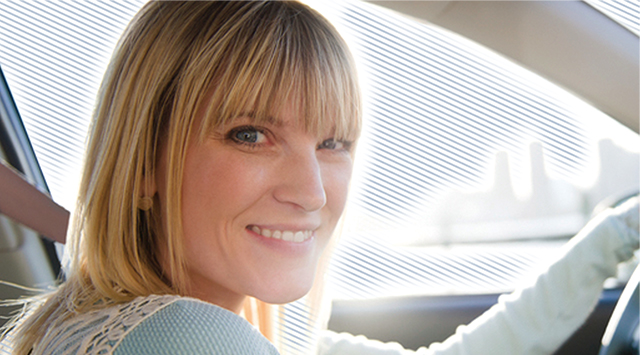 Zebra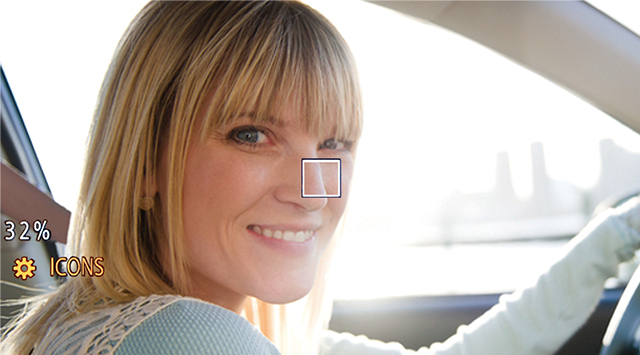 Marker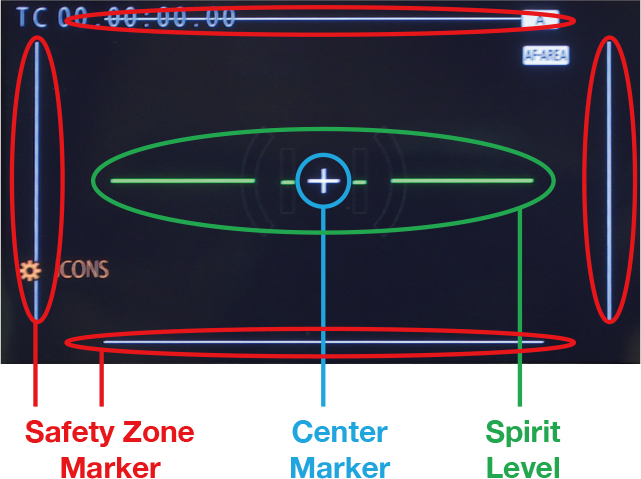 Professional Interfaces for Smooth System Operation
HDMI:

Digital outputs up to UHD 25p and FHD 50p.

VIDEO/AUDIO OUT:

Outputs analogue signals for video and audio monitoring.

XLR AUDIO IN:

Equipped with two channels of XLR audio input (with switchable 48 V phantom power supply, MIC and LINE), manual audio volume and OSD level meter.
Professional Audio Recording:

The AG-UX90 records two high-quality audio channels using either the 16-bit linear PCM system (MOV/MP4) or Dolby Audio system (AVCHD). Other professional features include a 1-kHz test tone output*1 and headphone output (3.5 mm-diameter stereo mini-jack).

iPad Remote Control:

The AG ROP app for iPad*2 is available free of charge from the Apple App Store. It enables wireless remote control of the AG-UX90 with installation of a wireless module (optional AJ-WM50). This enables a variety of control operations, including Zoom, Iris, REC Start/Stop, and picture quality settings.

Large-Capacity Battery Options:

The AG-VBR59/VBR89G/ VBR118G new battery packs offer large capacity and quick charge*3.
*1: This output is produced when the colour bar is displayed. The output is 997 Hz.

*2: iOS 7.1, iOS 8.1, and iOS 9 are supported.

• App Store is a service mark of Apple Inc. Apple, the Apple logo, and iPad are trademarks of Apple Inc., registered in the U.S. and other countries.

*3: Quick charge is possible only when the AG-BRD50 battery charger is used.