Featuring a wide-angle 24.5 mm*, 15x optical zoom lens and 1.0-type MOS sensor, the AG-UX90 records high-quality 4K/FHD images with excellent cost-performance.
Panasonic introduces the 4K camcorder UX series to meet professional 4K video production needs. The AG-UX90 is the "UX standard model" for easy, high-quality 4K/FHD recording. It is equipped with a newly designed compact lens featuring a wide 24.5mm angle* and 15x optical zoom. Its Optical Image Stabilizer (O.I.S.), intelligent AF function, and Manual Three Rings are ideal for professional camera work. The AG-UX90 is equipped with a 1.0-type high-sensitivity MOS sensor. It supports UHD 25p and FHD 50p/25p multi-format recording. In addition to 4K (UHD) high resolution, it provides high-quality FHD recording at 50 Mbps. Two SD memory card slots enable relay/simultaneous recording. The AG-UX90 also has a design and operating ease that will feel familiar to professional photographers, and a variety of interfaces, including HDMI output and XLR input. Offering the same level of agility and mobility as a conventional HD handheld camcorder, the AG-UX90 provides powerful support for highimage-quality 4K/HD video production.
* 35mm film camera equivalent in FHD mode. 35.4mm in UHD mode.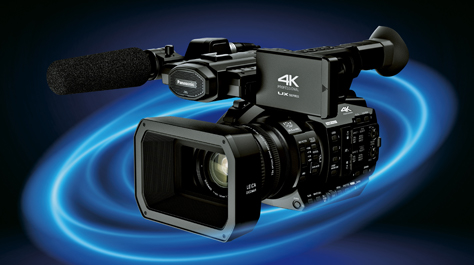 SYSTEM CHART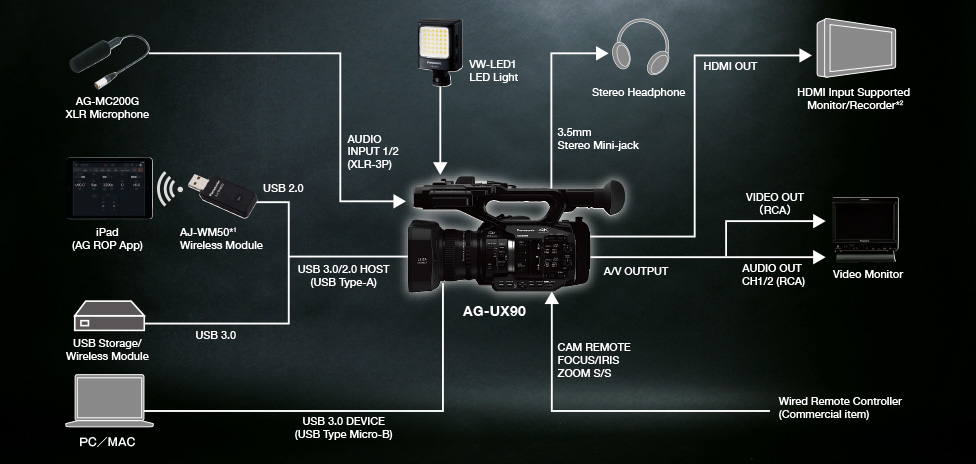 *1: Not available in some areas.
*2: Operation check models: ATOMOS SHOGUN.
Battery Pack

AG-VBR118G (11,800 mAh)

Quick-charge with AG-BRD50

XLR Microphone (monaural)

AG-MC200G

LED Video Light

VW-LED1

Wireless Module

AJ-WM50
SDXC Memory Card

SDHC Memory Card

Battery Pack

AG-VBR118G (11,800 mAh)

Quick-charge with AG-BRD50

Battery Pack

AG-VBR89G (8,850 mAh)

Quick-charge with AG-BRD50

Battery Pack

AG-VBR59 (5,900 mAh)

Quick-charge with AG-BRD50

Battery Charger

AG-BRD50

Battery Charger

AG-B23

XLR Microphone (monaural)

AG-MC200G

LED Video Light

VW-LED1

Wireless Module

AJ-WM50
RESOURCES
SUPPORTS