The cloud solution that integrates live streaming, video recording, video production and equipment and content management into one realizes the teleworking of video businesses.
The IoT cloud platform MB is a system that expanded applications to businesses, education and all industries that handle videos based on Panasonic's cloud solutions, which boast a proven track record.
Thanks to MB, images from camcorders, PTZ cameras and smartphones (streaming or files) can be integratedly managed on the cloud and can seamlessly connect to production work such as editing and streaming work. Furthermore, it also enables condition monitoring and control of shooting equipment*.
MB can flexibly adapt to the user's environment and provides excellent immediacy and cost. It will bring innovation to workflows that connect video sharing, management, streaming and production.
* Possible functions differ depending on the filming terminal.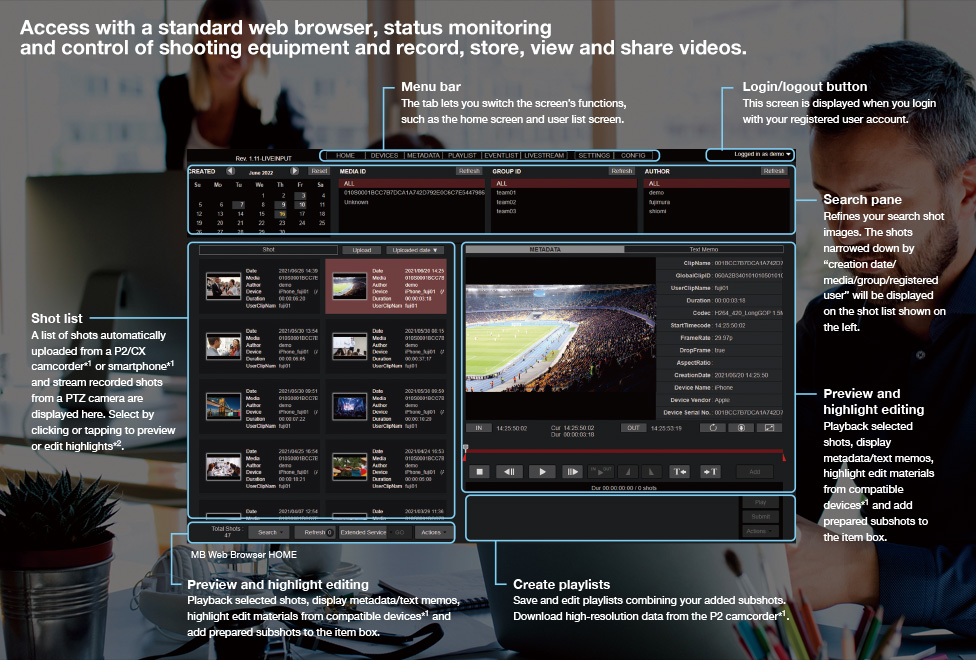 *1: For more on the compatible cameras/camera compatible functions, please see the "Compatible Chart of Camera and MB Function".
*2: There may be a difference in compatibility depending on the compatible shooting device.
Remote Control
Integrated management and control of filming equipment via the cloud
Manage multiple cameras on the cloud and collectively stream onto YouTube and Facebook. In other words, it is possible to confirm the status of the filming equipment (equipment status, location information, etc.), record videos onto the cloud, designate the steaming destinations and start/stop streaming and record the streaming videos through the cloud with remote operation.
Smart Operation
Use various cameras/smartphones*1 without media
By automatically collecting images from a wide range of cameras such as Panasonic's camcorders, PTZ cameras, network compatible cameras from other manufacturers*1 and smartphones (iPhone), media-less operation is possible without depending on the format.
On Time
Quick and high-quality video production with live recording, near live transfer
Other than live streaming/recording, it is possible to automatically upload recorded files from a compatible camcorder*1 or smartphone. Confirm and use recorded videos without stopping shooting and conduct video production close to live broadcasting with high image quality.
High Quality
High image quality that supports broadcasting
Compatible with low bit rate formats suitable for cloud operations, high-image quality P2 format (MXF) and 4K applied for broadcasting and business uses and support for broadcasting and video production applications. Both formats can be retained when transferring files*2, and it is possible to use them according to the application such as the low bitrate format for cloud operations and high quality videos for video production.
Online
Flexible system construction according to the user environment
You can start operation if you have a general connection and standard browser. In addition to AWS (Amazon Web Services), the cloud server can be constructed with a private network environment (on-premise support), and flexible operation is possible depending on the user environment.
Reliable
Five-year track record of stable operation
The cloud system that is currently operated for the broadcasting market has a five-year track record of stable operation in global broadcasting stations, and MB is constructed based on this broadcasting system. We provide high reliability and stability that support daily operations in all industries that handle videos.
YouTube, YouTube logo are trademarks of Google LLC.
Facebook is registered trademarks of Facebook, Inc.
iPhone is trademarks of Apple Inc., registered in the U.S. and other countries.
"AWS " and "Amazon Web Services " are trademarks of Amazon.com Inc., or its affiliates in the United States and/or other countries.