Case Studies:

Gokuraku-Eizousha Co., Ltd.
New POVCAM Used for Shooting and Recording
Kome Kome Club's Concert
Centralized control of POVCAM units via IP network
Dramatically improves picture quality and reliability while inheriting a compact size and
light weight for easy operation
An image acquisition system configured with a number of Panasonic products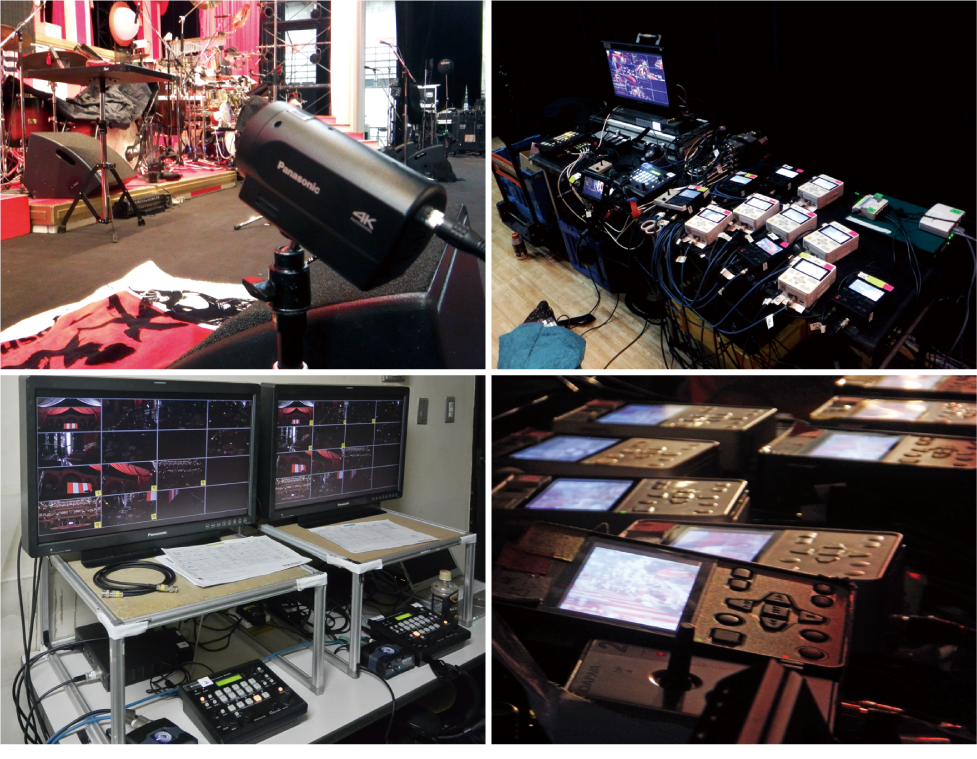 Gokuraku-Eizousha Co., Ltd. used Panasonic portable recorders, POVCAM, to record a concert by "Kome Kome Club", a popular Japanese pop band, held on January 9-10, 2018, at the NHK Hall in Shibuya, Tokyo. This concert was part of the group's national tour, "Osekihan," and it was Kome Kome Club's first national tour in about four and half years. Gokuraku-Eizousha has used Panasonic's previous POVCAM portable recorder models to record live music performances and many other events. For Kome Kome Club's concert, the company used a total of 15 units of a new POVCAM that was released in the spring of 2017. The new POVCAM inherits the compact size, light weight and excellent operating versatility of previous models, and also offers 4K compatibility, dramatically improved picture quality, and a new IP remote control function. The company commented that the new IP remote control function contributed to the efficient operation of many POVCAM units used to record the concert. To avoid interfering with the unique world created on stage, Gokuraku-Eizousha also used white POVCAM units designed for medical applications. What was noteworthy was that the system was configured with mainly Panasonic products. In addition to the POVCAM, the company employed other Panasonic cameras, such as VARICAM 35 4K camera/recorders, AU-EVA1 compact cinema cameras and AG-UX180 professional 4K camcorders as well as the AV-HS450 multi-format live switcher, BT-LH910G/1710 broadcast and professional LCD monitors and AW-RP50 IP remote camera controllers for the video production.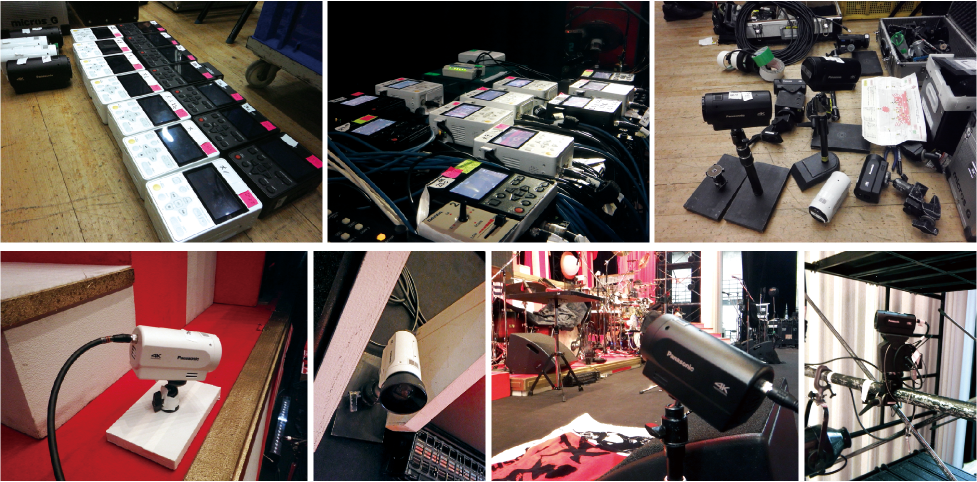 A total of 15 new POVCAM units were arranged and set up at various places by different methods.
A total of 15 new POVCAM units were used to capture concert scenes
When Gokuraku-Eizousha recorded Kome Kome Club's concert at the Yokohama Arena in 2010, it used POVCAMs as fixed-in-position cameras. Since then, the company has been actively using the POVCAM in recording live music performances and other events.
Mr. Kei Nozawa, the president of Gokuraku-Eizousha and director of photography, said, "To shoot and record Kome Kome Club's live performance, it was necessary to set up a number of compact cameras on stage because there were many band members and they energetically moved around the stage. It's no hype to say the recording of Kome Kome Club's live performance would not be possible without the POVCAM."
For the concert, a total of 15 new POVCAM units, which were released to the market in 2017, were used. The camera heads of those units were set up on stage using a variety of methods. Some were mounted to mic stands, some were attached to stage props using the grips, and some were installed on camera platforms placed directly on the floor.
Terutaka Ohkura, the producer in charge of video production, Marketing Room, Sony Music Records, Sony Music Labels Inc., has produced many music videos in the past and also served as a director of photography for the recording of Kome Kome Club's concert. "The concept of this shoot called for the acquisition of a large amount of images using fixed-in-position cameras. We usually set up cameras on the stage, but when we use compact action camcorders without cable connection, we have no control over the images they capture once they're in place. The POVCAM is, on the other hand, connected with a cable so it can be controlled when needed although the camera cannot be freely moved. Video signals output from the POVCAM to a switcher boast high image quality, so we wanted to record as many scenes with the POVCAMs as possible," said Mr. Ohkura.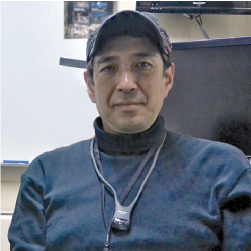 Mr. Kei Nozawa
President
Gokuraku-Eizousha Co., Ltd.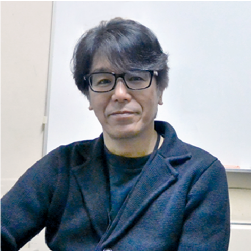 Mr. Terutaka Ohkura
Producer
Sony Music Labels Inc.

Images captured by the POVCAM were collected in the video production sub-base (left photo). They were then combined with the images shot with remote controlled cameras, input to a 16-way splitter and transferred to the video production main base located at stage right via an IP network. At the main base, images were displayed on a 16-screen display monitor for centralized control. The functions of each camera, such as image adjustment, could be controlled remotely (right photo).
IP network connectivity further enhances the value of the POVCAM.
IP network connectivity, which is one of the main features of the new POVCAM, served a key function in the recording of Kome Kome Club's concert. The new POVCAM is equipped with a LAN terminal for IP streaming/IP control, so it enables video/sound streaming, file transfers and external control by a device externally connected via network.
The new POVCAM can also be accessed from a Web browser on a PC or tablet or controlled from an IP controller. This enables the centralized control of the system.
In preparation for the concert shoot, Gokuraku-Eizousha adjusted all POVCAM units to ensure color uniformity and picture quality, and assigned IP addresses. On the day of the concert, all POVCAM units were ready for control and adjustment from the video production base set up in the anteroom. Signals from each LAN-connected camera in the concert hall were fed to the 16-way splitter and transmitted via IP network. The operators used the IP controller to adjust the focus, iris and zoom of each camera in real time while watching the images displayed on the 16-screen monitor at the video production base.
Mr. Nozawa explained, "It takes quite a long time to position and set up cameras. Since we used a lot of cameras this time, it wasn't an easy task to adjust each and every camera. Generally, cameras positioned upstage and at high places are particularly difficult to operate. So, the centralized control using the IP network was a big help. Since there is absolutely no "retake" when it comes to recording a live music performance, we were very tense. Under such conditions, we really appreciated the convenience offered by the new system. For instance, images were recorded onto an SD memory card mounted in each recorder and we were able to fine-tune each camera in real time via the IP network. When a previous model was operated in auto mode, sensitization was automatically performed, causing the pictures to become slightly coarse. The new POVCAM is equipped with a gain limit to allow for gain setting. When light shines suddenly toward the camera, the iris can be adjusted on the IP control. Being able to check the images captured by cameras set up on stage during the three-hour concert was a huge benefit. The new POVCAM's IP network connectivity expanded the range of viewable video clips, so it let us capture the images we wanted, instead of relying entirely on the cameras to capture images from fixed positions. The new POVCAM provides greater value to video producers."

White POVCAMs were also used, and some images were recorded in 4K/24p.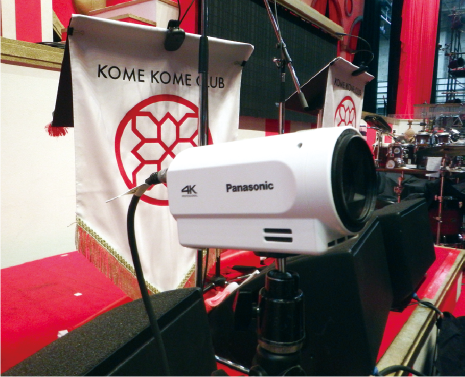 Many new white POVCAM units designed for medical applications were also used in order to blend in with the unique world created on the stage.
The stage set of the "Osekihan" national tour featured a unified color scheme of red and white to present the unique world of Kome Kome Club's music. Therefore, many units of the new white POVCAM for medical applications (AG-MDR25 + AG-MDC20GJ) were used. That was another noteworthy point of the system used to record the concert.
Also, some of the new POVCAM units positioned upstage and in high places recorded images in 4K/24p.
"The cameras for capturing actively moving band members were set with a slightly deep focus and used to record wide 4K images, which were later trimmed," said Mr. Nozawa.

Panasonic cameras, such as the VARICAM 35, AU-EVA1 and AG-UX180, were used in addition to the many new POVCAM units for recording the concert.
All cameras were unified with the Panasonic MOS sensor mounted model.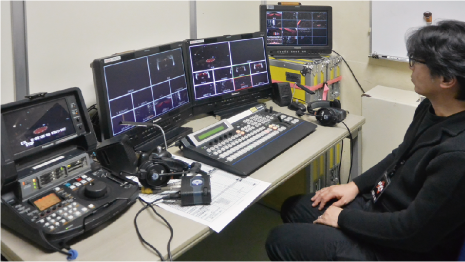 For the recording of Kome Kome Club's concert, Gokuraku-Eizousha used a total of 28 cameras, including six AG-UX180 units, two VARICAM 35 units and one AU-EVA1 unit in addition to the 15 new POVCAM units. The VARICAM 35 recorded images onto expressP2 cards, and all other cameras recorded onto SD memory cards. All camera signals were collected in the video production sub-base, and sent to the AV-HS450N switcher in the video production base via optical 8-channel transmission Images selected by Mr. Ohkura using the switcher were recorded separately.
Mr. Nozawa added, "When recording a live music performance, you need to capture images of "events" happening in real time on stage while ensuring that all images are recorded with the minimum required quality. It is important to capture images of each artist in the most attractive way and at the best possible timing. In the recording of Kome Kome Club's concert, we used a large number of new POVCAM units, so we had to match the color settings of all cameras to the color setting of the POVCAM. We configured the system with mostly Panasonic cameras in order to achieve the same color tones. Large LED displays are set up on the stages of many concerts today, and delicate color differences occur in red and purple image areas of those displays. Therefore, we made sure that all the cameras we used were equipped with MOS sensors."
POVCAM offers new creative possibilities to camera operators
Gokuraku-Eizousha also optimizes the POVCAM's superior features and functions in recording other events.
"For the camera operator, cameras are like 'paint brushes.' The POVCAM offers creative possibilities, making it a must-have item. I'm always excited to see how the POVCAM camera translates the creativity of camera operators to video images," said Mr. Nozawa.

Equipment Installed
17 inches

LCD Video Monitor

BT-LH1710


Compact Live Switcher


AW-RP50
Location