Compact, Lightweight, Free-Style Shooting
Compact Camera Head for Flexible Installation
Free style:

Compact, lightweight design and remote operation allow the camera to be installed in places and angles where it previously couldn't, for free-style operation.

Optional cables (3 m (9.84 ft) /20 m (65.62 ft)):

Identical to the firstgeneration POVCAM cables for easy system replacement.

Built-in stereo microphone:

For recording both video and sounds.

Scan Reverse mode:

Image inversion for shooting with a ceilingmounted Camera Head.

Scene files:

Auto and three manual setting files allow scene settings to be switched and saved.
Compact, Lightweight, Battery-Drive Recorder
Light weight, handy size. Improved recorder operation with a touchpanel display and large buttons.

KEY LOCK function:

Operation buttons can be temporarily disabled to prevent operating mistakes.

Battery drive:

Equipped with a battery socket on the rear panel. Large-capacity battery supported (11,800 mAh/8,850 mAh/5,900 mAh).

DC operation:

Equipped with input terminal for DC12V power supply. AC adaptor also included.
Power Supply Activation mode on the camera head linked to centralized power supply ON/OFF.
Threaded sockets provided in two locations, left and right, for arm or rack mounting.
Touch-Panel LCD Monitor
High resolution:

16:9 screen, 3.5-inch, approx. 1.15-megadot panel

LCD reverse display: The image displayed on the LCD monitor can be reversed vertically and horizontally. The camera head can be reversed vertically to match installation conditions.

* When the image is reversed, the recorded image will remain in its original orientation.

Touch panel:

Compact size and multifunctional.

13 User buttons:

In addition to one hard key, 12 User buttons are displayed. Functions can be allocated to each. Four Scene File buttons also allow easy switching of the scene setting.

Focus Assist:

Focusing is aided by a Peaking Display (emphasizing in-focus areas by the use of coloring).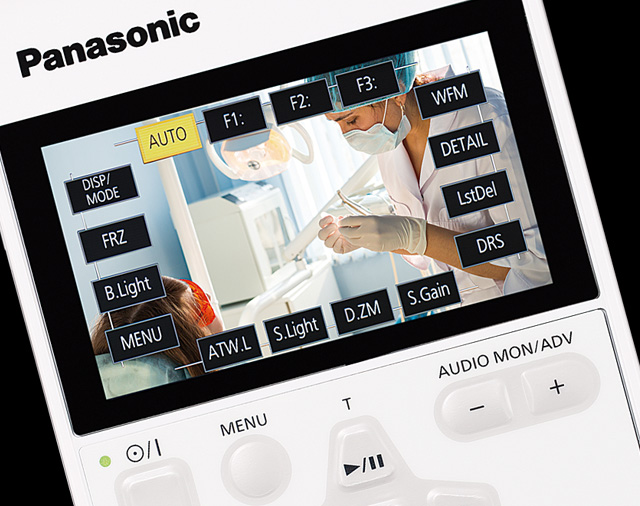 Touch Panel LCD (User Button Setting Example)
Reliably Designed Especially for Medical Applications
Designed for Use in Hospitals
EMC design products that takes into consideration the impact on other medical devices.
* These are not Medical Electrical Equipments.
Lens Protector
A lens protector (MC Protector/Accessory) for the front panel of the Compact Camera Head is included as standard equipment. Protects the lens from splashes.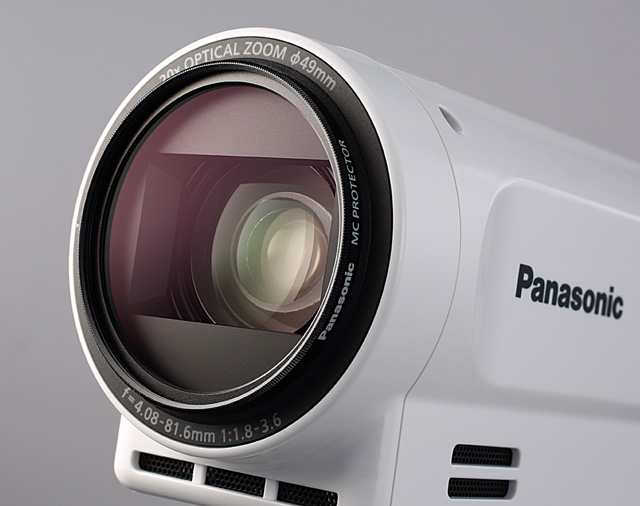 Lens Protector (Standard Equipment)
Control Section Membrane Sheet
The control section of the Recorder uses switches covered by a membrane sheet. The surface has few bumps and indentations, so cleaning is easy with an ethanol disinfectant.
High Quality & High Resolution for In-Hospital Conferences and Academic Presentations
29.5 mm*1 Wide-Angle Optical 20x Zoom Lens
29.5 mm*1 Wide-Angle: Achieves 29.5 mm*1 wide-angle in spite of its compact size.

Optical 20x zoom:

Covers a range from 29.5 mm*1 wide angle to 612 mm*1 close ups (35mm equivalent) for various applications.

Intelligent Zoom (i.Zoom):

Allows shooting up to 30x in HD format (22x in 4K) with high resolution. Zooms in seamlessly from the optical tele-end.

Digital zoom:

This digital zoom (x1.4/x2/x4/x6/x8) allows zooming without any change in brightness. Combining optical zoom + intelligent zoom enables zooming up to a maximum of 240x*2.
*1: 35 mm equivalent
*2: When using optical 20x zoom + i.Zoom + digital zoom 8x in HD format. The image quality decreases as the digital zoom magnification increases.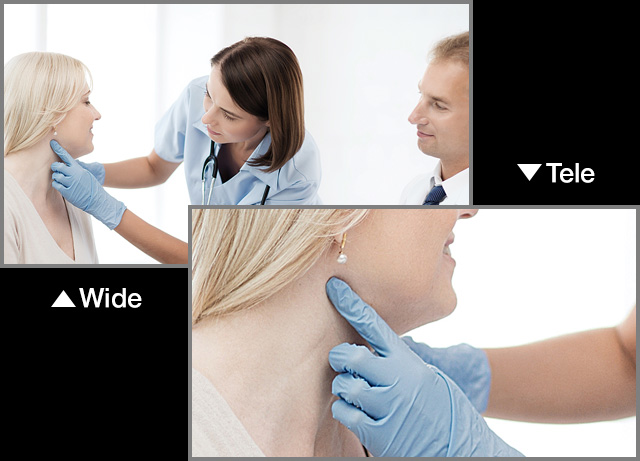 Angle of View Example for 20x Optical Zoom
High-Resolution 4K (UHD) /FHD Progressive Image Recording
Compact Camera Head features a progressive MOS sensor with a total of 1.276-megapixels. The Recorder supports, in addition to 4K (UHD: 3840 x 2160) 29.97p/23.98p/25p* and FHD (1920 x 1080) 59.94p* images, multiformat image acquisition. (See the Recording Format) The high-resolution, progressive sensor also provides a dramatic improvement over the HD image quality of the previous POVCAM model. FHD image acquisition uses the AVCHD format for high image quality and a low data rate.
* 4K acquisition is possible only when connected to the AG-MDC20GJ Compact Camera Head. 4K refers to UHD (3840 x 2160) resolution. The maximum resolution in 4K shooting mode via HDMI/SDI output is FHD (1920 x 1080) 59.94i/50i.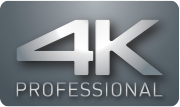 Stable Images with the Five-Axis Hybrid Image Stabilizer
Optical image stabilizer (HD/4K):

Equipped with a powerful optical image stabilizer (OIS) system. Images are strongly corrected even in situations where the camera is unstable, such as when mounted onto an arm.

Five-Axis Hybrid Image Stabilizer (HD):

In HD mode, electronic image stabilization is added to the optical image stabilizer (OIS) system to detect and correct motions on five axes, including rolling motion. This is effective when shooting while walking.

Custom O.I.S:

Set to optimize vibration control (switchable) when the camera is fixed to the ceiling or a universal head.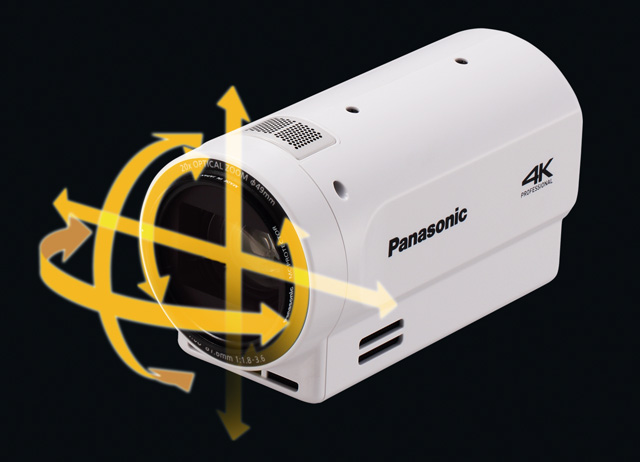 Five-Axis Hybrid Image Stabilizer Diagram
Adjustable Image Quality Under a Surgical Light
Surgical Light mode:

Equipped with a Color Reproduction Matrix mode for use under a surgical light.

16-Axis independent color correction:

Special surgical colors can be adjusted.

Optical ND filter:

The optical ND filter can be manually switched (CLEAR, 1/4, 1/16, 1/64). Resolution degradation from closing down the iris is prevented even in the bright lighting of a surgical light.

Dynamic Range Stretch (DRS):

This function suppresses blocked shadows and blown highlights to produce excellent gradation for each shade when dark, bright and intermediate shades are all contained in the same scene.

Gain/iris:

A maximum gain increase of 36 dB is possible. Iris adjustment can also be adjusted independently from the gain.

Shutter:

The Slow Shutter function with Synchro Scan functions are supported.

Other image adjustments:

Detail, V-detail, Detail coring, Skin tone detail, White balance, Color temperature, Chroma level, Chroma phase, Master pedestal, Gamma, Black gamma, Knee, and NR control.

Auto Focus + Custom AF:

Auto focus stability can be adjusted to match surgical conditions.
Memory Card Slots
Double SD Memory Card Slots (SDXC/SDHC Memory Card)
Large-capacity SDXC/SDHC Memory Cards supported. Double SD Memory Card Slots and a Relay Recording function enable two memory cards to be consecutively used. Hot Swapping also makes it possible to exchange cards while recording. Combined with the high data compression efficiency of the AVCHD format, this enables a maximum of 22 hours* of recording in the high-quality PS mode and a maximum of 112 hours* of recording in the extended (HE) mode.
* Maximum recording time when using two 128-GB SDXC Memory Cards.
Note: Regardless of the memory card and recording mode, continuous recording that exceeds 10 hours is stopped and automatically restarted, causing the recording to stop for several seconds.
Versatile Recording/Playback Functions
Producing photos from video:

Single-frame image files can be converted from recorded video images. These can be used for highquality photos.

Pre Rec:

Constantly records images and sounds from approximately 3 seconds before ordinary recording starts, to prevent missing decisive moments.

Time stamp:

Date and time information can be superimposed onto images. Usable for extended research activities and nature observations.

Resume playback:

When the Stop key is pressed during playback, the stop position is stored in memory. Simply press the Play key to start playing again from the stop position.

* Turning off the power resets the memory. This function is disabled in the factory default setting.

Clip operation:

This function allows fast forward, rewind, clip forward, clip reverse, and frame by frame playback operation.
Recording Format
Rec. Mode
Image Size
Bit Rate
Frame Rate
Audio
Recording
Time*2 (approx.)
59.94 Hz
50.00 Hz
MP4*1
4K
(UHD)
3840 x 2160
50 Mbps (VBR)
29.97p
23.98p
25p
LPCM
1.5Mbps
5 hour
20 minutes
AVCHD
PS
1920 x 1080
25 Mbps (VBR)
59.94p
50p
Doiby Audio
384kbps
11 hours
PH
21 Mbps (VBR)
59.94i
23.98p
50i
12 hour
30 minutes
HA
17 Mbps (VBR)
59.94i
50i
Doiby Audio
256kbps
17 hours
HE
1440 x 1080
5 Mbps (VBR)
59.94i
50i
56 hours
PH
1280 x 720
21 Mbps (VBR)
59.94p
50p
Doiby Audio
384kbps
12 hour
30 minutes
PM
8 Mbps (VBR)
59.94p
50p
Doiby Audio
256kbps
35 hours
*1: When using the AG-MDC20GJ.
*2: When continuous recording exceeds 10 hours, the recording is stopped and automatically restarted approximately each 10 hours, causing the recording to stop for several seconds.
Versatile Interfaces Support IP Streaming and IP Control
LAN Terminal for IP Streaming and IP Control
The LAN terminal supports video and audio streaming distribution to networks, as well as file transfers and external control. Access from PCs and tablets is achieved by web browser, with no special app required. In addition, the PTZ Control Center (free software) can be used for system operation integrated with Panasonic PTZ camera system. Open IP commands make it easy for users to design original systems.
IP control:

Remote control from a PC or tablet enables Rec Start/ Stop, Clip Delete, and compact Camera Head control (Zoom, Focus, Iris, and Menu Settings).

IP streaming:

Video and Audio IP streaming supported. Signals can be received and monitored by PCs, tablets, and IP decoders.

File transfer:

Recorded clips can be downloaded from a network PC.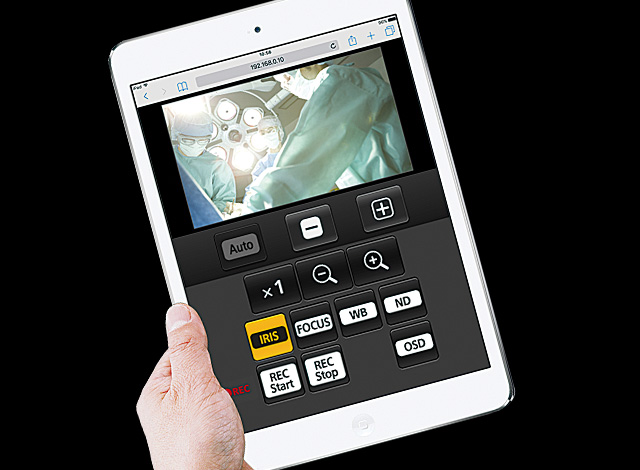 IP Control (Tablet Screen Example)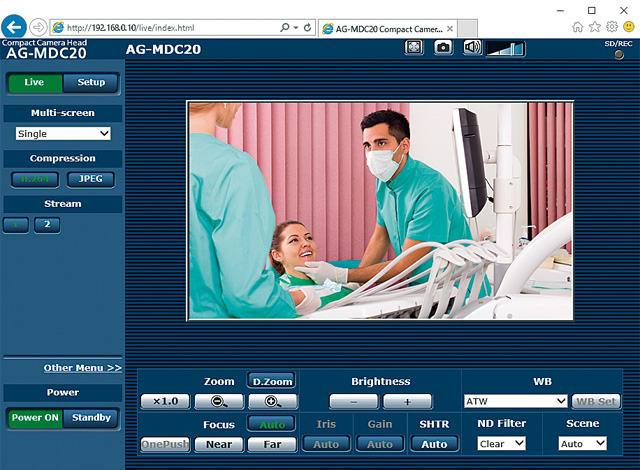 IP Control (Web Browser Screen Example)
SDI Input Records Endoscope and Other Images, and SDI/ HDMI Output Supports Various Applications
SDI input:

An SDI input with 3G-SDI support is equipped. This lets you connect to an endoscope or other video device and record multi-format images, including FHD (1920 x 1080) 59.94p/50p/23.98p/25p progressive images.

SDI output:

3G-SDI compatible SDI output is equipped. FHD (1920 x 1080) 59.94p/50p/23.98p progressive images can be output to an external monitor.

HDMI output:

HDMI output of 4K (UHD)*1/FHD images is supported. Combined with SDI output and IP streaming, this enables simultaneous output*2 to maximum of three systems.
*1: HDMI output of 4K (UHD) video is available only for playback of 4K (UHD) recording clips.
*2: Simultaneous output is not supported for all video formats. Conditions exist for the input/ output signals and recording format.
Versatile Interfaces
REMOTE terminal:

External control is enabled for Rec Start/Stop, Zoom, Focus, and Iris settings.

Audio input:

A stereo mini-jack is equipped. LINE/MIC switchable.

USB 2.0:

PC connection is possible in Mass Storage mode (miniB terminal).
* Audio input can not be used when a compact camera head is connected.
POVCAM-Compatible PC Software (Free of Charge)
PTZ Control Center: Images from multiple LAN-connected POVCAMs can be controlled (Focus, Iris, Zoom, Gain, White Balance, Shutter, ND Filter, and Rec Start/Stop) while they are monitored on a PC screen.
PTZ Virtual USB Driver: This driver allows LAN-connected POVCAMs to be used as USB cameras. This is helpful for network distribution and conferences. Up to 5 POVCAMs can be registered.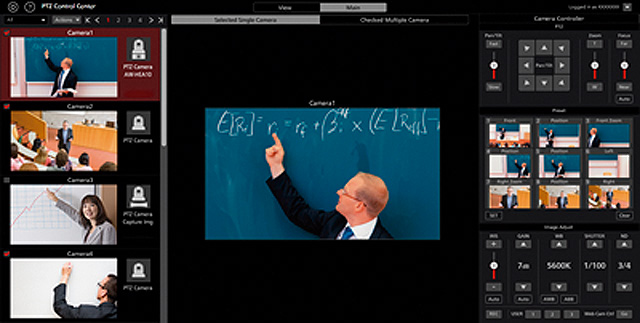 Main Screen
Battery Pack Charge Capacity and Charge Time
Product Number
Voltage/Capacity
Charge time*
AG-VBR118G
7.28 V
11800 mAh
86 Wh
Approx. 280 min.
AG-VBR89G
7.28 V
8850 mAh
65 Wh
Approx. 240 min.
AG-VBR59
7.28 V
5900 mAh
43 Wh
Approx. 200 min.
* When using the AG-BRD50.