Shift Your Video Production to Professional 4K Images. The 4K Premium Camcorder with Wide-Angle 24mm*2 and 20x Optical Zoom.
Panasonic introduces the 4K camcorder UX series to meet professional 4K video production needs. The AG-UX180 is the premium model with professional functions and specifications for high-end users.
This model is equipped with a newly designed compact lens featuring a wide 24mm angle and 20x optical zoom as well as a 1.0-type (effective size) high-sensitivity MOS sensor. Its evolved Optical Image Stabilizer (O.I.S.) and intelligent AF function suitable for professional camera work.
The AG-UX180 supports 4K 24p, UHD 60p/50p, FHD 60p/50p multi-format recording and HD super slow-motion. Two SD memory card slots*4 are provided to enable relay/simultaneous/ backup recording for enhanced reliability, and also support UHD/FHD*5 dual codec recording for a more efficient workflow. The controls of the AG-UX180, such as the manual three rings and user button, as well as interfaces, such as 3G-SDI/HDMI and XLR input, are engineered to meet the needs of professional video recording. Offering the same level of agility and mobility as the conventional HD handheld camcorder, the AG-UX180 provides powerful support for high-image-quality 4K video production.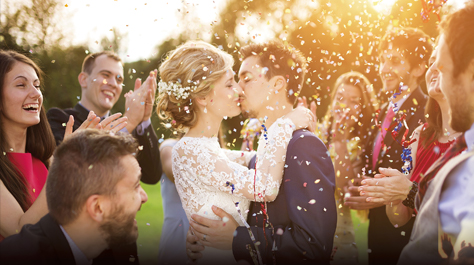 RELATED VIDEOS
New 4K Handheld Camcorder AG-UX180 US edition HD

Time - Shoot the moment-
WORKFLOW
Example of 4K workflow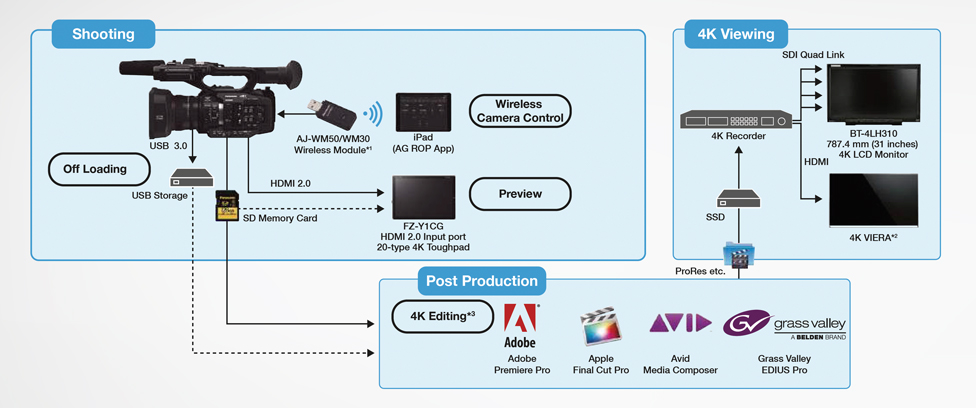 *1: Not available in some areas.
*2: As for the model supporting 4K video playback.
*3: Software planned to be tested by Panasonic.
SYSTEM CHART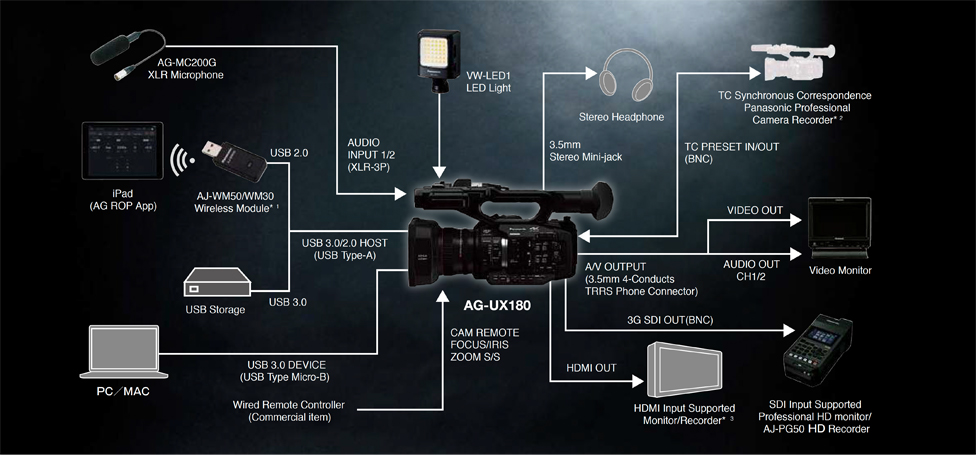 *1: Not available in some areas.
*2: Models supporting TC synchronization: AG-DVX200/UX180 and UX170. AG-160A/AC160/AC130A/AC130 can be connected and synchronized via BNC-RCA pin converter.
*3: Operation check models: ATOMOS SHOGUN.
RESOURCES