A portable field recorder with AVC-ULTRA*1 codec, microP2 card compatibility, HDMI input/output, and live streaming and FTP transfer support
This compact, lightweight, battery-driven portable recorder supports the AVC-ULTRA codec family, featuring the excellent picture quality of the AVC-Intra200 codec, the versatile bit rate selection of the AVC-LongG codec, and AVC-Proxy for high-quality proxy video. It is also equipped with a variety of interfaces, including HDMI, 3G SDI, and USB 3.0 (HOST), and enables versatile uses, such as connection to external devices for recording, playback,*2 and file copying. Network connection is possible by wired/wireless LAN,*3 or 4G/LTE.*4 Live streaming is enabled with the QoS mode, and automatic FTP transfers with the Rec During Uploading function. Network connection using the LiveU/TVU bonding service is also supported,*5 for higher-quality streaming and faster data transfers.
Combined with Panasonic's P2 Streaming Server (P2SS) and P2Cast Cloud Service, this provides an integrated solution to a wide variety of broadcast needs.
*1: Not all AVC-ULTRA formats are supported.
*2: The USB 3.0 standard has a maximum transfer rate of 5 Gbps. However, the actual transfer speed depends on the system configuration. Playback is based on disk drive performance, including spindle speed. Panasonic cannot guarantee smooth playback without dropped frames.
*3: For a wireless LAN connection, the AJ-WM30 Wireless Module is required.
*4: Requires a telecommunications device (USB type) available from various carriers.For detail, see "Connection confirmed 4G/LTE Modem".
*5: Requires a telecommunications device available from both LiveU and TVU Networks. For detail, see "Confirmed LiveU/TVU Devices".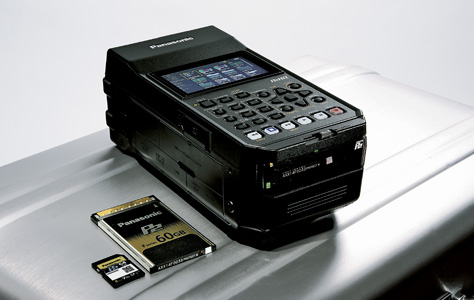 RESOURCES
SUPPORTS