A portable field recorder with AVC-ULTRA*1 codec and microP2 card*2 compatibility, HDMI input/output, and data transfer over a network
The AJ-PG50 Memory Card Recorder supports the AVC-ULTRA codec family, featuring the AVC-Intra200 codec, which rivals the outstanding quality of uncompressed images, the AVC-LongG codec, which lets you choose from a variety of bit rates, and AVC-Proxy for high-quality proxy video. It is compact and lightweight, equipped with microP2*2 and P2 card slots, operates on a battery pack, and comes with a high-resolution QHD LCD monitor.
The AJ-PG50 is provided with a variety of interfaces such as HDMI input/output, 3G-SDI input/output and others, so it connects to a wide range of video and audio devices for recording and playback of video and audio.
It also has a high-speed USB 3.0 (HOST) interface for transferring backup data to an external storage device and previewing externally stored files.*3 Network connection is possible by wired/wireless LAN*4 or 4G/LTE.*5
The AJ-PG50 offers high speed and high quality and flexibly supports the most advanced AVC-ULTRA workflows.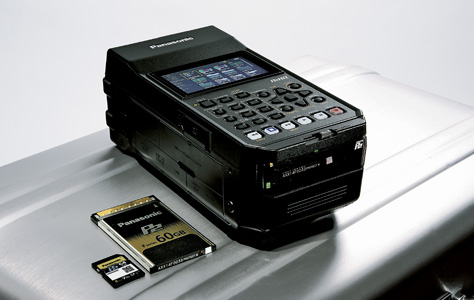 *1: Not all AVC-ULTRA formats are supported.
*2: The production of microP2 cards have been discontinued. When recording to SD memory cards in P2 format, please use SDXC memory cards with video speed class V90 or faster. Please use the latest version of the recorder software.
*3: The USB 3.0 standard has a maximum transfer rate of 5 Gbps. However, the actual transfer speed depends on the system configuration. Playback is based on disk drive performance, including spindle speed. Panasonic cannot guarantee smooth playback without dropped frames.
*4: For a wireless LAN connection, the AJ-WM50 Wireless Module is required.
*5: Requires a telecommunications device (USB type) available from various carriers. For details, see "Connection confirmed 4G/LTE Modem"
Memory Card SDXC UHS-II V90 COBALT 300R

PGSD64GBCK** (64GB)
PGSD128GBCK** (128GB)

<ProGrade Digital>
Memory Card SDXC UHS-II V90 COBALT 300R

PGSD64GBCK** (64GB)
PGSD128GBCK** (128GB)

<ProGrade Digital>
RESOURCES
SUPPORTS