FHD/60p/50p Support with High-Sensitivity, Low-Noise HDR Compatibility
High Sensitivity, Low Noise 2/3 type 3MOS Image Sensors
The 2.2 megapixel 2/3 type 3MOS (RGB) image sensors offer full-pixel HD (1920 x 1080) resolution, F12 (59.94 Hz) or F13 (50 Hz) sensitivity, and low noise with an S/N of 62 dB (with DNR ON). It also achieves rich gradation and vibrant color reproduction.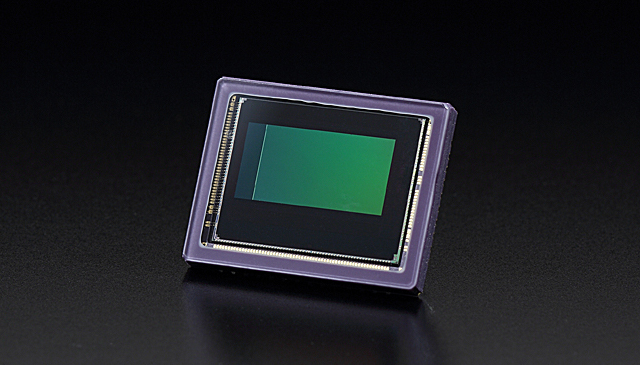 2/3 type, 2.2 megapixel MOS sensor
HDR Compliant (HLG "Hybrid Log-Gamma")
In addition to being equipped with HLG* images, the following functions assist HLG image acquisition.

SDR Monitoring Gamma:

Gamma curves for monitoring HLG images with the SDR viewfinder or other SDR monitor. These gamma curves possess characteristics for expressing the gradation in high-brightness area while maintaining the contrast of ordinary-brightness area.

HDR/SDR Simultaneous Output:

Dual SDI can output both HDR (HLG) and SDR (monitoring gamma) simultaneously.

One-Push HLG Selector for Viewfinder:

While the viewfinder display with monitoring gamma ordinary, the gradation of high-brightness area can be checked by selecting HLG temporarily.

High-Brightness Zebra Display:

The zebra pattern can be displayed in white-out areas of the viewfinder image.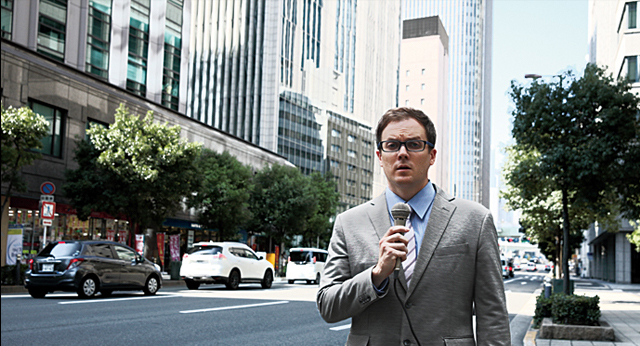 SDR (monitoring gamma) View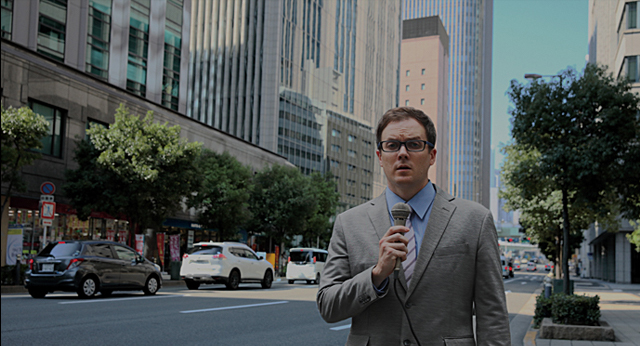 HLG View on Viewfinder
* BT.709 color gamut (BT.2020 is not supported)
FHD Image Acquisition by High-Quality AVC-ULTRA Codecs
The AVC-ULTRA codecs feature high-quality, high-efficiency H.264 based video compression. The main recording can be selected from high-quality AVC-Intra200 for mastering applications, AVC-Intra100 with FHD/60p/50p support, AVC-Intra50, or AVC-LongG (50/25/12) for FHD10-bit 4:2:2 with affordable bit rate. While offering a low bit rate suitable for previewing, sub recording AVC-Proxy (proxy data) provides an FHD resolution mode that can be used as is for breaking news and similar applications. The conventional DVCPRO codec is also supported.



Recording Codecs and Video Formats
Codec
1080
720
480
576
60p
50p
60i
50i
30pN*1
24pN*2/
23.98PsF
25pN*3
60p
50p
30pN
24pN
25pN
60i
50i
AVC-Intra200
—
—
✓
✓
✓
✓
✓
✓
✓
—
—
—
—
—
AVC-Intra100
✓
✓
✓
✓
✓
✓
✓
✓
✓
✓
✓
✓
—
—
AVC-Intra50
—
—
✓
✓
—
—
—
✓
✓
—
—
—
—
—
AVC-LongG50
—
—
✓
✓
✓
✓
✓
✓
✓
—
—
—
—
—
AVC-LongG25
✓
✓
✓
✓
✓
✓
✓
✓
✓
—
—
—
—
—
AVC-LongG12
✓
✓
✓
✓
✓
✓
✓
✓
✓
—
—
—
—
—
DVCPRO HD
—
—
✓
✓
—
—
—
✓
✓
—
—
—
—
—
DVCPRO 50
—
—
—
—
—
—
—
—
—
—
—
—
✓
✓
DVCPRO
—
—
—
—
—
—
—
—
—
—
—
—
✓
✓
DV
—
—
—
—
—
—
—
—
—
—
—
—
✓
✓
"✓" are supported, and "—" are not supported.
*1: 1080/29.97p over 59.94p output
*2: 1080/23.98p over 59.94p output
*3: 1080/25p over 50p output
AVC-Proxy Recording Modes*4 (sub)
Recording Mode*5
Video
Audio
Resolution
Codec
Bit Rate
Codec
CH
Bit Rate/1 CH
AVC-G6 2CH MOV
1080i mode: 1920 x 1080
720p mode: 1280 x 720
H.264 High Profile
6 Mbps*6
AAC-LC
2 CH
64 kbps
STD 2CH MP4
320 × 240 (QVGA)
MPEG-4 Simple Profile
1500 kbps
AAC-LC
2 CH
64 kbps
LOW 2CH MOV
1080i mode: 480 x 270
480-59.94i mode: 352 x 240 (SIF_NTSC)
576-50i mode: 352 x 288 (SIF_PAL)
1080 60/50p mode: 320 x 180
H.264 Baseline Profile
800 kbps
AAC-LC
2 CH
64 kbps
HQ 2CH MOV
640 x 360
H.264 High Profile
1500 kbps
AAC-LC
2 CH
64 kbps
HQ 4CH MOV
640 x 360
H.264 High Profile
1500 kbps
AAC-LC
4 CH
64 kbps
SHQ 2CH MOV
960 x 540
H.264 High Profile
3500 kbps
Linear PCM
2 CH
768 kbps
*4: Proxy data cannot be recorded when using the Loop Rec or Interval Rec function.
*5: Some recording modes are not supported depending on the main recording format.
*6: For 720/30pN, 720/24pN or 720/25pN, the bit rates become 3 Mbps.
HD/SD Multi-Image Format
Images can be acquired by the 1080/60p/50p/60i/50i/30p/24p/25p, 720/60p/50p/30p/24p/25p HD format and SD (480/60i, 576/50i) format. Overseas use is also supported by 59.94Hz/50Hz selection.
* 60i, 60p, 24p, and 30p are actually recorded at 59.94 Hz, 23.98 Hz, and 29.97 Hz respectively. 24p, 25p, and 30p are all available with native mode recording. For details, see "Recording Codecs and Video Format".
Reliable Recording Media: P2 Card/microP2 Card*
The P2 card, which was designed for broadcast use, features a rugged case and highly reliable connector.
The microP2 card* features high reliability and a large capacity together with a reduced size and cost. In an emergency, an SD memory card can also be used.
* The production of microP2 cards have been discontinued. When recording to SD memory cards in P2 format, please use SDXC memory cards with video speed class V90 or faster. Please use the latest version of the camera recorder software.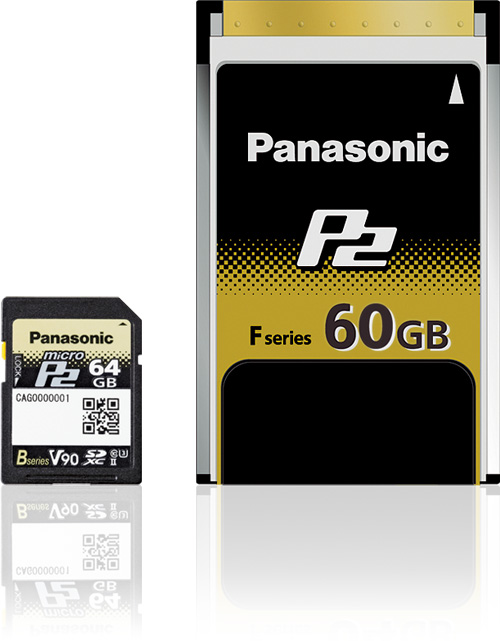 Advanced Network Functions Support Streaming and IoT Cloud Platform MB/ P2 Cast
Easy-to-Use Single Dongle, Flexible Network Connection
Proxy preview, camera remote, and playlist editing can all be done on a PC, Mac, or tablet connected to wireless LAN. When connected to the internet, files can be transferred and live streaming can be done. Nimble operation is possible using the Wireless Module (optional: AJ-WM50/WM50G) or single dongle of the 4G/LTE dongle. Wired LAN connection and LiveU/TVU bonding services are also supported. The connection method is selected to match the usage environment.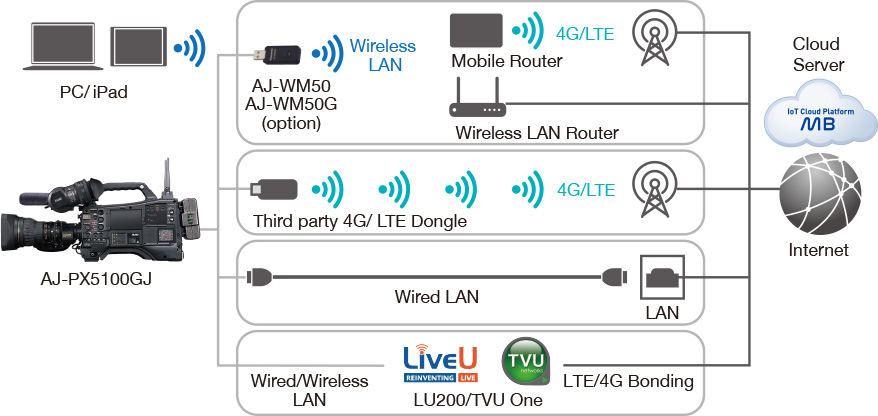 RTMP/RTSP Compatible Full-HD Stream
Full-HD streaming is possible while images are being acquired. Both RTSP and RTMP streaming methods are compatible. And Facebook, YouTube, and other streaming services are supported. A unique QoS (Quality of Service) mode*1 optimizes the bit rate according to the network conditions for stable streaming distribution. High performance is also achieved by linking to P2SS (streaming server).*2
*1: P2 Streaming Receiver software (Windows only, not supported by Mac; available free of charge) is required for receiving the QoS mode. Please see the Broadcast and Professional AV products
*2: A server with the Streaming Receiver Server Kit (Optional: AJ-SRK001G) installed.
Streaming Mode Specifications
Mode
Resolution
Frame Rate
Bit Rate
Codec*1
AVC-G6
1920 x 1080*2
30 fps/25 fps*4
6 Mbps
H.264 High Profile
1280 x 720*3
60 fps/50 fps
HQ
640 x 360
30 fps/25 fps
1,500 kbps
LOW
480 x 270
30 fps/25 fps
800 kbps
H.264 Baseline Profile
AVC-G (QoS)
1920 x 1080*2
30 fps/25 fps*4
Variable depending on the
communication band, Maximum 9 Mbps
H.264 High Profile
1280 x 720*3
60 fps/50 fp
SHQ (QoS)
960 x 540
30 fps/25 fps
Variable depending on the
communication band, Maximum 9 Mbps
H.264 High Profile
*1: The audio codec is AAC LC 2ch in all streaming mode.
*2: When only the record signal is 1080/59.94i or 1080/50i.
*3: When only the record signal is 720/59.94p or 720/50p.
*4: Output becomes 1080/59.94i or 1080/50i.
Recording Format and Streaming Output
Recording Signal
Recording Codec
HD Streaming Mode
AVC-G6, AVC-G (QoS)
SD Streaming Mode
HQ, LOW, SHQ (QoS)
1080/59.94i
1080/50i
720/59.94p
720/50p
AVC-Intra200
—
—
AVC-Intra100
✓
✓*
AVC-Intra50
—
✓*
AVC-LongG50
✓
✓*
AVC-LongG25
✓
✓*
"✓" are supported, and "—" are not supported.
* [LOW] cannot be selected when 720 mode.
IoT Cloud Platform MB/P2 Cast
An IoT Solution for News Gathering That Directly Connects On-Site News Acquisition with the Newsroom.
By connecting the AJ-PX5100GJ to the cloud-based IoT Cloud Platform MB/P2 Cast integrated control system, a connectivity that approaches live relay can be achieved with automatic operation and camera control for interviews and other ENG. The system also helps to reduce costs.
* The live streaming destination from the camera will either be via IoT Cloud Platform MB, P2 Cast or the Internet.
* The dedicated IoT Cloud Platform MB/P2 Cast Mobile app must be installed onto your smartphone. Live streams from a smartphone must bestreamed via a P2 Streaming Server.
Automatic Upload to a Cloud Server
Recorded clips are automatically uploaded in the background. The Rec During Upload function also enables recording and playback while transferring data. The transfer operation resumes immediately after the network connection or power is restored. This allows the camera operator to concentrate on shooting without being bothered by uploading.
Near-Live Upload
This is a unique IoT Cloud Platform MB/P2 Cast solution. In the Near Live mode, image data is split into 2-minute files, and those proxy video data files are automatically and sequentially uploaded to the cloud. The files can be previewed on a WWW browser. After the shooting, the data is merged into one clip on the cloud. Then it can be shared on the web.
News Content Web Sharing, Integrated Camera Control
Allows sharing of proxy clips on the cloud by multiple staff members.
Cloud integration is available for editing, transcription, etc.
Monitors camera recorder status and GPS location information.
Enables remote metadata editing and remote camera recorder setting.
Link softwares connect directly to a nonlinear editor, news automation system or media asset management system.
P2 Cast MB Mobile/P2 Cast Mobile App connects smartphone cameras to IoT Cloud Platform MB/P2 Cast and P2SS.
* Clips for Interval Rec, Loop Rec, One-Clip Rec, and One-Shot Rec are not automatically transferred. The streaming function also does not operate.
* See the following App Store for information of operating environment.
P2 Cast MB Mobile
P2 Cast Mobile
・ App Store is a registered service mark of Apple Inc.
・ iPhone is a registered trademark of Apple Inc. in the U.S. and other countries.
P2SS (P2 Streaming Server) Delivers Full-HD Streaming
Provides stable streaming by original QoS technology.
Features drag & drop and other intuitive GUI operations.
Manages 1,000 cameras and monitors 20 cameras/page.
Allows a maximum of 4 simultaneous streaming outputs.
Display Example
AJ-SRK001
Streaming Receiver Server Kit
(Software Key for Windows; Mac not supported)
* P2SS is a software product (AJ-SRK001 Streaming Receiver Server Kit) that is installed onto the server. The customer must provide the server.
Versatile Broadcast Functions for Shooting and Recording
High-Quality Camera Functions for Various Situations
Two Optical Filters:

ND and CC, have four positions each. The 3200K, 4300K, 5600K and 6300K positions of the CC filter help to express deeper colors.

CAC (Chromatic Aberration Compensation):

When using a CAC compatible lens, the small amount of circumjacent chromatic aberration that is not corrected by the lens is compensated by this process.

DRS (Dynamic Range Stretcher):

Suppresses blocked shadows and blown highlights to achieve a visually wide dynamic range.

Advanced Flash Band Compensation (FBC):

High-precision flash band detection and compensation.

Gamma:

Select from 8 modes (HD/SD/FILMLIKE 1/FILMLIKE 2/FILMLIKE 3/FILM-REC/VIDEO-REC/HLG*1) gamma curves.

High-Sensitivity DS Gain:

High sensitivity is achieved without increasing noise.*2 Combined with gain, this enables a maximum +76 dB,*3 for ultrahigh sensitive recording at minimum subject illumination of 0.004 lx.

Digital Zoom:

2x/3x/4x digital zoom boost.
*1: In DVCPRO HD recording, HDR information (flags) are not added.
*2: Due to the use of image accumulation, the number of recorded frames per second decreases. This results in a frame-by-frame playback effect.
*3: With super gain set at +42 dB and digital super gain (cumulative mode) at +34 dB.
Monitor/Status Display, QHD High-Resolution Color LCD
Features a QHD (960×540 Pixel) high-resolution color LCD. The status (time code, level meter, media, etc.) view and monitor view (live view, thumbnail, preview) can be switched.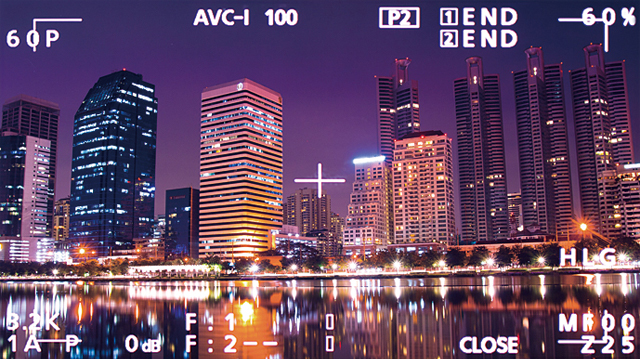 Monitor View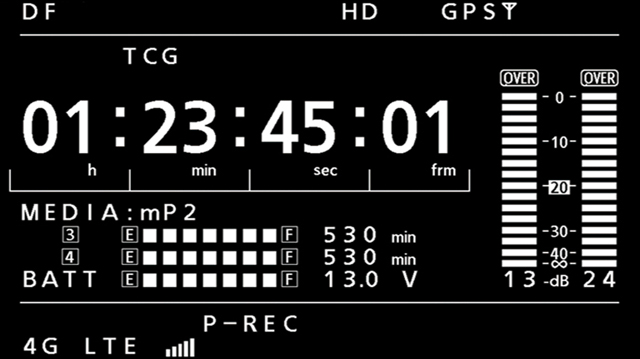 Status View
Shooting Assist Functions and Easy Operability
Focus Assist:

"EXPAND" for center zoomed image and "Focus-in-Red" can be displayed on viewfinder.

Shockless AWB:

A smooth transition occurs when switching White Balance modes. This is effective, for example, when moving from outdoors to indoors. It is also equipped with an auto tracking white function.

WFM/Vectorscope:

Simplified waveform and vectorscope display.

Zebra:

Select any two levels from among 0% to 109%, in 1% steps. A mode also allows two patterns to be overlaid and displayed.

Y-GET:

Measures brightness at center and displays numerical data.

Lens Files:

Stores settings for interchangeable lenses.

Setup Files:

Camera setup data files can be saved. It makes color setting easier for multiple cameras.

Mode Check:

Displays a list of the camera settings on the viewfinder and LCD monitor.

Rec Check:

This lets you run a quick playback check of the clip-end.

User Buttons:

Functions can be freely allocated to the five User buttons.
Back tally, rear tally equipped. ON/OFF switchable.
P2 Card/microP2 Card*1 2x2 Slot
By providing double slots for each the P2 card and the microP2 card*1, an extended recording time is possible and the following recording functions are achieved.*2
Dual-codec recording:

Records a low-rate AVC-Proxy file while recording main data in AVC-Intra/AVC-LongG.

Simul Rec:

Records simultaneously onto two microP2 cards*1 or P2 cards.

Hot-Swap Rec:

Cards can be exchanged while recording, slots can be switched, continuous recording can be performed.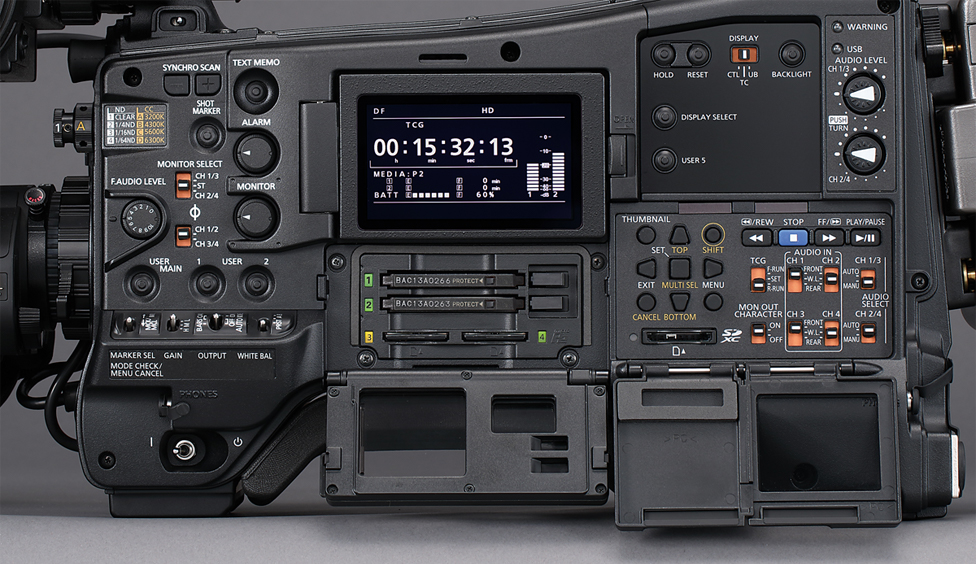 Side Camera Operation/LCD Monitor/Card Slot/Recorder Operation
*1: The production of microP2 cards have been discontinued. When recording to SD memory cards in P2 format, please use SDXC memory cards with video speed class V90 or faster. Please use the latest version of the camera recorder software.
*2: Cannot be recorded onto microP2 card and P2 card simultaneously.
Versatile Recording Functions
One-Clip Rec Mode:

Records up to 99 consecutive cuts as a single clip. A text memo is automatically attached to the Rec Start point for easy searching for the beginning of the cut.

Pre Rec:

This stores approximately 8 seconds of video and audio data in memory while in standby mode and lets you recover and use the data before you start recording.

Loop Rec:

By allocating the open space on two microP2 cards*1 or two P2 cards, the camera continues to record while maintaining a recording of the most recent, pre-determined period.

Interval Rec:

Automatically records intermittently based on a set interval and recording time.

One-Shot Rec:

A frame-shot recording function useful for producing animations.
Text Memo*2: Up to 100 memos can be posted onto a clip as bookmarks.
Shot Marker*2: Used to mark clips as OK, NG, etc.

Metadata:

Data with information such as the operator's name, shooting location, and text memos can be added.
*1: The production of microP2 cards have been discontinued. When recording to SD memory cards in P2 format, please use SDXC memory cards with video speed class V90 or faster. Please use the latest version of the camera recorder software.
*2: Shot marker and text memo cannot be used in Loop Rec, Interval Rec, or One-Shot Rec.
High-Quality 24-bit Four Channel Audio Recording
AVC-Intra and AVC-LongG modes support 24-bit/48 kHz four channel digital audio recording.* Audio source for each channel can be selected for each channel, choosing from mic-in, line-in and wireless receiver.
3G SDI In/Out and Other Versatile Connectors
Features 3G SDI In/Out connectors supporting FHD/60p/50p for a wide variety of operations, including Line Rec, Backup Rec, and SD Down Convert Output. Also features XLR audio input (2 CH) with +48V Phantom power supply, HDMI OUT, TC IN/TC OUT, GENLOCK IN, USB 3.0 (HOST), and USB 2.0 (DEVICE).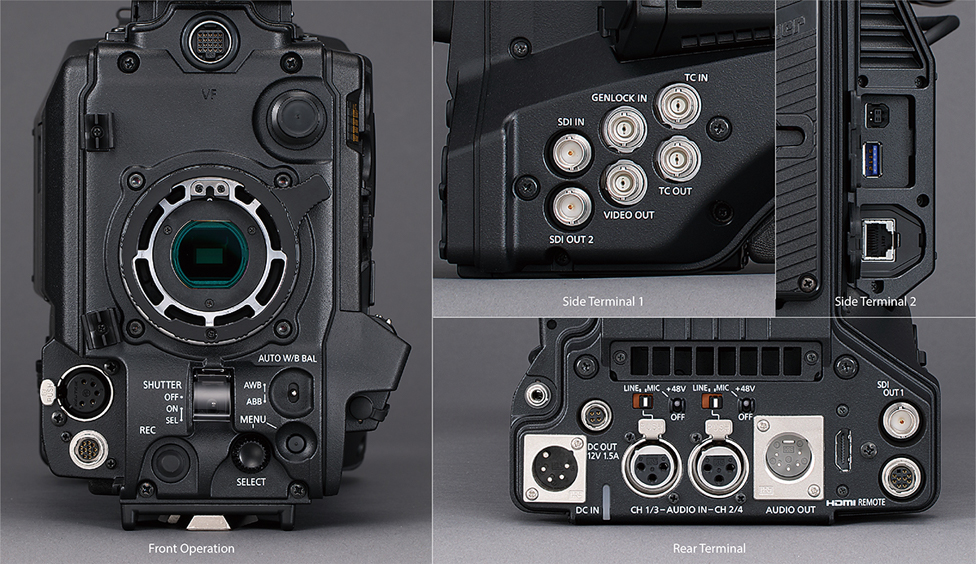 Versatile IP/iPad Remote Control Compatibility
IP Remote:

A wired LAN connection allows the IP remote compatibility. Remote operation, including menu settings, is possible by using the optional AK-HRP250GJ Remote Operation Panel.

10-pin Remote Terminal:

Dedicated cord supplies power to the remote control and composite images to confirm the menu. Camera remote operation is enabled with the optional AK-HRP1015GJ Remote Operation Panel.

iPad Remote:

P2 ROP APP (downloadable for free from the App Store) for the following iPad*1 wireless remote control operations: Picture Quality Setting, Rec Start/Stop, Clip Thumbnail Display and Proxy Preview, Metadata Display and Editing.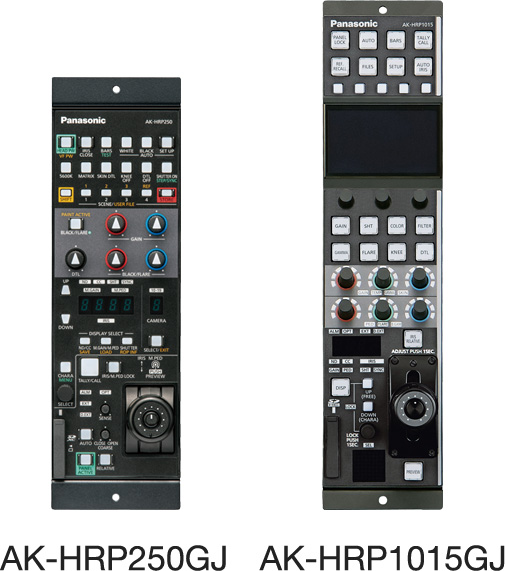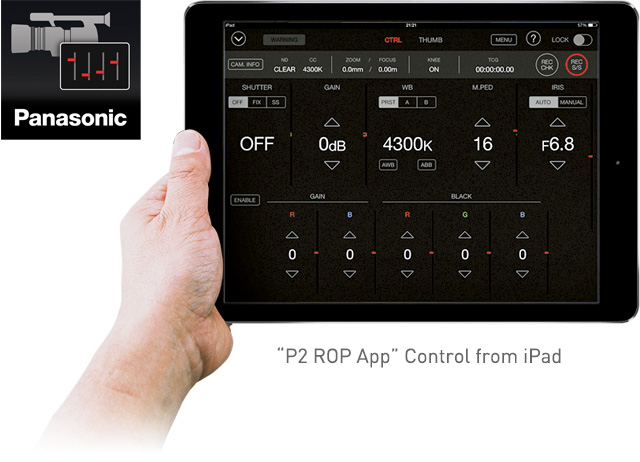 * For all remote controllers, only functions that are supported by the AJ-PX5100GJ can be controlled.
・ The Apple App Store and iPad are service marks or trademarks of Apple Inc. registered in the United States and other countries.