Large-format 4K Sensor, This Camera Produces Highly Expressive 4K Video With Rich Gradation in Addition to Supporting Simultaneous HD/SD
New-generation 4K Video
Applying built-in conversion lens, 2/3-type lens can be used with this 4K large-format camera without an adapter achieving excellent image quality.
The new imaging system makes maximum use of incident light to achieve a wide dynamic range.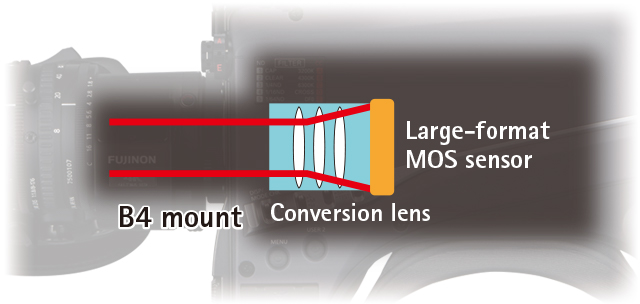 UHD and HD/SD Output Supported*
The AK-UC3000 camera system handles UHD as well as HD/SD output simultaneously*. You can select the video output based on applications. (See the following chart for the supported video format.)
List of Supported Formats
UHD
(3G-SDI x 4)
3840×2160/59.94p, 50p, 29.97p, 25p, 23.98p, 29.97PsF, 25PsF, 23.98PsF
HD
(3G-SDI)
1080/59.94p, 50p, 59.94i, 50i, 23.98p over 59.94i, 29.97PsF, 25PsF, 23.98PsF, 720/59.94p, 50p
SD
480/59.94i, 576/50i
* AK-UCU500 Camera Control Unit (CCU) outputs UHD/HD/SD video.
High Sensitivity and Low Noise
The AK-UC3000 is equipped with a newly developed large-format 4K MOS sensor. Two shooting modes can be selected. In High Sense Mode, it is possible to obtain an S/N ratio of 60 dB or higher while also achieving F10 high sensitivity. The result is low-noise and high-image-quality video.
Skew Reduction Realized through High-speed Scans
Building on the knowhow accumulated in Panasonic's ENG camera experience, the skewing characteristic of MOS sensors has been reduced by reading out the MOS sensor signal at high speed.
Skew Reduction Images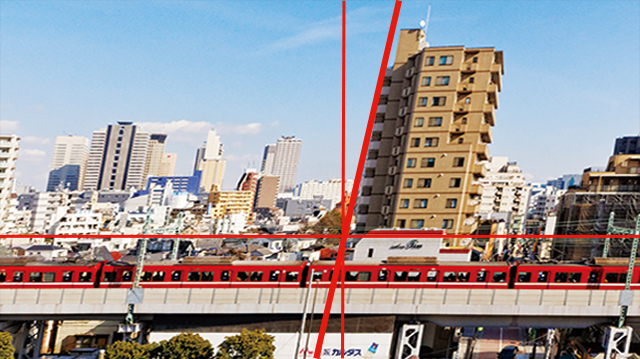 Without compensation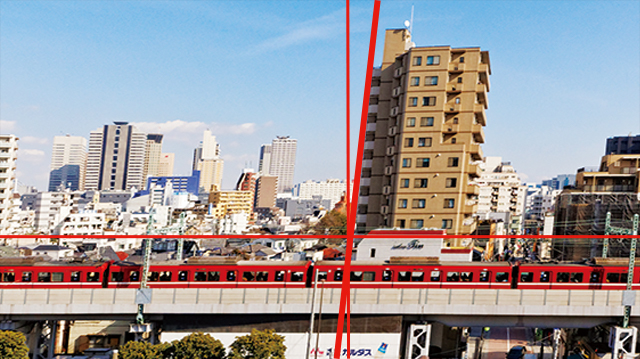 With compensation
Chromatic Aberration Compensation (CAC)
This exclusive technology utilizes communication between the lens and camera to deploy for a sophisticated algorithm that will automatically compensate for the registration error caused by lens chromatic aberration, and minimize the circumjacent blur.*
Images Showing CAC (Chromatic Aberration Compensation) Function Effect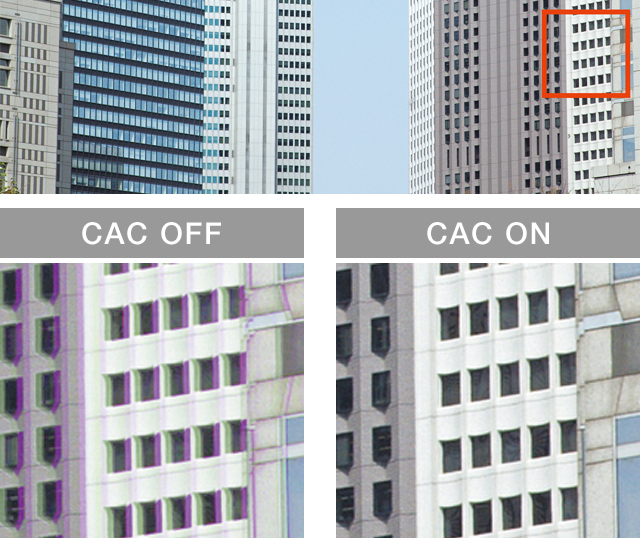 * For software supporting Chromatic Aberration Compensation (CAC) file, please download from "Software download"
Dynamic Range Stretch (DRS) Function*
The DRS function automatically suppresses blocked shadows and blown highlights. When dark and bright areas are mixed in the same scene, such as when looking outside from indoors, DRS can maintain a high level of gradation expression in dark, bright, and intermediate tones, thereby minimizing blocked shadows, blown highlights, and washed out colors. This makes it possible to obtain visually wide dynamic range video in real time.
Images Showing DRS (Dynamic Range Stretch) Effect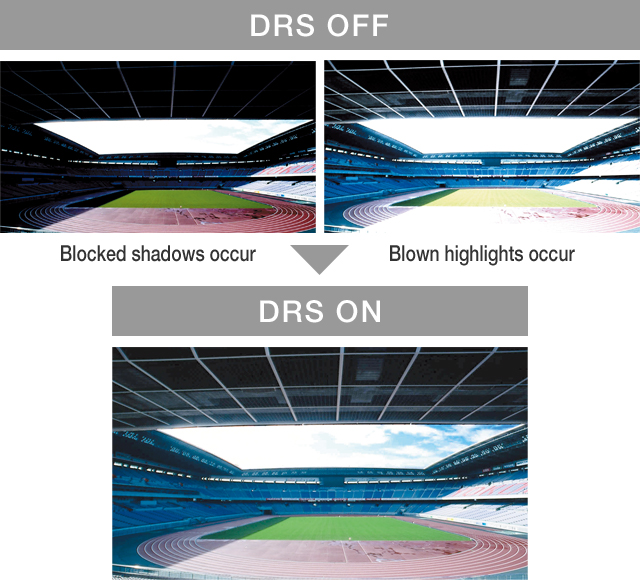 Selectable Gamma Curves
In addition to the Film Rec Gamma functions (V-REC, F-REC) supporting digital film production, you can select the Filmlike 1/2/3 modes. They produce natural gradations and rich color reproduction with a film-like quality.
HDR (High Dynamic Range) Compatibility
This mode enables the camera to apply an alternative optical electro transfer function (OETF) to selected camera outputs so that the camera can provide a high dynamic range (HDR) image for capable displays or function in a complete HDR live broadcast system. HDR displays use their increased brightness and contrast capabilities to take advantage of the cameras full dynamic range to deliver compelling high contrast images with very bright highlights.

Shockless Gain
It is possible to smoothly transition the image changes that occur when gain is changed. In addition, with the 0.1 dB step master gain adjustment function, you can fine tune the adjustments to match the scene being shot.
Servo Control ND / CC Filters
The cameras are equipped with filters for a variety of shooting environments.
[ND filters] CAP, Through, 1/4, 1/16, 1/64
[CC filters] Cross, 3200 K, 4300 K, 6300 K, Diffusion
Video Production Functions and Versatile Interfaces
High-quality Video and Excellent Operability
With the AK-UCU500 Camera Control Unit (CCU), uncompressed longdistance transmission of 4K/HD video signals via optical fiber is supported. The AK-HRP1000GJ Remote Operation Panel (ROP) is equipped with a color LCD display that provides excellent visibility. In combination, this system achieves high-quality video and excellent operability. In cases where power is supplied by the CCU, it is possible to transmit at a long distance of up to approx. 2,000 m between the camera and the CCU. The distance can be extended up to 10,000 m* by providing a local power supply at the camera head and using general-purpose single mode optical fiber. Between the CCU and the ROP, in addition to a dedicated serial line, IP connection via LAN cable is also supported.
* Adverse conditions, additional patching and longer runs will require repeater devices.
Diverse Color Correction Functions
In addition to EBU and NTSC preset color matrix, camera users can save two custom specified linear matrix tables, and additionally tune the saturation and hue individual colors with 12-pole color correction system. Specific skin tones can also be adjusted in addition to the primary secondary and tertiary colors in the 12-pole system.
Skin Tone Detail Correction
Tone down wrinkles and blemishes in on air personalities to beautifully shoot natural skin tones. While designed to soften skin tones the skin tone detail feature can be applied to any hue phase so it could likewise be used to soften areas of other colors (such as green grass). The skin tone detail feature can define three independent skin tone ranges to manage different light levels or different people on camera. Skintone- get feature finds a specific color in frame to simplify the set up process.
Images Showing Skin Tone Detail Correction Effect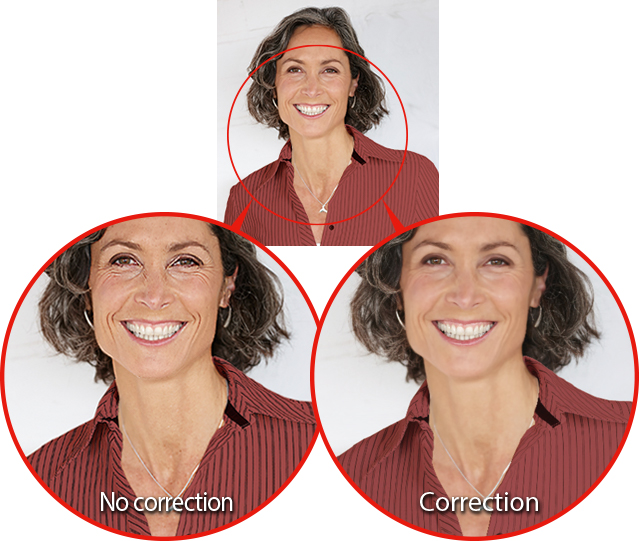 Focus Assist Functions
Quick and accurate focusing is supported with focus assist functions such as Focus Bar (indicates focus level), Focus-in-Red (uses color to indicate areas in focus), MAG (magnifies central portion), and Square (shows focus status of screen as a whole). Lenses with auto focus and focus assist capabilities are also supported*.
Focus Assist Function Examples
Focus-in-Red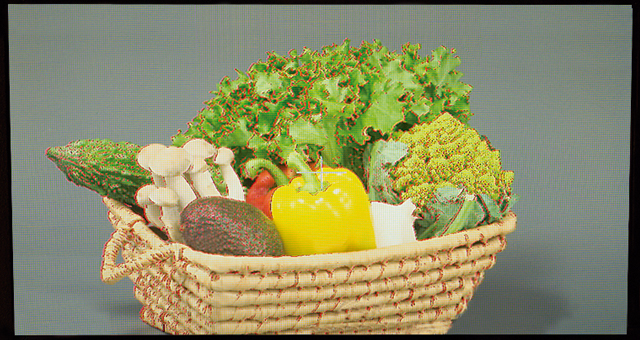 MAG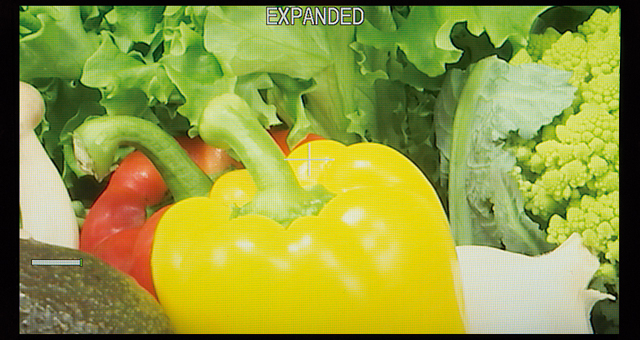 Focus Square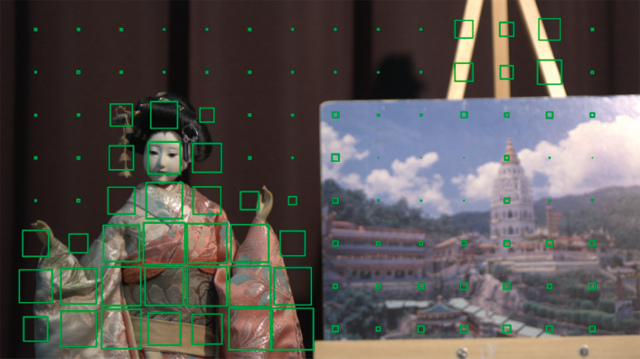 Doll in focus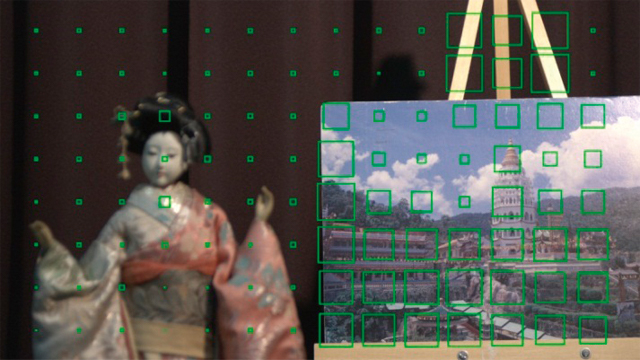 Panel in focus
* For the compatible lenses, please contact the manufacturer.
Camera Standalone Output Formats
For camera head output (HD SDI 1/HD SDI 2), it is possible to select 1080p, 1080i, and 720p.
Extensive Video and Data Transmission (TRUNK) Functions
Since video and data can be transmitted between the camera and a Camera Control Unit (CCU) using optical fiber cable alone, system expansion to match operation conditions is possible.
HD-SDI (CCU → camera) two lines, VBS (CCU → camera) two lines


Can be used for monitoring with prompter, fixed return orc camera (studio floor monitor), etc.

HD-SDI (CCU → camera) one line*


This line can be used to transmit an additional video signal of a handheld or remote camera to the studio. Since the camera video input is equipped with a frame synchronizer, asynchronous video signals can also be used.

LAN (1000BaseT)* one line


To be used to control external devices and remote cameras by IP protocol. Transmission of streaming video is also supported.

DATA (RS422A or RS232C) two lines


Can be used to transfer lens and pedestal position data in a virtual system.

* Cannot be utilized when the camera system is UHD(4K) and HD high-speed mode is used.
Detailed Settings and Functions Optimized for Operability
Color temperature display and adjustment function (2000 K to 15000 K variable).
Transmission of up to 10,000 m possible using single fiber.*
It is possible to save camera settings, such as video adjustments, on an SD memory card. Firmware version upgrades are also supported.
A lens file function to save flare and shading values.
Support for IP streaming and IP control.
DC12 V 2.5 A and 1.0 A output as a standard feature. This can be used as a power source for large lenses, prompters, and sub-monitors.
There are four user buttons (enabling function selection) on the camera head and four on the viewfinder. They support rapid shooting by the camera operator.
* Adverse conditions, additional patching and longer runs will require repeater devices.
Intercom Connection
With two independent intercom lines, in addition to Intercom 1 and Intercom 2 switching, an Intercom 1 and 2 mix mode has been added and can be selected to observe the situation. With the Intercom front/rear switch and front volume, it is possible to adjust the intercom audio level even when the camera is being used from the shoulder.
Intercom Operation Panel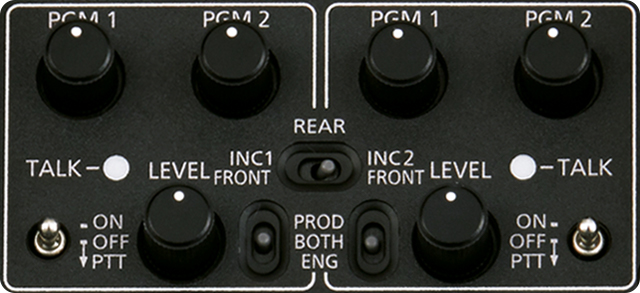 New Slanted-line Design Improves Mobility and Operability
The functional layout of controls improves ease of use and operator performance. The low profile body design, along with the low center of gravity, enhances right side visibility and comfort for the operator. The shoulder pad can be in a 24 mm range so you can increase shooting stability by adjusting the balance when lens weight changes.

Control via Serial or IP Mode